Commissioner Kionne L. McGhee announces partnership with Figgers Foundation to create the McGhee Connect Program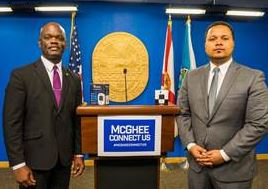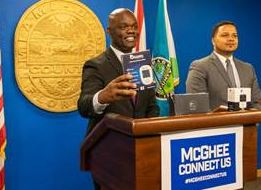 Commissioner Kionne L. McGhee and Freddie Figgers, Chairman of the Figgers Foundation,
announce their partnership during the press conference on Thursday, Feb. 9, 2023.
(Photos by: District 9/Miami-Dade County)
MIAMI-DADE – Commissioner Kionne L. McGhee announced on Thursday, Feb. 9, at the Stephen P. Clark Center (SPCC) that he has partnered with the Figgers Foundation to create the McGhee Connect Program. He was joined by the Figgers Foundation Chairman, Freddie Figgers, for the announcement.
"If you want to raise a community the right way, you will assist that community with the resources that it needs. Currently, the South Dade community is behind in its digital access point. Today, I am happy to announce that I've partnered with the Figgers Foundation to bring the most needed digital access to the South Dade community," said Commissioner McGhee.
The McGhee Connect Program is a game-changing initiative that provides South Dade's most vulnerable residents, such as homeless individuals, struggling families, and working-class Americans, with access to free internet and phone services, allowing them to stay safe and connected with their family members. The Figgers phones also have the capability to track displaced individuals, helping them return to their families safely.
"We have sadly transitioned from a digital divide to a digital desert. Unfortunately, this digital desert is premised upon zip codes and finances – both of which I find to be appalling. First, we do the basic thing – open the access door through a cellphone, hotspot, or tablet. That's how we are going to breakdown this digital desert," said Commissioner McGhee.
The McGhee Connect Program is a step towards ensuring that equitable digital opportunities exist for all Miami-Dade County residents, regardless of economic hardship.
For more information, or qualification requirements, residents may visit McGheePhone.com or call 1 (800) 391-2803 or email [email protected].