Commissioner Joe A. Martinez tours the new Baptist Health Emergency Care in West Kendall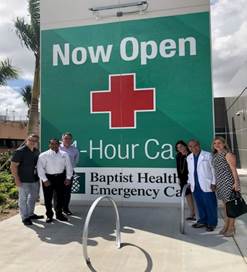 MIAMI – Miami-Dade County Commissioner Joe A. Martinez recently toured the new Baptist Health Emergency Care which opened its doors in December 2018 for the residents of West Kendall. This facility is the first freestanding full-service emergency center where visitors receive the same treatment offered at a hospital for life-threatening emergencies.
Baptist Health Emergency Care, located at 14150 SW 136th Street next to Miami Executive Airport, offers emergency services around the clock, seven days a week, including holidays. Common ailments treated include abdominal pain, shortness of breath, severe headache, heart attack symptoms, paralysis and other emergencies. This facility is equipped to treat children and adults. It has two triage rooms, 19 patient rooms, an emergency medicine laboratory and imaging services for X-ray, CT and ultrasound testing.
"Having this emergency care facility in West Kendall assures the residents they will have quality healthcare services available closer to home," said Commissioner Martinez.