Healthcare services offered to residents at Commissioner Martinez's annual Health & Safety Expo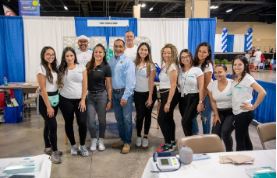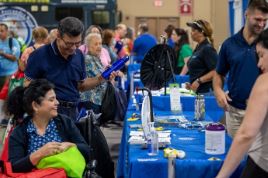 Left to Right: Commissioner Joe A. Martinez speaks with residents at the annual Health & Safety Expo. Residents speak with healthcare professionals during the event.
(Photos by: Armando Rodriguez/Miami-Dade County)
MIAMI-DADE – The annual Health & Safety Expo, hosted by Commissioner Joe A. Martinez, was well-attended by Miami-Dade County residents on Saturday, August 6, at the Miami-Dade County Fair Expo Center, 10901 Coral Way, Miami, FL 33165.
The event drew more than 1,500 attendees who received free medical screenings and consultations offered by healthcare professionals. COVID-19 vaccinations for individuals 5 years and older, mammograms, massages, and prostate cancer screenings were among the available services offered to residents at the expo. Residents were also able to obtain free promotional items, including backpacks, back to school items for children, cell phones, and bike helmets to promote safe riding for children and adults.
"We are grateful that so many residents showed up after a two-year hiatus due to the pandemic. Now more than ever, we know it's important to prioritize one's health, but it is not always easy or affordable. Residents had easy access to experts and were able to learn more about their health, safety, and well-being. They were able to take advantage of the many services offered at our annual event. Because of the generosity of our sponsors and other vendors who participated in this event, we were able to bring these services and resources to our residents, free of charge," said Commissioner Martinez.
The Department of Motor Vehicles (DMV) was also in attendance and assisted residents in applying for a driver's license or ID card, vehicle tag renewals, and more. Several Miami-Dade County departments were also in attendance, including the Miami-Dade Police and Miami-Dade Fire Departments, to provide information on their services.
This event was made possible by West Kendall Baptist Hospital, Cemex, Cooper General, Family Medical Group, Santos Medical Group, Las Mercedes Medical Center, FPL, HCA Florida Kendall Hospital, Humana Marketpoint, Memorial Healthcare System, AvMed, Chen Neighborhood Medical Center, Diario De Las Americas, Florida National University, La Colonia Medical Center, Miami Dolphins, Molina Healthcare, and WellMed/Optum.