Commissioner Diaz celebrates Veterans Treatment Court's 2nd anniversary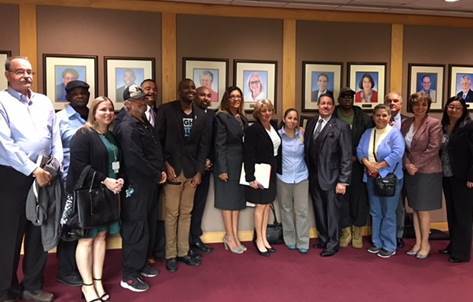 Commissioner Diaz poses with a group of veterans and court officials outside the Commission Chamber after the 2nd anniversary celebration of the Veterans Treatment Court.
MIAMI-DADE COUNTY – Miami-Dade's Veterans Treatment Court celebrated its 2nd anniversary at the Jan. 23 Miami-Dade County Commission meeting.
Commissioner Jose "Pepe" Diaz, who was instrumental in starting the program, along with Chief Judge Bertila Soto and Judge Marisa Tinkler-Mendez of the 11thJudicial Circuit of Florida and several veterans who have benefited from the program, spoke in glowing terms of the program's success in turning around many veterans' lives around since it started in January 2017.
"We know the Veterans Treatment Court has made and continues to make a huge difference in the lives of those who have served our nation and just need a little help to get their lives back together," said Commissioner Diaz, who also sponsored a resolution that passed on Jan. 23 which urges the state to provide more funding for the program.
As the Chairman of the Miami-Dade Military Affairs Board, Commissioner Diaz worked with the U.S. Department of Veterans Affairs, the Miami Veterans Health Administration, the Eleventh Judicial Circuit, and the South Florida Behavioral Health Network to create the Veterans Treatment Court, which diverts veterans from the traditional criminal justice system and provides them with the tools needed to successfully reintegrate back into civilian life – including substance abuse treatment, vocational training and housing from the Veterans Administration, as well as mentoring from members of the community.
For more information on the Veterans Treatment Court and how to get involved, call Gustavo Cruz, Director of the Military Affairs Board at (305) 375-4493.