Commissioner Diaz participates in sendoff of U.S. Navy hospital ship to Venezuelan refugees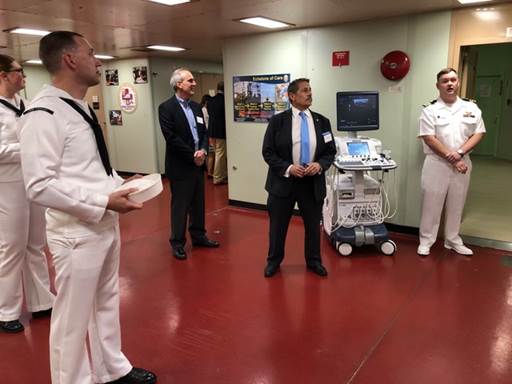 At left, Commissioner Diaz on the dock with the captain of the USNS Comfort. At right, he tours the ship.
MIAMI – Miami-Dade County Commissioner Jose "Pepe" Diaz participated in the official sendoff of a U.S. Navy hospital ship on a mission to the Caribbean, Central America, and South America to help Venezuelan refugees fleeing the country's political unrest and economic crisis.
The USNS Comfort, which provides a full spectrum of surgical and medical services, left PortMiami on June 18 for a five-month humanitarian mission to aid people fleeing Venezuela Nicolas Maduro's regime for neighboring countries
Commissioner Diaz attended the official sendoff after sponsoring a resolution supporting the mission.
In 2018, an average of 5,000 Venezuelan people left their country each day in search of protection and better living circumstances. According to the United Nations, about 2.7 million Venezuelans are being hosted in other Latin American and Caribbean countries, which are struggling with widespread shortages of food and medicine. The Trump administration has warned that another 2 million Venezuelan people are expected to flee their country by the end of the year if the crisis in Venezuela continues.
Commissioner Diaz, whose district includes Doral, which is home to the largest concentration of Venezuelans in the United States, has sponsored several resolutions condemning Venezuela's socialist government.