Veterans connect with employers at Commissioner Diaz's job fair for veterans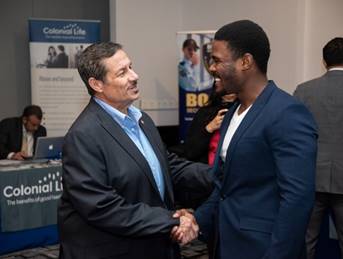 Commissioner Diaz greets a veteran at the job fair. (Photos by Armando Rodriguez / Miami-Dade County)
MIAMI-DADE – Dozens of veterans had the opportunity to meet with more than 40 employers at Miami-Dade County Commissioner Jose "Pepe" Diaz's Veterans Job & Resource Fair on Nov. 4.
The event featured on-site job interviews, free breakfast and lunch for participants, and a variety of resources for veterans.
"It was very gratifying to connect veterans with so many prospective employers a week ahead of Veterans Day," Commissioner Diaz said.
Commissioner Diaz thanks the following companies and organizations for their participation: Univision, Publix, Carnival Cruise Line, Security Alliance, Miguel Lopez Jr. Asphalt Maintenance in Pembroke Pines, Chick-fil-A, Royal Caribbean Cruises Ltd., Florida Department of Veterans Affairs, Walmart, FPL, University of Miami, City of Doral, Greater Miami Chamber of Commerce, City of Miami, Town of Medley, Miami Marlins, FIU, Colonial Life, CareerSource South Florida, Miami Dade College, Norwegian Cruise Lines, Miami-Dade Public Schools, Waste Management, Home Depot, TECO Energy, International Association of Fire Fighters Local 1403, El Dorado Furniture, United States Census Bureau, Baptist Hospital, Social Mobile, FBI, Florida Wildlife Commission, 22 Census, Bacardi Limited, Miami-Dade Corrections Department, South Florida Security, US Security, Region Security, G4S Secure Solutions (USA) Inc., Kent Security, and Boost Security.