Commissioner Diaz teams up with Miami Dolphins to distribute free Thanksgiving turkeys at Mater Academy Elementary School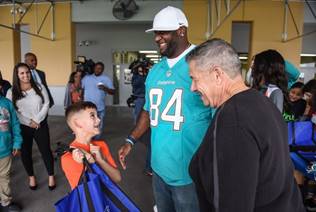 A Mater Academy student smiles after receiving a turkey in a bag from Commissioner Diaz and former Dolphin player Troy Drayton.
MIAMI-DADE COUNTY – Fifty students at Mater Academy Elementary in Hialeah Gardens received Thanksgiving turkeys to take home to their families as part of Miami-Dade County Commissioner Jose "Pepe" Diaz's annual turkey giveaway in partnership with the Miami Dolphins organization and its Football Unites program.
"We're helping ensure that these children and their families will be able to enjoy a traditional Thanksgiving meal, and that's a wonderful thing," Commissioner Diaz said.
The students, who were selected by the school, received not only Thanksgiving turkeys but also had the opportunity to get autographs and have their pictures taken with former Miami Dolphins players Twan Russell and Troy Drayton and cheerleaders.
"Our mission at Football Unites is to make South Florida healthier, educated and more united, and we were excited to partner with Commissioner Diaz to make a real impact in our community," said Jason Jenkins, Miami Dolphins Senior Vice President of Communications and Community Affairs.