Senator Garcia distributes COVID-19 vaccine in Hialeah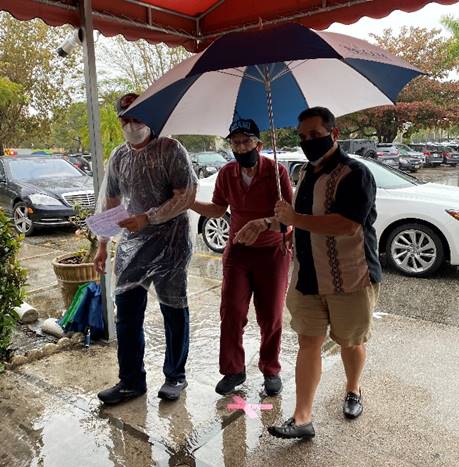 Senator René Garcia, right, assists seniors in obtaining the COVID-19 vaccine.
MIAMI-DADE – Rain or shine, District 13 has shown it is committed to vaccinating the most vulnerable populations in underserved communities. On Feb. 6, despite steady showers, Senator René Garcia, County Commissioner for District 13, facilitated the safe and effective distribution of the COVID-19 vaccine at San Lazaro Catholic Church in Hialeah, where 500 seniors received the Pfizer vaccine.
Governor Ron DeSantis, Lieutenant Governor Jeanette Nunez, State Senator Manny Diaz Jr., the Department of Health, Hope Mission Center, the National Guard, volunteers from Hialeah Housing, and the Miami-Dade Police Department are all playing an indispensable role in ensuring the successful distribution of vaccines in District 13 and throughout Miami-Dade County.
"This initiative could not have been accomplished without the help of the healthcare practitioners and frontline workers who have been at the forefront since the height of the epidemic. United, our community will thrive and overcome the virus," said Senator Garcia, who is working diligently to increase access to the vaccine to those who need it the most.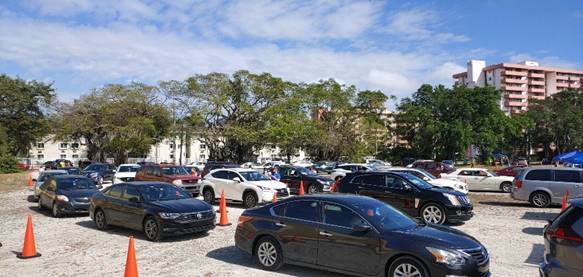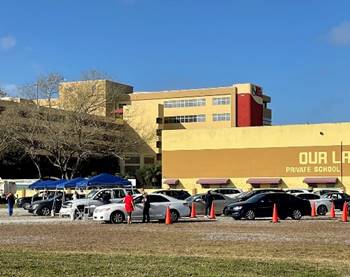 Motorists line up at the San Lazaro Catholic Church in Hialeah to receive the COVID-19 vaccine.