Thousands of Miami-Dade County volunteers to participate in Baynanza Biscayne Bay Cleanup Day on April 25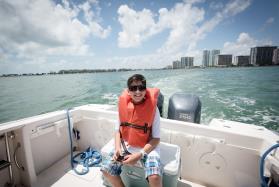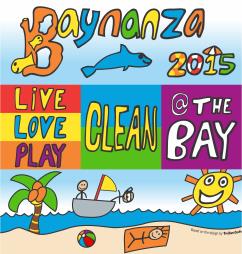 L: Baynanza T-shirt design winner Tristan Gude enjoys a boat tour of Biscayne Bay; R: The winning T-shirt design.
(MIAMI, April 20, 2015) – The Baynanza Biscayne Bay Cleanup Day returns on Saturday, April 25, and Miami-Dade County residents are invited to be part of one of the largest volunteer events in South Florida. Now in its 33rd year, this event brings the community together to help restore and clean Biscayne Bay's shoreline at 20 locations from 9 a.m. to noon. More than 6,000 volunteers have already signed up.
Baynanza celebrates the environment and invites the community to learn how to protect it. Volunteers at all cleanup sites will receive a free commemorative T-shirt, and community service hours are available to all students who participate. This year's Baynanza t-shirt was designed by Tristan Gude, a 5th grader at Air Base K-8 Center in Homestead, who's very passionate about the environment.
"In the past 14 years, nearly 102,000 volunteers have participated in the Cleanup Day and picked up more than 910,500 pounds of trash from Biscayne Bay," Mayor Carlos A. Gimenez said. "Yet, there is still more work to be done and I invite all our residents to help keep our Miami-Dade County treasure clean and beautiful."
Last year during the Biscayne Bay Cleanup Day more than 6,000 volunteers helped to remove a record 45.45 tons of trash from the shoreline and nearby islands of Biscayne Bay. The first Biscayne Bay Cleanup Day took place in 1982.
Volunteers will also enjoy entertainment, music, food, and engaging environmental activities at this year's VIP cleanup site, the Historic Virginia Key Beach Park, located at 4020 Virginia Beach Drive in Miami.
The Miami-Dade County Department of Regulatory and Economic Resources (RER), Division of Environmental Resources Management (DERM), organizes Baynanza every April with contributions from sponsors and other County agencies.
For more information, visit the Baynanza website.