Keep Up with District 8
The Homes for All Pets Summit Recap
The Homes for All Pets Summit was a great success! Two hundred participants came together on July 25th at PortMiami to discuss the safety of our Miami-Dade pets and how we can increase public awareness to prevent abandoned animals. Dr. Julie Levy, Director of Maddie's Shelter Medicine Program at the University of Florida, was our keynote speaker. Dr. Levy gave an informative presentation on the Animal Services Department and best practices that address the challenges that remain.
Many thanks to our wonderful sponsors. The summit would not have been possible without their generosity. A list of sponsors is below.
A special thanks to Mayor Carlos Gimenez and his staff for co-hosting the summit with our office. The Mayor's talk included several advancements made in animal welfare and future investments for the safety of our pets. He even gave a special shout-out to his rescue dog, Beemer.
The goal of the summit was to bring the community together to identify solutions to the existing gaps in our animal services. The recommendations we received will be consolidated and sent to the event attendees, posted on the District 8 website and shared in the newsletter. Stay tuned!
Sponsors: PortMiami, City of Miami Beach, Village of Pinecrest, City of Coral Gables, City of Doral, City of South Miami, City of Sunny Isles Beach, City of Hialeah, North Bay Village, City of Homestead, City of Miami Springs, Village of Virginia Gardens, City of Miami, City of North Miami, Town of Cutler Bay, Town of Bay Harbor Islands, City of Opa-Locka, Village of Palmetto Bay and Village of El Portal. A special thanks to a Fare to Remember Creative Catering for providing a delicious animal-friendly, no meat meal.
Thank you to Mayor Gimenez for co-hosting the event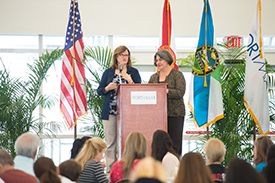 Dr. Julie Levy shared animal well-being best practices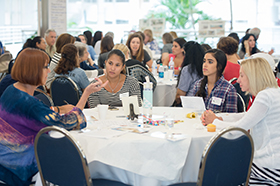 Participants discussed the summit topics in small groups
---
Great in District 8 Profile
Kametra Driver: A South Dade Convener

Kametra Driver is the Executive Director of WeCare, a nonprofit organization in South Dade. Originally from Tulsa, Okhlahoma, Kametra arrived in Miami 14 years ago and has been working with WeCare ever since.
As the Executive Director, Kametra oversees a coalition of social service agencies. WeCare works with other organizations to identify needs in the community and forms partnerships to address those needs. "We are a convener organization," Kametra explains. "We bring together nonprofits, businesses and government agencies. Nonprofits can't do it alone and we believe that partnerships are the best way to find solutions to issues in the community."
Recently, the WeCare team advocated for renewed funding for South Dade from the Children's Trust. After much deliberation from a group of united organizations, WeCare received funding to continue the "Out of School Collaborative", a free, high-quality program for students during school breaks. "Because of our efforts, five additional organizations in deep South Dade will get funding from the Children's Trust. They listened to us and put an additional $800,000 into South Dade," Kametra said.
A community meeting will be held on August 6th at 9 a.m. at Phicol Williams (951 SW 4th Street) to discuss allocating the total $1.5 million awarded from the Children's Trust for Community Based Organizations.
Kametra's work forging partnerships gives her special insight to the challenges facing South Dade communities: "Economic development is key. People need jobs and the opportunity to acquire the necessary skills to find employment. South Dade needs to be better prepared for commercial growth so that our local community residents can compete for jobs." Kametra strives to address these issues by working across sectors in the South Dade community.
Thank you, Kametra, for advocating for South Dade and for being Great in District 8!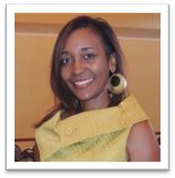 Kametra Driver, Executive Director of WeCare of South Dade