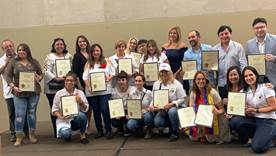 Some of the mannequins on display through March 22 and Embajadores del Arte group with their certificates of participation.
MIAMI – In honor of Women History Month, the Hispanic Affairs Advisory Board (HAAB) under the Office of Community Advocacy, celebrated International Women's Day relaunching the first series of Art Fridays in Downtown, Miami for 2019. A display of mannequins revealing art expressions will be exhibited until March 22, in the lobby of the Stephen P. Clark Center, 111 NW 1st Street, Miami. The March 8 event had a flower theme honoring women and focused on Venezuelan relief efforts featuring Latin American entertainment.
The next Art Fridays in Downtown, Miami will take place on Friday, April 12. It will also have a pop-up exhibit and art workshops. HAAB is collaborating with the artists and the consulates in Miami-Dade County to highlight the diverse population of our community.
For more information, please contact Hispanic Affairs Advisory Board Director Natalie Milian at 305-375-5098.
The Office of Community Advocacy is charged with making Miami-Dade County "One Community" that embraces our diverse and unique population. Follow @AdvocacyMDC on YouTube, Facebook, Instagram, and Twitter. Follow @MiamiDadeHAAB on Facebook and Twitter.