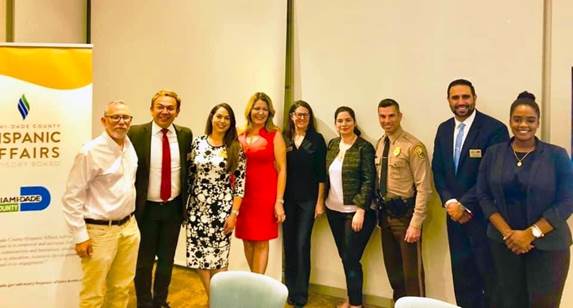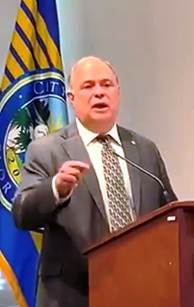 From L-R: WeCount! Executive Director Jonathan Fried, HAAB Chairman Francesco Duberli, HAAB Director Natalie Milian, Telemundo 51 Political Reporter Ana Cuervo, American for Immigrant Justice Deputy Director Michelle Ortiz, Assistant Public Defender Mara Apostol, MDPD Director Juan J. Perez, HAAB Board Member & Immigration Attorney Karamat Qayum, Catholic Legal Services Senior Attorney & Outreach Coordinator Vanessa Joseph. Right Photo: City of Doral Mayor Juan Carlos Bermudez.
MIAMI – The Hispanic Affairs Advisory Board (HAAB) under the Office of Community Advocacy, hosted a forum covering the changes in immigration policies and potential effects on Miami-Dade County, lawful permanent residency, and the 2020 Census. The event took place on May 22 in the City of Doral Government Center, a municipality with a high number of Hispanic residents.
The forum was moderated by Telemundo 51 political reporter Ana Cuervo and the panelists were:
Juan Perez, Director, Miami-Dade County Police Department
Mara Apostol, Assistant Public Defender, Office of the Miami-Dade Public Defender
Michelle Ortiz, Esq., Deputy Director, Americans for Immigrant Justice
Vanessa Joseph, Staff Attorney, Catholic Legal Services, Archdiocese of Miami, Inc.
Jonathan Fried, Executive Director, WeCount!
Karamat Qayum, Esq., Immigration Attorney, Miami-Dade County Hispanic Affairs Advisory Board
The Office of Community Advocacy is charged with making Miami-Dade County "One Community" that embraces our diverse and unique population. Follow @AdvocacyMDC on YouTube, Facebook, Instagram and Twitter and follow @MiamiDadeHAAB on Facebook and Twitter.