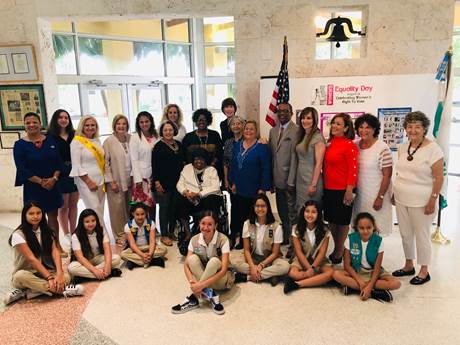 Congresswomen Ileana Ros-Lehtinen and Gwen Graham, along with the Miami-Dade County Commission for Women members, pose with honoree Congresswoman Carrie Meek, her daughter Lucia Davis-Raiford, and others. Photo by De Aundre Slater/Office of Community Advocacy/Miami-Dade County.
MIAMI – The Miami-Dade County Commission for Women, The Women's Park, and the League of Women Voters of Miami-Dade hosted Miami-Dade's seventh annual celebration for Women's Equality Day on Saturday, Aug. 24, 2019, at The Women's Park in Miami. County Commissioner Daniella Levine Cava, Congresswoman Ileana Ros-Lehtinen, and Congresswoman Gwen Graham were in attendance to honor and pay tribute to the lifetime achievements of Congresswoman Carrie Meek, who was involved with the Miami-Dade Commission for Women in its early days, and served as Florida's first African American woman State Senator.
The event commemorated the 99th anniversary of the 19th Amendment to the U.S. Constitution, which granted women the right to vote, and celebrated the continued efforts on behalf of equal rights for women.
Created in 1971, the Commission for Women falls under the purview of the Office of Community Advocacy, a division of Miami-Dade Board of County Commissioners (BCC), and serves as an advisory board to the BCC, the County administration and the public at large about issues pertaining to the status of women. The Commission for Women advocates for women in the community and strives to improve their quality of life.
To view more pictures of the Women Equality Day event, visit Miami-Dade County Commission for Women on Facebook and Miami-Dade Women on Twitter. For more information, please contact Miami-Dade County Commission for Women Director Laura Morilla, at 305-375-4967.
The Office of Community Advocacy, is charged with making Miami-Dade County "One Community" that embraces our diverse and unique population. Subscribe to our YouTube channel and follow @AdvocacyMDC on Facebook, Instagram, and Twitter.