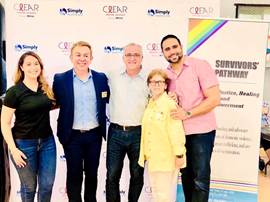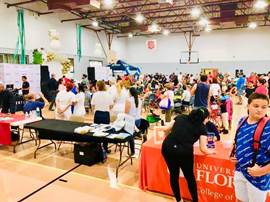 From L-R: HAAB's Director Natalie Milian, HAAB's Chairman Francesco Duberli, Commissioner Esteban L. Bovo, and HAAB's members Edilfa Perez and Attorney Karamat Qayum
MIAMI – To kick off Hispanic Heritage Month, the Hispanic Affairs Advisory Board (HAAB) under the Office of Community Advocacy, co-hosted "La Fiesta de la Familia" (a health and resource family festival), with Commissioner Esteban L. Bovo, Jr., Survivors Pathway, Simply Health, Farm Share, the Florida Department of Health, the City of Hialeah Police Department, the Miami Gardens Police Department, and Cano Health. The event took place on Sept. 14 at the Salvation Army in Hialeah. Commissioner Bovo, Jr. addressed the public on the importance of Census 2020, health and being informed of County resources.
More than 500 families received food bags from Farm Share and over 1,200 people participated in the event. "I am very pleased with the response from the public, the aim was to create awareness and increase knowledge about trauma, mental health conditions, victimization, and the effect that these conditions have in determining the long-term health outcomes of the affected communities," said HAAB's Chairman Francesco Duberli.
About 15 health care organizations presented their programs, benefiting the participants with Diabetes education and screening, eye exams, blood pressure, nutrition, HIV testing, and much more. There were representatives with information regarding domestic violence, sexual assault and human trafficking from the City of Miami Police Department, Miami-Dade Police Department, the Eleventh Court Circuit, Fatality Review Team, Miami Gardens Police Department, Entre Nosotras, Fundacion FVE, Survivors Pathway, the Office of the State Attorney, the Florida Attorney General, and the U.S. Department of Homeland Security.
For high resolution pictures, please contact Griselle Marino at 305-375-1585.
The Office of Community Advocacy is charged with making Miami-Dade County "One Community" that embraces our diverse and unique population. Follow @AdvocacyMDC on YouTube, Facebook, Instagram and Twitter. Follow @MiamiDadeHAAB on Facebook and Twitter.