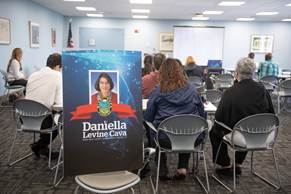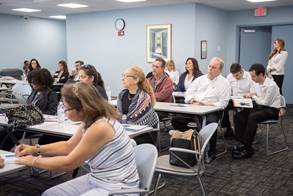 MIAMI – Due to the proliferation of IoT (In the Internet of Things) technology, artificial intelligence, robotics and the increased automation of routine tasks, the business world is slated to change the professional landscape dramatically in the coming decade and beyond. In order to assist our residents with the skills they need, Miami-Dade County Community Relations Board (CRB), under the Office of Community Advocacy, and in partnership with Commissioner Daniella Levine Cava, hosted a "Step into the Future – Employment in the Digital Age" workshop on Sept. 19, at the South-Dade Regional Library.
Participants learned valuable resume writing techniques, interviewing tips, and how to navigate the job search engines and social media platforms. The workshop was co-hosted by CRB's Quality of Life Committee and sponsored by Miami-Dade County Public Library System, CareerSource South Florida, Catholic Legal Services, Be Strong International, LEAP, Applebees, and Olive Garden.
The Community Relations Board was founded in 1963 and its primary mission is to intervene and contain community tensions, as quickly as possible. The secondary mission of the Community Relations Board is to work proactively to identify and relieve intergroup conflicts before crises arise; to develop bridges of understanding and support programs in the community; to foster understanding, communication, and mutual respect; to develop and support local or city based Community Relations Boards throughout the county; and to assure that resources are in place to respond to community crisis.
For high resolution pictures, please contact Griselle Marino at 305-375-1585.
The Office of Community Advocacy is charged with making Miami-Dade County "One Community" that embraces our diverse and unique population. Follow @AdvocacyMDC on YouTube, Facebook, Instagram and Twitter.