(MIAMI, July 10, 2013) - Miami-Dade County's Information Technology Department (ITD) received the Public Technology Institute's (PTI) 2013 Annual Solutions Award for the County's Private Cloud. The award was presented by Miami-Dade County Chairwoman Rebeca Sosa at the Board of County Commissioners Meeting on July 2, 2013.
"We're honored that our Information Technology Department has been recognized by the Public Technology Institute for their successful implementation of the County's internal data cloud. Their hard work is making us a smarter, more efficient organization and it's saving our taxpayers a significant amount of money in the process," said Mayor Carlos A. Gimenez. "Technology-driven initiatives like this one show government at its very best, and I'm proud of our team at ITD for their efforts."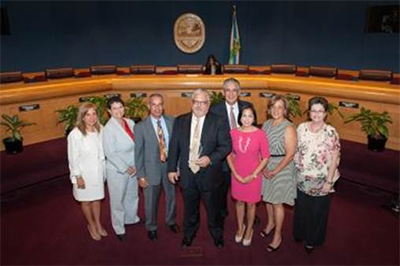 The County's Private Cloud is where County data is stored and can be accessed from anywhere at anytime, securely. The Miami-Dade County Cloud implementation has yielded to-date, the consolidation of well over 800 physical servers onto larger enterprise sized servers which were partitioned into smaller virtual units thus saving electrical consumption, software licensing, and maximizing the use of the enterprise computing by utilizing a significantly larger portion of the devices through effective virtualization methods. As a result of implementing ITD's Private Cloud infrastructure, the County has saved over $2 million in capital and related licensing costs in physical server replacements.
PTI's Annual Solutions Awards Competition recognizes local governments that demonstrate how they use technology to solve specific problems, improve community services and internal operations and reduce costs. PTI has been actively supporting local government executives and elected officials through research, education, executive-level consulting services, and national recognition programs for the last 40 years. As the only technology organization created by and for cities and counties, PTI works with a core network of leading local officials to identify research opportunities, share solutions, recognize member achievements and address the many technology issues that impact local government.
For more information please contact the Information Technology Department at (305) 596-8700 or at www.miamidade.gov/technology/.