What's Coming Up
Upcoming Policy Solutions
My resolution directing the Mayor to identify a sustainable funding source for mosquito control passed committee and will go to the Board in March. A consistent funding source will help ensure that we are proactively working to curb the spread of mosquito-borne diseases.
I am sponsoring a resolution approved in committee that would notify county departments if a permit applicant or holder owes any fees. This item will also go to the Board in March.
I sponsored an item that would fund a new marine patrol boat to be stationed at Black Point marina. The item cleared committee review and will be heard by the Board in March.
We have a trio of animal protection bills moving forward in March reducing the age of volunteers in our shelters to 16, creating a registry to ensure animal abusers cannot adopt dogs from our shelter partners and ban the saleof dogs from puppy mills.
Be sure to give us your suggestions and ideas. Email us at district8@miamidade.gov or write us on Facebook and Twitter.
---
Updates: District 8 Small Business Academy
In our last issue we announced the start of the second District 8 Small Business Academy. The deadline for applications has been extended. Please submit your application as soon as possible to Rahel at rahelw@miamidade.gov. Classes begin on March 7th.
The Small Business Academy provides vital training and resources to existing small businesses and aims to give small businesses the tools they need to increase sales, hire more employees and thrive in the community.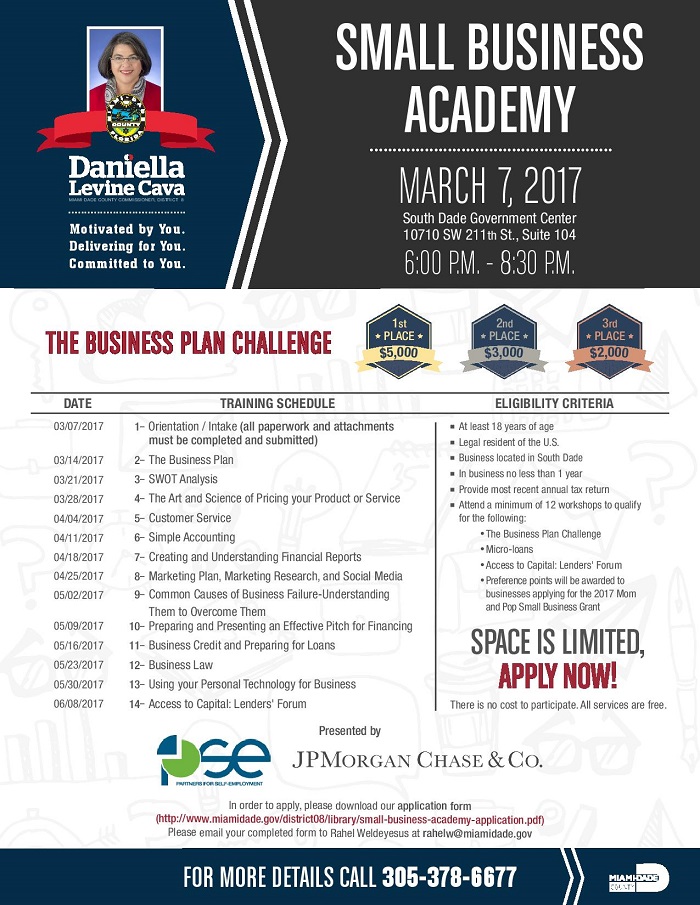 Classes begin on March 7th. Send your application to Rahel at rahelw@miamidade.gov
---
Leisure City Pride
I am proud to sponsor National Rebuilding Day in Leisure City on April 29th. Home repair and beautification services will be provided to qualifying homeowners, including accessibility modifications, energy efficient upgrades, roofing, plumbing and landscaping.
We need volunteers to help us give Leisure City some love. Register here and be sure to wear comfortable clothing and sunblock. See you on the 29th!