If you are having trouble viewing this email, please click here.
District 12 e-Newsletter


Dear District 12 residents,

I want to take this opportunity to invite you to the annual District 12's Spring Festival on April 6 at North Trail Park, 780 NW 127th Avenue. This is an event for the entire family and includes free food, live entertainment, games, bounce house, face-painting, an Easter egg hunt and many more fun free activities.

This event will also highlight two important projects that will finally be a reality – the new skate park and new basketball courts. The projects have been a priority for me and I hope all residents of District 12 enjoy them!

For more information on the Spring Festival, please contact my office at 305-599-1200.

Sincerely,

Commissioner José "Pepe" Díaz
Commissioner Diaz's Upcoming Legislation
Resolution urging the Florida Legislature to change sentencing guidelines for hit and run accidents to impose minimum mandatory of 10 years-- Commissioner Diaz's resolution is urging the following: Make leaving the scene of an accident that resulted in injury a second degree felony (from a third degree felony) punishable by a maximum of 15 years and a minimum mandatory of 7 years. Leaving the scene of an accident that resulted in death is a first degree felony (punishable by a maximum of 30 years), with a minimum mandatory of 10 years; and leaving the scene of an accident that result in death while the offending driving was under the influence is a first degree felony (punishable by a maximum of 30 years), with a minimum mandatory of 10 years.
Resolution to create and establish the Homeowners Insurance Task Force-- The task force will assist in evaluating and recommending measures to improve issues relating to local property insurance programs, namely Citizens Property Insurance Corporation (Citizens), including but not limited to unauthorized rate increases, unfair practices leading to the removal of credits and other issues impacting the affordability of homeowners insurance for the residents of Miami-Dade County.
Commissioner Diaz receives Hispanic Leadership Award
At the South Florida Hispanic Chamber of Commerce event on March 22, Commissioner Diaz was presented with its 'Hispanic Leadership Awards" for his leadership and dedication as a public servant. The commissioner has been a public servant for more than 25 years. In those 25 years, he established the "Seniors Never Alone" program, which is operated by the Switchboard of Miami, Inc., has been a strong advocate for the safety of our children by creating the "child safety zones", prohibiting registered sex offenders from loitering in places typically frequented by children. He also advocated for harsher penalties for those convicted of human and sex trafficking, particularly involving minors and also supported the Safe Harbor Act, which provides safe houses and treatments for young trafficking victims. The event took place at the Doral Golf Resort and Spa. The South Florida Hispanic Chamber of Commerce's Hispanic leadership award recognizes individuals that provide residents with a better community.
Commissioner Diaz honored for bringing Wrestlemania to Miami-Dade
On February 26, Commissioner Diaz was honored by the Greater Miami Convention & Visitors Bureau with the 2013 Miami Magnet Award for his leadership in bringing the WWE WrestleMania XXVIII to Miami-Dade County in April 2012. The event generated $102.7 million in economic impact for Miami –Dade County. Every year, the Miami Magnet Award is awarded by the Greater Miami Convention & Visitors Bureau each year to community leaders that have been influential in attracting meetings and conventions to Miami-Dade County.
District 12 college scholarship deadline is April 10

If you are a senior in high school in District 12 and getting ready for college, you might want to apply for Commissioner Diaz's annual school scholarship for $1,000 to any Florida college or university.

Scholarship applications will be available starting March 1st until April 10, 2013 until 4 pm. The scholarship is available to students attending Doral Academy Charter High School, Mater Academy Charter High School, Ronald Reagan/Doral Senior High School, Belen Jesuit Preparatory School, Hialeah Educational High School and Hialeah Gardens High School.

Download an application

or pick one up at the Commissioner's district office, 8345 NW 12th Street or at their CAP counselor's office in their school.
Miami-Dade Public Library System offers poetry contest for teens
To help celebrate April's National Poetry Month and in commemoration of Viva 500 – the State of Florida's 500th anniversary, the Miami Dade Public Library System is inviting teens, ages 12-19, to pick up a pen and participate in its annual National Poetry Month Contest. The contest starts on April 1 and runs through April 30, 2013.
Poems must be 20 lines or less and should reflect the theme, Florida's Unique Place in American History. The poem can be about people, places or culture and must be the original work of the participant. Entries may be typed or written – double spaced - and attached to an official entry form. Entry forms are available at any Miami-Dade Branch Library.
Poems will be judged on originality, artistic quality and emotional impact. Awards will be presented in two categories: Ages 12-15 and Ages 16-19. First place winners will receive a Kindle Paperwhite; second place winners will receive a $50 gift certificate to Amazon.com.
For more information, call 305-375-BOOK (2665) or visit the Miami Dade Public Library System website.
Merengue sensation "Tony Swing" to perform at Tropical Park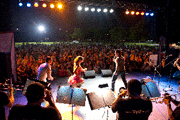 Don't miss this dance party under the stars featuring a free live concert by Merengue music sensation Tony Swing on Friday, April 5th at Tropical Park, as part of the Noches Tropicales concert series presented by the Miami-Dade County Parks, Recreation and Open Spaces Department, and sponsored by Target.
The concert starts at 8 p.m. and offers a casual, family-style atmosphere with open field seating. Admission and parking are free for this event. Tropical Park is located at 7900 SW 40 St., Miami. Noches Tropicales concert goers are encouraged to bring along a blanket, chairs and snacks to better enjoy the festivities.
For more information on Noches Tropicales/Tropical Nights concerts, call 305-271-0812, or visit the Miami-Dade Parks website.
Protect yourself from tax scams during tax time
It's that time of year again when income tax returns will soon be due to the Internal Revenue Service (IRS). Because identity theft typically increases during filing season, the IRS continues to alert consumers to be on the lookout for any suspicious e-mails containing the IRS name or logo.

If you receive an e-mail claiming to come from that agency, chances are someone is trying to gain access to your personal and financial information, and you have officially become a target for identity theft.
For more consumer tips, or to check the complaint history of a company, file a complaint or ask consumer-related questions, visit the Department of Regulatory and Economic Resources, Business Affairs Division website or call 305-375-3677.
Golden Passport holders under age 65 are advised to renew early
If you are a Golden Passport holder under age 65, Miami-Dade Transit encourages you to renew your Golden Passport EASY Card as soon as possible. By renewing before the April 30, 2013 deadline,

Golden Passport holders can avoid long lines and wait times and ensure the continued use of their Golden Passport without interruption. Following documentation is needed to renew your card, a valid state-issued Florida driver's license or Florida ID showing a physical Miami-Dade County address, current year print-out from the Social Security Administration, verifying continued eligibility and your golden passport EASY card.

People can renew their cards at the following locations: Golden Passport Office at the Transit Service Center located next to the Government Center Metrorail station at 111 NW 1 Street – Second Level, Miami, FL 33128, open weekdays from 8 a.m. to 4:30 p.m.

Any 3-1-1- Service Center, open weekdays from 9 a.m. to 4 p.m. (closed for lunch from 12 p.m. to 1 p.m.) at the following locations:
South Dade Justice Center – 10710 SW 211 Street Cutler Bay, FL 33189
North Dade Justice Center – 15555 Biscayne Boulevard, Miami, FL 33181
Miami-Dade Permitting Information Center – 11805 SW 26 Street, Miami, FL 33175

If you have any questions about your Golden Passport EASY Card, please call 3-1-1 or visit the Transit website.
SR 836/Dolphin Expressway closures
On November 30, 2009, the Florida Department of Transportation (FDOT) District Six in partnership with the Miami-Dade Expressway Authority (MDX) began a reconstruction project of the State Road (S.R.) 826 (Palmetto Expressway) and S.R. 836 (Dolphin Expressway) Interchange.

Now that construction has begun, there will be many upcoming lane and ramp closures on the Dolphin Expressway. For more information about construction-related activities, please contact email Oscar Gonzalez or call 786-280-0983. General information can be found at 826-826 website. Motorists are encouraged to call 511 before they drive, or log on to Florida's Statewide 511 website for real-time traffic and lane closure information.
Looking for a job? Need to update your resume?
To help Miami-Dade County residents, the Miami-Dade Public Library System is offering a wide assortment of vital information and valuable assistance for job seekers! From computer classes and access to the Internet, to help with resume writing, job interviewing skills and test preparation, the Library wants to help patrons prepare for and search for jobs.

Free classes are held throughout all 47 branch locations and are available in both English and Spanish. The Library's website, www.mdpls.org, has created a "Job Search" section for individuals to access from any location 24/7.

For more information, contact 305-375-BOOK (2665) or visit Miami-Dade Public Library System website.
Need assistance paying your utility bills?
The Miami-Dade Community Action Agency's (CAA) Low Income Home Energy Assistance Program (LIHEAP) is currently assisting eligible residents with payment of their gas or electric bills. The program assists individuals who are experiencing an increase in their energy bill due to the weather as well as individuals with final notices or those who have had their services disconnected.

Applications for LIHEAP are available Monday through Friday at CAA Service Centers like the Hialeah Service Center, 300 E. First Avenue, or the Sweetwater Service Center, 250 SW 114 Avenue.

For a complete list of all the CAA Service Centers or to download the application, please visit the County's website or contact the Miami-Dade Community Action Agency at 786-469-4600.
Upcoming events
April 6, 2013 at 11 a.m. - Commissioner Diaz invites the entire family to his annual "District 12 Spring Festival", taking place at North Trail Park, 780 NW 127th Avenue. This event is FREE. For more information, please call the office at 305-599-1200.
April 7, 2013 at 10 a.m. – Miami Walk Now for Autism Speaks at JC Bermudez Park, 3000 NW 87th Avenue in Doral. For more information email us or call 786-235-1165.