Daniella Delivers
2015 Budget Cycle
The new fiscal year officially began and the Board of County Commissioners voted for the new budget on September 17th. Check out the many important budget allocations across Miami-Dade, including investments in our parks, climate change mitigation, pets and police.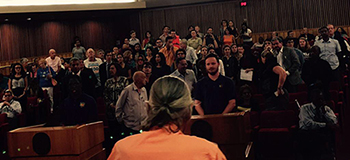 A wave of climate and civic activists at the final budget hearing
---
District 8 Legislation

District 8 started the month with the passage of my proposed legislation at the County Commission.
Don't forget to watch the meetings through Miami-Dade TV.
---
Attending the Los Angeles US-China Climate Summit
Los Angeles hosted the bilateral summit and I was grateful to attend with the Mayor's delegation. The Summit was the first official gathering of US and Chinese leaders on the issue of climate change in advance of the United Nations Climate Conference in Paris at the end of this year. The purpose of the Summit was to enhance global cooperation on climate change and sea level rise through local commitments and agreements.
Our county is ground zero for sea level rise in the United States and rising waters pose a serious threat to our community, economy and way of life. Miami-Dade has taken great strides towards climate change adaptation through the work of the Climate Change Advisory Taskforce and the Sea Level Rise Taskforce. Our GreenPrint plan has been used as a national model and I recently put forth legislation to update the GreenPrint plan for the next five years.
A rising tide of civic activists made their voices heard at the budget hearings this year. The County Commission and Mayor Carlos Gimenez allocated an additional $375,000 for a climate change adaptation vulnerability plan and a Resilience Officer position that will report directly to the Deputy Mayor.
The time has come for more aggressive action on climate change. I call for real, sustainable solutions in an op-ed published by the Miami Herald and El Nuevo Herald. We must work together to combat the inevitable effects of rising seas.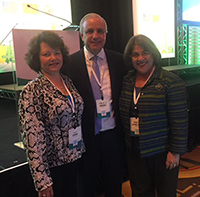 With Mayor Gimenez and Pinecrest Mayor Cindy Lerner at the US-China Climate Summit
---
Grant Writing 101
We had a full house at our District 8 Grant Writing Workshop for Nonprofits. Organizations from across the county learned the fundamentals of identifying funding opportunities and how to develop and submit successful proposals.
A special thanks to our facilitators, Cutler Bay Counilwoman Sue Loyzelle and Metris Batts-Coley of The Affiliates, LLC.

Packed house!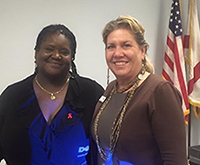 Our dynamic duo!
---
Reporting Back from the Homes for All Pets Summit
The Homes for All Pets Summit brought together community leaders to explore solutions to our animal welfare challenges and the results and ideas from the day were gathered into a report. Read the report on our website.