If you are having trouble viewing this email, please click here.
District 12 e-Newsletter


Dear residents,

As the Chairman of the Miami-Dade Military Affairs Board and who proudly served in the United States Marines Corps, I want to take this opportunity to invite you to participate in the Everglades Bicycle Club "Freedom Ride 2014" taking place at the Homestead-Miami Speedway on Sunday, October 10, 2014 that will benefit the Achilles International Freedom Team of Wounded Veterans.

Our wounded military veterans have sacrificed so much and it's our time to show our support to them.

For more information on this event or to sign-up, please visit http://www.active.com/homestead-fl/cycling/races/ebc-homestead-speedway-freedom-ride-2014

I look forward to seeing you there since I will be serving as the honorary ride leader for this event.

Let's do our part and help our wounded military veterans!

Sincerely,

Commissioner Jose 'Pepe' Diaz
District 12
Legislation sponsored by Commissioner Diaz

A resolution sponsored by Commissioner Diaz urges the federal government to revoke the citizenship and passports of any United States citizen who fights for the Islamic State in Iraq and the Levant, the terrorist group known as ISIL. The resolution also expresses condolences to the families of U.S. citizens James Foley and Steven Sotloff, whose brutal execution videos were released by ISIL on the Internet. Sotloff was a journalist from Miami-Dade County. Intelligence reports estimate that more than 100 Americans have signed on as fighters with ISIL, which controls hundreds of square miles in Syria and Iraq and is known for carrying out mass executions, crucifixions and rapes.
Commissioner Diaz sponsors legislation to achieve No-Kill goal
A new partnership agreement between Miami-Dade County Animal Services (Animal Services) and The Cat Network, Inc., (TCN) a 501(c)3 Florida not-for-profit corporation, will increase the number of spay/neuter surgeries of free-roaming and owner companion cats, as well as cats awaiting adoption at the Animal Services shelter. Through the partnership, which was approved by the Board of County Commissioners on July 1, 2014, Animal Services is providing TCN with a veterinarian to operate their mobile animal clinic known as the Meow Mobile to its fullest capacity. Under the terms of the agreement, Animal Services staff veterinarians are scheduled to perform sterilization surgeries on the unit three times per week on a rotating basis which began on August 12, 2014. It is estimated that approximately 3,000 surgeries can be performed on the unit per year. Commissioner Jose "Pepe" Diaz sponsored the resolution to help the Miami-Dade Animal Services Department Shelter achieve its No-Kill goal by providing more spay and neuter services for cats. For more information, visit animals.miamidade.gov or call 3-1-1.
Comcast On-Demand to showcase documentary on Miami-Dade Golden Veterans: 50th Anniversary of the Vietnam War
Last year, the Miami-Dade Military Affairs Board and Commissioner Diaz, who serves as the Chairman of the board honored our Vietnam Veterans for the first time with a Vietnam Veterans Parade. We also produced a 24-minute documentary which showcased the raw emotions of some of our Vietnam veterans who 50 years later finally received the hero's welcome they so deserved. The commissioner is happy to report Comcast on Demand will be featuring this documentary from September 2014 to February 2015. This video offers a firsthand account of the veterans' experiences, as they courageously recount their struggle to find closure and acceptance. For many, that healing began with Miami-Dade County's Golden Veterans celebration.
Vaccination is the best way to protect yourself from the flu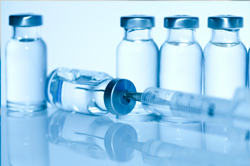 The Florida Department of Health in Miami-Dade County is encouraging the public to protect themselves against the seasonal flu by getting vaccinated. Influenza (flu) is a contagious respiratory illness caused by influenza viruses that infect the nose, throat, and lungs and can be spread by coughing, sneezing, and close contact. Flu season typically starts in the fall and peaks in January or February, and can last as late as May. The Centers for Disease Control and Prevention (CDC) recommends annual influenza vaccinations for everyone 6 months of age or older since flu viruses change. Vaccination is especially important for people at high risk of influenza complications, including: people 65 years and older, pregnant women, young children and people of any age with certain chronic medical conditions. The flu vaccine is FREE for children under the age of 18 years old. The Florida Department of Health in Miami-Dade County provides flu vaccines at several locations, please call the Florida Department of Health in Miami-Dade County, Immunization Services at 786-845-0550 or visit http://www.dadehealth.org/ or visit http://flushot.healthmap.org/ for clinics in your area.
Commissioner Diaz presents proclamation to Shawn Ramirez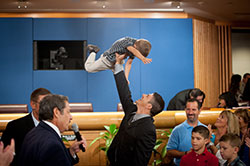 On September 3, Commissioner Diaz presented a proclamation to Shawn Ramirez, who won the "Fittest on Earth" title at the 2014 Reebok CrossFit Games in California. Shawn believes in motivating residents to be healthier. He serves as the Fitness and Wellness Coordinator for Miami-Dade Parks' Fit2Play After-School and Out-of-School camps for older adults. He also chairs the Miami-Dade County Health Department's Worksite Wellness Committee and is a co-owner of CrossFit BRx, Inc., in Kendall. For more information about Miami-Dade County Parks visit http://www.miamidade.gov/parks/
National Breast Cancer Awareness month

October is National Breast Cancer Awareness month and the Florida Health will be providing FREE breast and cervical cancer screening to women who are 50 years and older and who have low income. Pre-registration is required by October 2, 2014 so please call 305-470-5634 to schedule your appointment.
Miami-Dade County makes registration easier with new online vendor registration portal
The Miami-Dade County Internal Services Department (ISD), Procurement Management Services has launched its new online vendor registration portal. The online vendor registration portal will allow both existing and future vendors to easily do business with the County and participate in upcoming contracting and business opportunities for goods and services, and county design and construction contracts. Instructions for all vendors, both existing and new, are available at the ISD Vendor Services page at http://www.miamidade.gov/procurement/vendor-registration.asp. Additionally, e-mails will be sent to all current registered vendors to update their information on the new portal to establish their online profile with the County. The online profile will eliminate the need for vendors to re-submit numerous paper-based vendor registration documents for additional County contracting opportunities. The online vendor registration portal is a major enhancement and improvement to the County's procurement process that has been in high demand by the business community.
Miami-Dade Parks kicks off free concert series
The Miami-Dade County Parks, Recreation and Open Spaces Department in partnership with the Parks Foundation of Miami-Dade, will kick off its 2014-2015 Noches Tropicales season with a FREE Latin Music Gala Concert at 8:00 p.m., on Friday, October 17, 2014, at Miami-Dade County Auditorium, 2901 West Flagler Street, Miami. Performing will be American Grammy Award-winning music sensation Marlow Rosado and La Riqueña band. The complimentary tickets for the season-opening concert will be available to the public beginning September 15 online at http://parkstore.miamidade.gov/NochesTropicales14.aspx,
SR 836/Dolphin Expressway closures
On November 30, 2009, the Florida Department of Transportation (FDOT) District Six in partnership with the Miami-Dade Expressway Authority (MDX) began a reconstruction project of the State Road (S.R.) 826 (Palmetto Expressway) and S.R. 836 (Dolphin Expressway) Interchange. Now that construction has begun, there will be many upcoming lane and ramp closures on the Dolphin Expressway. For more information about construction-related activities, please contact Oscar Gonzalez at 786-280-0983 or via e-mail at [email protected]. General information can be found at http://www.826-836.com/. Motorists are encouraged to call 511 before they drive, or log on to http://www.fl511.com/ for real-time traffic and lane closure information.
Looking for a job? Need to update your resume?
To help Miami-Dade County residents, the Miami-Dade Public Library System is offering a wide assortment of vital information and valuable assistance for job seekers! From computer classes and access to the Internet, to help with resume writing, job interviewing skills and test preparation, the Library wants to help patrons prepare for and search for jobs. Free classes are held throughout all 47 branch locations and are available in both English and Spanish. The Library's website, www.mdpls.org, has created a "Job Search" section for individuals to access from any location 24/7. For more information, contact 305-375-BOOK (2665) or visit http://www.mdpls.org/.
Need assistance paying your utility bills?
The Miami-Dade Community Action Agency's (CAA) Low Income Home Energy Assistance Program (LIHEAP) is currently assisting eligible residents with payment of their gas or electric bills. The program assists individuals who are experiencing an increase in their energy bill due to the weather as well as individuals with final notices or those who have had their services disconnected. Applications for LIHEAP are available Monday through Friday at CAA Service Centers like the Hialeah Service Center, 300 E. First Avenue, or the Sweetwater Service Center, 250 SW 114 Avenue. For a complete list of all the CAA Service Centers or to download the application, please visit the County's website at www.miamidade.gov/caa/liheap.asp or contact the Miami-Dade Community Action Agency at 786-469-4600.
Upcoming Events
October 3, 2014 from 8 a.m. to noon – "Doing Business with the Military" - Business Development Workshop. Event will take place at the Hilton Miami Airport, 5101 Blue Lagoon Drive. For more information, call 786-493-1754 or visit www.beaconcouncil.com/events