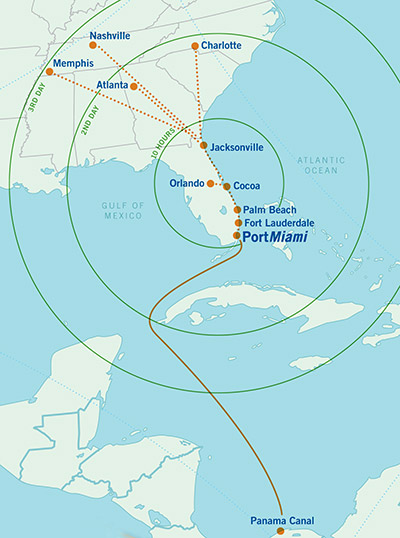 The PortMiami-Florida East Coast (FEC) Railway connection offers the fastest access to Southeastern U.S. consumer markets and beyond.
PortMiami is an oceanfront port with only 2.5 miles from buoy to dock which reduces pilot costs and improves turn-around times. With FECR offering backhaul opportunities to increase roundtrip efficiencies, the port offers significant opportunities to save money and time.
-50/-52 foot channel
On-dock intermodal rail service
Direct highway access via tunnel
Foreign Trade Zone 281
Convenient customs service
Super Post-Panamax cranes
Up to 1.5 million sq. ft. of dry and refrigerated
Warehouse / distribution and transloading space co-located with the FECR intermodal ramp
Operating seamless daily double-stack port trains, the FECR on-dock intermodal rail at PortMiami offers 9,000 feet of track (3 x 3000 ft), providing efficient ship-to-rail transfer for both import and export customers.