Keep Up with District 8
Great in 8 Profile: Maria Garza
This month we are highlighting María Garza, a South Dade community leader and public servant who has advocated tirelessly for our community.
Maria arrived in the United States from Mexico at the age of 10 and traveled around the country working in fields with her family. Her passion for community activism began at age 17 when she became involved with a labor strike addressing fair wages for field workers. Since then, Maria has led a life of service. María's advocacy also took her to Washington D.C., where she implemented national literacy programs with The National Council of La Raza and worked at the White House as the Hispanic Affairs Assistant for the White House Office of Public Liaison. Lucky for us, Maria decided to return home to South Dade and joined the Miami-Dade County Community Action and Human Services Department. Maria recently retired from the county after serving for 33 years, with a special focus on farmworker communities in South Dade.
Currently, Maria is the President of the Mexican-American Council, a nonprofit organization that aims to improve the lives of farmworker children through education. Thank you to District 8 resident Maria Garza for her dedication and service to our community.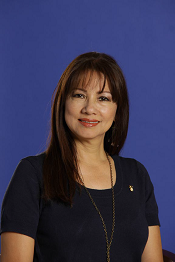 Thank you, Maria
---
Putting Out Fires with MDFR
For our winter County Work Day, I joined our fantastic Miami-Dade Fire and Rescue Department. County Work Days showcase the good work of Miami-Dade County departments and inform the public about vital county services supported with our tax dollars. On this work day, Team 8 visited Fire Station 34 in Cutler Bay.
I had the opportunity to accompany the fire fighters as they completed regular maintenance on fire trucks, checked fire hydrants for safety and readiness and went through morning briefings. Did you know? The fire department receives 300,000 calls per year, of which 80% are for medical services.
We were all ready to go when we got a call about a grass fire in South Dade. I joined our firemen and women as they quickly closed the street and stabilized the situation. I even got to help in putting out the fire! It's likely that the fire was linked to illegal dumping, an issue we are tackling in South Dade.
Stay tuned for our next County Work Day, coming soon.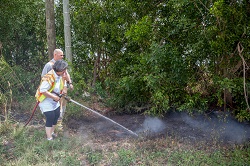 MDFR quickly contained the fire in South Dade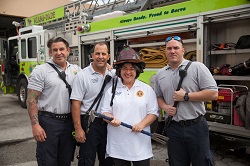 Shout out to the Firestation 34 crew!
---
Food, Fun and Fashion at the 26th Annual Asian Cultural Festival
I always look forward to the Asian Cultural Festival, a special event held exclusively in South Dade at the Redland Fruit & Spice Park.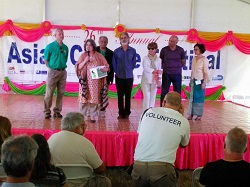 With the Asian-American Advisory Board
---
Strap on your Helmet and Get Pedaling for Bike305 Month
Biking is a favorite activity of Team 8 and we kicked off Bike305 month by biking to work.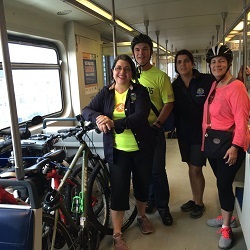 Team 8 and Palmetto Bay bike to work
---
Homestead is a Must-Visit Tourist Destination
The Greater Miami Convention and Visitors Bureau produced some awesome videos all about South Dade. Last month we showed you their beautiful feature on the Everglades. Now, find out why Homestead should be on every tourists' itinerary.