Plan Your Visit to Fruit & Spice Park
Hours & Admission
Fruit & Spice Park is open seven days a week from 10 a.m. to 5 p.m., except on Thanksgiving Day and Christmas Day. No admission is allowed after 4 p.m.
Admission Fees
$10.00 per adult
$3.00 per child ages 6-11
Children under 5 are free
Members are free
Ten percent off admission for seniors and military, please present photo ID
SEPTEMBER IS BUY ONE GET ONE FREE ADMISSION!
Take advantage of our BOGO DEAL TODAY.
Click here to download coupon.
Online Ticket Purchasing Guide
Enjoy all Fruit & Spice Park has to offer! Buy tickets to an event, festival or class using the Park Link system.
This online ticket purchasing guide will show you how to register and buy your tickets online.
Tours
Daily tours, as well as tasting tours and private tours, are available.
We will be happy to book private tour requests for special occasions, schools, clubs and any special interest group. Please email us for available dates and applicable fees at [email protected].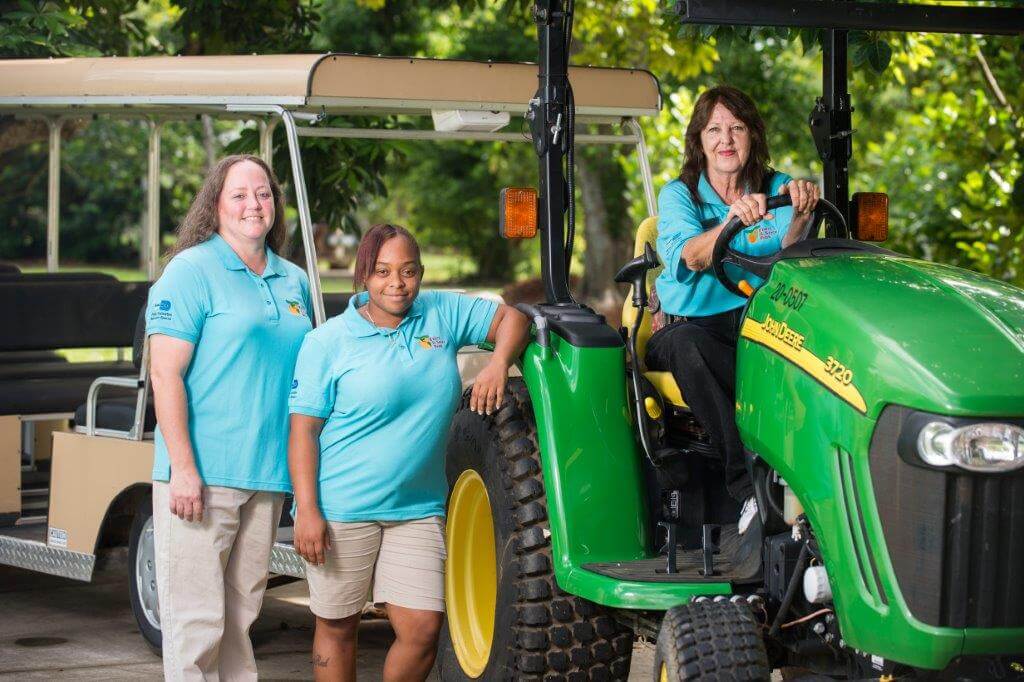 Your friendly tour guide will take you on a guided ethnobotanical adventure through the Garden – hop on!
Accessibility
The Garden, its buildings and its tour vehicles are accessible to people with disabilities, with the exception of a few areas where the terrain is naturally uneven. Wheelchairs are available free of charge at the Garden entrance, on a first-come, first-served basis (reservations are not accepted). An ID must be left with Visitor Services.
To request materials in accessible format, sign language interpreters, and/or any accommodation to participate in any County-sponsored program or meeting, please call the Miami-Dade Parks ADA Coordinator at 305-755-7848 or email [email protected] five days in advance to initiate your request. TTY users may also call 711 (Florida Relay Service).
Gift Shop
The Fruit & Spice Gift Shop has a large selection of tropical-themed items including home goods, spa items, plant seeds, small snacks and variety of drinks, including beer and wine.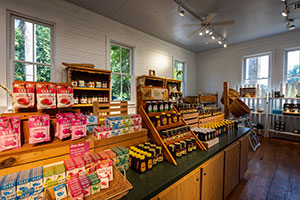 Garden Etiquette
When visiting the Fruit & Spice Park, there are simple rules of etiquette that guests should follow:
Supervise children closely, especially near the tropical pool and fountains.
Picnic tables are available in the Garden; but no grills or large coolers, please.
Public restrooms are located near the main entrance.
No roller blades, skates or skateboards are permitted in the Gardens.
In the event of threatening weather, staff will direct you to shelter.
Trash cans and recycle bins are located throughout the Garden. Please recycle when possible.
Carving trees is not permitted because it causes harm to the trees, but they can be hugged.
No pets allowed except service animals.
Please do not pick from the trees, only try what has fallen from the trees as long as you know what it is.
Fruit may not be taken out of the park. We reserve the right to inspect all bags.
Guests must have t-shirt and shoes on during their visit.


Thank you for respecting our rules of garden etiquette.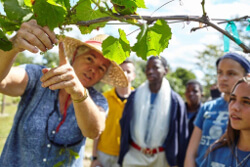 Photography
Individual photographers are welcome to take snapshots of the plants in the Garden.
Book your group photography, photo shoots and professional/commercial photography sessions by emailing [email protected]. This includes classes, clubs, fashion shoots and engagement and family portraits. Call the park office at 305-247-5727. Fees and permitting may apply.
Plan to be Outdoors
The park is open in all weather conditions except when there is lightning. Please be advised that the tram's regular schedule may be delayed 30 minutes if lighting is within 10 miles from the park. If lightning persists in the area, the tram tour may be cancelled. A visit can include extensive walking, so plan your attire accordingly.
You may bring a small picnic to enjoy at the park or order food to be delivered to the park during your visit. We have picnic tables throughout the park.
Strollers, easels, tripods, monopods and selfie sticks are allowed on the park grounds. Stroller parking is available at the tram stop. The Garden reserves the right to inspect all bags.
Lost & Found
If you have left something behind at the Garden, call 305-247-5727. Items must be claimed within 60 days.