Last Visited »
Hurricane Irma
As we continue our recovery and cleanup efforts, please visit the Emergency website for the latest information on openings and closings in Miami-Dade County.
One-Time Environmental Permits
One-Time Environmental Permits may be required prior to construction or modification of a building structure or property (i.e. construction of a dock or pier or the removal of a tree).
Find more about One-Time Environmental Permits on the Permits website.
Class I Permits
A Class I Permit is required prior to performing any work in, on, over or upon tidal waters or coastal wetlands of Miami-Dade County or of any of the municipalities located within Miami-Dade County. A Class I Permit is also required for most mangrove trimming, alteration or removal.
Class II Permits
The Class II Permit is needed to control stormwater discharge to any surface water in Miami-Dade County.
Class III Permits
The Class III permit is needed for construction within non-tidal canals or areas under the direct control of Miami-Dade County, such as canal rights-of-way, canal maintenance easements and reservations.
Class IV Permits
Any project involving work in freshwater wetlands that does not meet one of the criteria for the Short Form permit will be processed as a standard form Class IV Permit application and will be subject to a full public hearing before the Board of County Commissioners.
Class V Permits
The Class V Permit is needed for temporary dewatering or whenever water is removed from an excavation, from the ground or existing structure to ensure that sediment, turbidity and contaminants are removed before it is later discharged.
Class VI Permits
The Class VI Permit is needed for the installation of a drainage system for any project that has known soil or groundwater contamination; or that uses, generates, handles, disposes of, discharges, or stores hazardous materials.
Air Construction Permit
The Air Construction Permit is required prior to the construction or modification of any facility or emissions unit that may emit a number of air pollutants.
Asbestos: Demolition/Renovation/Roofing
Demolition and renovation projects for commercial facilities require review for asbestos and approval from Miami-Dade County.
A completed Notice of Demolition or Asbestos Abatement form must be submitted to Miami-Dade County at least 10 working days prior to start of a demolition or asbestos renovation project.
Miami-Dade County requires a copy of the asbestos survey report to accompany the completed Notice of Demolition for demolition projects.
Sewer Extension Permit
The Sewer Extension Permit is required for the construction of new Domestic Wastewater Collection/Transmission Systems (sanitary sewer pipes and pump stations) or modification of existing ones in Miami-Dade County.
Class I Coastal Construction and Class IV Wetland Permit Applications Received in the Last 30 Days
In an effort to provide the public with information on coastal and wetland permit applications, the below documents list the Class I and Class IV permit applications received by the Regulatory and Economic Resources Department in the last 30 days. These documents will be updated on a weekly basis and will include pertinent information that can be used to search through the Department's Electronic Document Management System. Please be sure to search under Class I for coastal construction and Class IV for freshwater wetland inquiries.
For additional information, please contact the Natural Resources Division at 305-372-6575.
Request time extensions for permits
You may submit a time extension application for a Class II, Class III, Class V or Class VI permit. It must be submitted 30 days before the permit expires. For more information, call 305-372-6681.
Request to transfer active Class II, III, V, and VI permits
You may submit a Permit Transfer Form to transfer a Class II, III, V and VI permit when a property is sold to another person or entity. It must be submitted prior to 120 days after the date of transfer of ownership, or 90 days before the permit expires, whichever comes first. Permits are voided if no transfer is completed within the 120 days of the date of change in ownership or 90 days of permit expiration.
For more information, call 305-372-6681.
If you cannot view PDF
files, you can download
Acrobat Reader
for free from Adobe Systems, Inc. In order to use PDF files, you must have Acrobat installed on your computer.
Back to Top
Page Last Edited: Fri Aug 24, 2018 10:37:32 AM
permits
Environmental Considerations GIS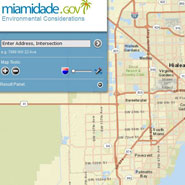 Search the Environmental Considerations GIS Map to find out if a property may have any environmental features associated with it.
You are now leaving the official website of Miami-Dade County government. Please be aware that when you exit this site, you are no longer protected by our privacy or security policies. Miami-Dade County is not responsible for the content provided on linked sites. The provision of links to these external sites does not constitute an endorsement.

Please click 'OK' to be sent to the new site, or Click 'Cancel' to go back.