Last Visited »
Hurricane Irma
As we continue our recovery and cleanup efforts, please visit the Emergency website for the latest information on openings and closings in Miami-Dade County.
Happy Tails
Happy Tails are stories about the joys of pet adoption.
Send us your Happy Tail
Our adopters, staff and volunteers enjoy seeing photos and letters about adoption animals, where we get a glimpse into their lives in their new homes. If you would like to send a photo of your animal companion(s) along with some text, please include your contact information, names of the pet(s)/people in the photos, adoption date, and age(s) of your animal(s).
Meant to be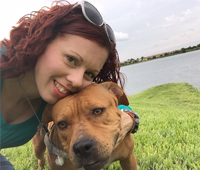 I volunteer at Miami-Dade Animal Services and I was doing just that during their event at Tropical Park to try to get as many pets as possible adopted in 24 hours. As soon as I walked into the tent where they had all the dogs, my eyes were drawn to Lily's cage (she was called Lola at the time) and she stood as soon as she saw me. It was love at first sight. I spent most of my time with her trying to convince everyone who entered to adopt this beautiful and sweet American Bulldog mix, and promised them that 5 years of age was still young and that she had plenty of love to give. Yet, no one took her and now I realize why: she was meant to be with me. After my shift was over, I sat in front of her cage for about half an hour contemplating whether to take her home or not. See, I'm in a financial pickle at the moment and so I decided I couldn't take her. That night at a birthday dinner, I talked to everyone about her and the following day I found myself crying thinking about how sad she looked in her crate. By the end of the day (after thinking it through, figuring out my finances, and talking to my sister, who lives with me), I had decided I needed to adopt her, she would be the perfect addition to my little crazy furry family (we already had 2 dogs and 2 kittens). And so on Tuesday 10/13 (since MDAS was closed for Columbus Day on 10/12), I was at the shelter as soon as it opened to pick up my Lily Pad. It is one of the best decisions I've ever made! She's an amazing and loving dog who has stolen our hearts, and of all who meet her.
-Taimara Dietsch
Such a sweetheart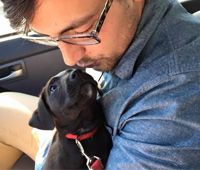 I always had the desire to adopt a puppy and take on the responsibility of a dog at a young age, grow with it as a parent and appreciate the experience from as early on as possible. I took the matter seriously by preparing myself and all of the items I knew I would need beforehand, and thankfully I got lucky with a sweetheart of a black labrador/terrier. I adopted her in March of 2015 and now into October of 2015 she's almost one and still such a sweetheart. I'm glad I was prepared and that my experience went so smoothly with MDC Animals Services and as well my dog, who I named Octavia.
-Michael Bambino
Just in time
This is Billy! He is a male miniature pincher mix and is currently 1 year and 4 months. Last year after my dog of 12 years passed away I went to the shelter to try to find a similar looking dog in order to ease the pain. But when I saw Billy whose name was then Pee Wee I did not have to keep looking. He was so tiny and scared that it won my heart. Let me tell you that Billy looks nothing like my other dog but he is the sweetest little boy. He also has an older sister whose name is Bella. I encourage everyone to adopt and help save a life because they do not deserve to be left to live their last days in a cage.
-Ana Guerra
Bella gets a "Bowe"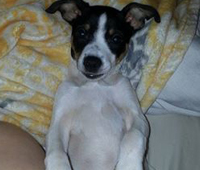 Bella Bowe is a Terrier Mix, Female who is approximately 3 months. She is a sweet girl with lots of energy and loves to chew up toilet paper, paper towels, shoes etc.
-Tiffany Bowe
Charlie Boy
I saw Cutler's (now Charlie) add when I was on a work trip abroad and still grieving over the passing of my GSD, who passed in February. Something told me to inquire about him and I kept thinking about him for the few weeks I was away. When I finally met him at his foster family's home, he instantly came to me and my mom very lovingly, and I knew he had to go home with us. It's soon going to be two months since Charlie came home with us, and I truly feel like he rescued me and chose me to bring me joy and life. We've gone to the beach, we've gone swimming, running, and on long walks in addition to many silly, happy moments since we adopted each other, and I cannot imagine my life without him. Charlie is a Black Lab mix who is approximately two years old...
-Claudia Sanchez-Bustamante
Back to Top
Page Last Edited: Fri Oct 23, 2015 3:55:10 PM
animals
You are now leaving the official website of Miami-Dade County government. Please be aware that when you exit this site, you are no longer protected by our privacy or security policies. Miami-Dade County is not responsible for the content provided on linked sites. The provision of links to these external sites does not constitute an endorsement.

Please click 'OK' to be sent to the new site, or Click 'Cancel' to go back.