Last Visited »
Important Global Message
The Miami-Dade County Emergency Operations Center has been activated and is closely monitoring Erika. For any updates about County facilities and services, please visit: http://www.miamidade.gov/emergency
Happy Tails
Happy Tails are stories about the joys of pet adoption.
Send us your Happy Tail
Our adopters, staff and volunteers enjoy seeing photos and letters about adoption animals, where we get a glimpse into their lives in their new homes. If you would like to send a photo of your animal companion(s) along with some text, please include your contact information, names of the pet(s)/people in the photos, adoption date, and age(s) of your animal(s).
A new family member
On May 2015 we had "Career Day" at our school. A gentleman by the name Agustin Valero visited our school and brought the most beautiful puppy with him by the name Sally. Sally is an American Bulldog, tan, and at the time she was 2-months-old. I fell in love with Sally. Mr. Valero was very professional and very educated. He provided accurate information about MY Sally. I picked up Sally as soon as possible. My family and I would like to give our thanks to Mr. Valero for our new member of the family. Salfly is adorable! Thank you Agustin Valero.
-Lourdes Alguino
A sweet encounter
My daughter and I were at the movies and at the time of going home we found this mobile bus with pets for adoption. It was incredible how fast we fell in love with our Chocolate, an American Bulldog 3 months old. We are happy to count with another member in our family.
-Manely Grillof
A rescue from Miami-Dade moves to Vermont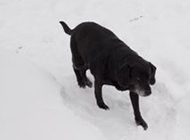 I pulled Tati from Miami-Dade March 2013. We sold the FL house in September of 2014 and she is now living in Rutland, VT. Last winter she was not sure what to make of the snow, but she is loving the cooler summers up here.
-Audrey Davis
Double the fun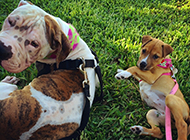 Both of these girls were adopted together on 5/15/2015. Sunflower (white and brindle) is a 1-year-old shar-pei mix and Tipsy (formally known as Ava) is a 3-month-old Terrier mix! They love to play together and absolutely love their 3-year-old Boxer brother, Sambucca. Both girls were spayed at the shelter and are recovering beautifully!
Admirable protectiveness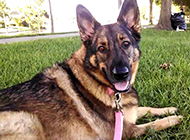 Darby was a 2-year-old female German Shepherd when I adopted her. I initially went to look at another dog that just happened to share a run with my Darby girl. She came trotting over and when another dog started barking at the dog I first went to see, Darby used her paw to pull the smaller puppy underneath her and barked back at the other dog. I loved her feisty protectiveness in that moment. Now I can't imagine living without her! She is my best friend and partner in crime. No matter where I go, she follows, protects and loves. She's road tripped to NY several times and loves to go kayaking. She loves to snuggle and greets everyone with so much love. She has the funniest personality and is a total goofball. When I'm with her I'm always laughing and when I'm without her I always miss her silly grin! I'm so grateful to have found my best friend in this beautiful, sweet, loving Shepherd from the Miami-Dade shelter. Thank you for keeping her safe until she could find me!
-Kate Murphy
A wonderful addition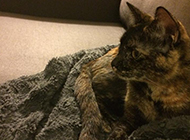 My husband had been wanting to get a pet for years, and for Christmas this year I decided to give in and let him get one. fWe went to the Miami shelter on December 3rd just to browse and see what everything was all about. We knew we wanted to adopt a cat, but didn't know what age or what to expect. This was going to be our first pet, and we wanted to make sure we were prepared to welcome them into our home properly. When we were browsing among the cages we came to a room and found "Gigi". She was instantly affectionate and cuddly, rubbing up and down the bars and meowing at us. With her interesting coloring and thumbs, she was the most unique cat we'd ever seen... Every day we are so grateful to have her in our lives. She has been the most wonderful addition to our family. I should have listened to my husband sooner about adopt a pet, but then fate wouldn't have brought "Gigi" and us together. Thank you to the volunteer who made our year, and all of the staff who support Miami-Dade Animal Services. We will be forever grateful for your hard work and selfless dedication to these animals. Zoey, (sometimes affectionately called Zozo, Muffin, Mittens, 'Gigi') has definitely found her forever home. We can't imagine life without her now. Thank you again, <3
-The Sandhu's
Newfound love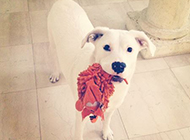 I had lost my dog of 11 years which hit me extremely hard but to my shock, it hit my Golden Retriever even harder. I was determined to find her a new companion and had high hopes of finding her at your facility. When I saw my Chloe, there was no doubt in my mind that she was the one. Although I adopted her with a ring worm skin condition, fur loss, and some worms, the moment I held her I knew it was my job to get her back to health. I've never wanted anything more than the chance to give her the loving home she was meant to have from the day she was born. It was not an easy ride, but she regained health and I am happy to report that she has also found a best friend to share her days with in my Golden Retriever. In summary little Chloe has been a handful to say the least, but every day for a year now I have looked forward to waking up to her big brown eyes every morning, our cuddles on the couch on my off days, playing with her favorite toys in the back yard, and teaching her new and exciting tricks. I can happily say adopting her was the best decision I have ever made because she is the highlight of both mine and my Golden's days.
More than lucky
We adopted Nelly (Nett) about 3 weeks ago. She is a 10-year-old Schnauzer mix little girl. Never would we have believed a 10-year-old would be so playful, loving, and full of life. Nelly enjoys cuddles, long walks, playing ball and chillaxing at the dog park. I feel more than lucky to have found her and to have given her a forever home.
-Sheila Atkins
A wonderful addition to the family
My boxer passed away 2 years prior. My mother sent me the link to 3 boxers and a few mixes from the Humane Society. I went in and saw soooooo many beautiful dogs. I saw my baby Trixie a boxer/Pitt mix. I walked her and spent some time with her. I brought her home and her true personality came out 1 month later. She is silly, docile and very playful. She is a wonderful addition to our family. We LOVE her!
-Erika Feliciano
Best friends for life
This is Hanna. Everyone calls her Nana! She is an 8-year-old terrier mix. Guys, it was love at first sight!!! The moment I saw those eyes I knew right away she was my best friend for life. Don't think she is a lazy sack of potatoes. She can fly like an eagle; she booster rockets and takes off. I love that she is part of my family and i wish you the same happiness with your new pet.
-Julio Zwez
A happy match
This is Rudi, short for Rudolph, age 5. I adopted him from Miami-Dade County Animal Services on Nov. 8, 2014. My beautiful Schnauzer, Max, died on Sept. 30, 2014. I was going through much sadness for a few months until a friend of mind told me about Rudi. I immediately drove to MDAS to see him. We met in the "meet and greet" room. I immediately fell in love and knew we were a match. I waited 7 long days until I got the OK to adopt him. He loves to cuddle with me and has learned a lot of new tricks. I often wonder to this day which one of us is happier.
-Tinder Burris
Happy we adopted
We saw Nala (formerly known as Terry) on the Urgent Dogs of Mifmi Instagram page. She was on the rarely visited west wing of the shelter and had a huge smile on her face when she posed for the picture. She is a 1-year old German Shepherd mix and the sweetest girl you'll ever meet. There are so many animals that need homes and we're just glad we're able to provide Nala with a loving home. She's been a great addition to the family and we are really happy we adopted!
-Natalia Guzman
Amazing addition to the family
We adopted Sake, a now 7-month-old male Shiba Inu, at an event and we couldn't be happier with our decision! He's an amazing addition to our family :)
-Erica Mena
Meant to be
One weekend visit to MDAS was enough to get me hooked on the idea of adopting a second dog. Of the hundreds of dogs I saw that day, one in particular--one of the smallest and quietest dogs out in the West Wing at the time--was stuck in my head. Her face ran through my mind almost constantly until I saw her featured on Urgent Dogs of Miami. It was then that I knew for sure that 2-year-old Madison (nka Lyanna) was meant to be ours! Now she spends her days lounging around the house, chasing lizards and climbing trees. She has proven to be the best addition to our family and every day we are thankful for having had the opportunity to bring her into our lives!
-Mallory Ely
Immensely happy
It was a lazy Sunday afternoon and my mom and I had been talking about adopting a pet. We decided to drive out to the shelter to just take a look. Upon arriving, we both came to the cage where this really cute tiny dog was sleeping peacefully amongst all the noise and barking of his fellow cell mates. He was just the perfect picture of what we both wanted, but there was a problem, there was a sign on his door that said "ADOPTED." We were both so disappointed. We asked the attendant about this little guy and she explained that his new owners were scheduled to pick him up that day. But, that if they did not show up or call that day, he would be available for adoption the next day and that we should come back to check if he was still there. We left the shelter thinking that he would most probably be gone that night since he was so adorable and still a very tiny puppy. The next day, determined to at least make an effort and feeling sure that this little guy was gone, I arrived 15 minutes before the shelter opened, walked in and headed straight towards his cage. To my relief and excitement, the puppy was still there! I immediately ran to find an attendant and told her I wanted to adopt him! As she was entering my data into the system, a few people were standing in front of his cage and I overheard them telling another attendant they wanted to adopt him also. Thank goodness I arrived early and was able to claim him first! As my mother said to me when we were leaving the day before, "if our good Lord wants us to have him, then he will be ours tomorrow." We changed his name to FRED and he is a happy and healthy little guy!! I appreciate the efficient and knowledgeable manner in which your attendant handled my process there. Your facilities care for these animals with unconditional love and make families like mine immensely happy!! Thank you kindly!
-Daniel Pedrayes
Mutual love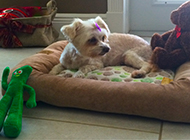 We came to the shelter looking for a new member to add to our "pack" and "Lady", as she was called, heartily touched our souls. At first sight, it was mutual love, and that very day she came home! She is now Miss Lizzie - loving life in her new family, and each day there are new adventures. She especially loves to chase lizards, bugs and even iguanas!!!
-Nadine Nixon
Much love with TLC
We met Penny (formerly named at the shelter as Maddie) at your shelter after we had heard of the forty chihuahuas found in a garage that needed a home. We did not know they were semi feral and after a lot of snarling, we were about to go home empty handed. Penny, we were told, had been successfully handled with no aggression. After spending some time with her, we decided to take her home. She was terrified... Trying to get her from under the bed took an hour. She would freak out on a leash because she had no experience with them and never looked sure of being allowed on the bed. After days and now a few weeks or working with her and loving her, we have potty trained and leash trained Penny. She loves her mommy and gives tons of kisses. She approaches strangers and has never bitten a soul. Thank you for giving us our baby!
-Jessica Marino
So much joy
We got him two weeks ago and he is the sweetest most gentle cat I have ever met. We already had an older male cat but they seem to get along. No fights, just some hissing on our older cat's part. But now it's all peaceful. Hawkeye has brought me so much joy. He loves to snuggle with everyone. I am glad we were able to rescue him and bring him home. I just wish I could have brought more home. Please if you can bring one home with you, your life will be that much richer. :)
-Yvonne Aguero
No regrets
We went to Animal Services looking for a cat. We adopted Yury, who was only 5 weeks old; her name now is Maleficent, how the kids chose to name her. Maleficent is a happy and loving cat... and sometimes a little mischievous. I want to congratulate Animal Services for all you do, the service is great and I have recommended everybody I know to adopt their next pet there. We have to work together and save these animals. No regrets at all, I love to have Maleficent in our family, we love her and she loves us back! Thank you!
-Ernestina de Villiers
Sweet and beautiful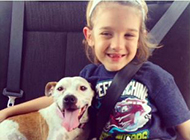 Lucy was listed as an 8-month terrier mix. After looking at her teeth I realized she was a bit older, probably about three or four years old. She seems to be a mix of a boxer/terrier/angel. She is the sweetest most beautiful dog. She has heartworms, but nothing some meds and some TLC can't cure! We love Lucy!
-Talea Faircloth
Love at first sight
It was love at first sight, the only dog I really liked. She was very scared and timid but after one month Chi Chi was lovable, feisty and afraid of nothing. She likes to give kisses and chase lizards. She is four years old and very smart for her age, which is 28 in doggy years. Thank you Animal Services!
-Marlene Zwieback
Buddies forever
We got Finnick, an Australian Shepherd-Terrier mix, at five weeks old. He is now going on eight months and loves sleeping in my bed with me, playing fetch and keep-away, cuddling, and giving kisses.
-Sammi Merwitzer
A happy ending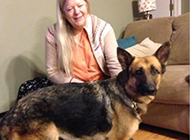 In August, a starved female GSD who appeared to recently have had pups was pulled with some other Shepherds from your facility by Cause for Paws Ohio. I know nothing about how she came to your shelter, but I want to thank you for seeing possibilities in her although it appeared the odds were overwhelmingly against her. She was covered in Demodex, had GI problems, a URI, infected paws and by the intake photo provided by the rescue, was a walking, hide-covered skeleton with huge patches of hair gone. There was no fat or muscle visible on her, even her periorbital fat was gone, although she did have a substantial lipoma on her right elbow. From the labs that were done when I'd taken her to the vet a week into the process; it appeared she'd been digesting her organs. Her tail and poor perineum were totally bald from mange. On September 11 we lost our black female GSD, my fourth rescue; two days later my GSD rescue friends in NE Ohio told me that Cause for Paws had several Shepherds in dire need. My stomach clenched in horror when I saw "Clara's" photo. I had lost two Shepherds in less than a year from acute and chronic medical issues and I'd decided I was not ready for a train wreck or another heartbreak; "Clara" was that and then some. But fate sometimes laughs at our plans and I agreed to bring her home to see how she would get along with our cats. She did well with them and immediately glued herself to me. We had further medical crises, switched back and forth between special foods & went through many medications but as you can see by the photos, she has rebounded, gained muscle and grown a beautiful coat and is a bright, happy, healthy dog. She has a joyous spirit and prances with delight when I come home or say "let's go" for a walk or ride in the car. She loves on our four rescued kitties, enjoys visiting my two horses (one a rescued off track Thoroughbred) and sneaks in to sleep in bed with my granddaughter when she spends the night. She has a new fleece lined winter coat for Ohio's snow and ice, a teal collar with her name/phone embroidered in pink, and three dog beds plus the sofa to pick from. All of my Shepherds have had German names, so she was renamed Gertrude, "Trudie" for short. She enjoyed Thanksgiving turkey, mashed potatoes and two bites of pumpkin pie, and Santa will pay her a visit. I just wanted to express my gratitude that you gave a dog that seemed at death's door a second chance, and to assure you she has a home for life where she'll be cherished, loved, and all of her needs met. We aren't well off, but our pets always get what they need. Photos are attached and show some progression, before she left for Ohio, here in my kitchen after first arriving, then last week at her foster mom's house where we stopped to visit. We just adore her. Thanks to you all. You must see so many dogs and so much heartbreak, but this one does have a happy ending!
THANK YOU!
-Liz & "Trudie"
A very special pup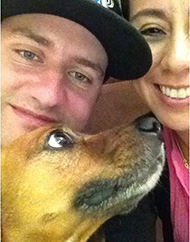 We were looking for a dog and adoption was always our first choice. It wasn't easy getting to an agreement because I like small dogs and my husband large onefs. The first time we went to the Miami-Dade Animal Services Department we didn't connect with any dogs. In our second visit, we found an adorable small Terrier. She was available for the foster-adopt program. Unfortunately, her owner showed up and claimed her. We were heart broken and very sad, I mean, we were happy the doggie was reunited with her family but we were bummed. In our third visit, I didn't know what to expect... but my husband had his eyes on a very special pup. He noticed him from the first visit. He was a 2-year-old mix brown dog. Louis was surrendered from his previous owner. This made him very sad-looking. He was a little bit nervous as well. We couldn't resist his beautiful eyes... we just wanted to protect him.
That was the best decision ever! He is such an adorable puppy, always happy to see us, always begging with those beautiful eyes for some treats. He is not fearful anymore! He is now a brave puppy willing to explore his surroundings, very confident because he knows he is loved <3
-Will & Steph Schneider
Sweet and happy
My family adopted Annie, a stray brought into your facility on August 23, 2014. She was considered a tri-colored terrier. Annie was pregnant and lost all but 1 of the puppies. I adopted her through Animal Rescue Network of New England. ARNNE brought her up north and placed in foster care while she waited for adoption. It was a quick and wonderful adoption. Although Annie was a stray, she is the sweetest happiest dog you will ever meet! She loves people, dogs, walks and to play Frisbee and fetch. Squeaky toys are her favorite. We plan on being the best family we can be to her.
-Eileen McKenna
The greatest gift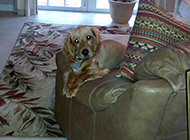 Thanks for the greatest gift! I came into the shelter to see a pug. While looking at all the dogs, I ran across "Bobby" a 9-month-old Cocker Spaniel. His face stole my heart on the spot. After waiting 5 anxious days for his hold to lift, and give him treats after work every night, I finally was able to bring this sweet guy home, to my vet, and the groomer. He's now named BAXTER, and has a GREAT life, with his new sister and dad. He's fantastic and I couldn't have asked for a better dog (potty trained, fetches ball, and sleeps with us every night). He will definitely have a forever home. Thank you for all you do!
-James Martin & Baxter
Adopted service dog is "my everything"
I adopted Aries in June as an 8-week-old American bulldog mix. He has been my best friend since. Aries always puts a smile on my face. I love taking him to the park and teaching him new tricks so he can be my service dog. At 6 months, he is so well trained. He can wait, come to me, sit, lie down, on his back, stand, give me paw, go up, on your legs, spin, be in front, behind, to the right, and to the left of me. He is the best thing that has happened to me this year, and I wouldn't trade him for anything in the world. He's not a puppy, dog, or man's best friend, he is my world - my everything. I'm so glad I adopted him.
-Amy Diaz
Sweet companionship
I fell in love with her (Jinxie) the moment I saw her at the shelter. I longed for a companion ever since I lost my Chloe. But I first saw her on Facebook, the Urgent Cats of Miami. She is a sweetie; loves to play, and give and get kisses. I adore her. She's very friendly with people and other animals too.
-Shirley Hernandez
She saved us
Hello my dog's name is Codi. She is a terrier mix and she will be 4 years old in October. We definitely love her, and she is very spoiled. My boys kiss her more than they kiss me. We did not save her from the pound, she saved us. :)
-Maribel Yepez-Fernandez
Can't imagine life without him
We adopted Moe through a rescue on the West Coast who was at Miami-Dade back in October of 2014... He is doing so well and we could not imagine our lives without him.
-Corinn Grahl
Father's Day gift
I went to the shelter to find a dog for my fiancé for father's day and I met love bug Zoey... She's a smoothcoat fox terrier originally named Debbie at the shelter.
-Evette Oliveira
A second life
Jessie was abandoned and chipped so I did have to wait to take her home from the shelter until Animal Services was sure that no one responded to phone calls at the telephone number associated with her chip. So she came to live with me on South Beach and became the model for sociable, playful and obedient dog behavior in all of the off-leash parks there. In 2011 she and I moved to Oklahoma where she now enjoys a large fenced in yard, several new "cousins" she plays with on a daily basis, wide open spaces and occasional acquaintances with livestock. But she is still little Jessie from "the 305", now living in the "405" (OK area code) and is the best part of south Florida I could possibly bring with me to Oklahoma.
-Eric Jensen
A "lucky" companion for mom
Macho did not look like a "Macho" when we saw him. He was shy, and lying in the back of his cage not saying a peep. We were looking for a companion for my mom (82 years young). After our meet and greet she still wasn't sure. We put a hold on him, came back in a week, and it's probably one of the best things I could have done, for both of them. He has gained much needed weight, he follows her wherever she goes, and he does this adorable thing where he stands on his hind legs and dances. Macho became "Lucky" the day mom adopted him and I can tell you this time the name really suits him. He is a "Tibetan Spaniel mix" whatever that is, he is loved. We thank you so much for such a great experience.
-Marilyn Fernandez
Laughs, cuddles and snuggles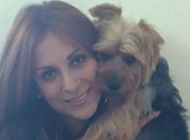 Bobby is a five-year-old silky terrier we adopted last year. He was truly meant to be a part of our family, from the moment we met him he has turned our lives into a series of laughs, cuddles, and snuggles. We treat him with respect and he is like my little son. We thank God for sending him to our lives.
-Jessica Gloria
Happy with sweet Gus Gus
I think I submitted a "happy tail" once before, but I just wanted to tell you again how happy we still are. I adopted a cocker spaniel named "Tuti" over 4 years ago and he is the sweetest, most spoiled dog ever. I changed his name to Gus Gus, which he doesn't mind, since he is deaf! He is now about 14 years old, but doesn't look a day over 10. Thank you for doing what you do. I love my little stinker and I can't imagine what the last 4 years would have been like without him.
-Mary Hammond
Foster pet adopted and loved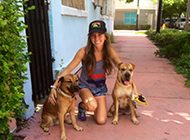 My name is Ashley Shnapier and I am part of the foster program. I ambassador adopted a Sharpei mix... I fostered her for a month, getting her healthy. Every day I gave her antibiotics and bathed her and removed her fleas and ticks. Her Upper Repiratory Infection went away and they were able to spay her making her available for adoption! It was a catch 22, until she left the facility for a few days and got rid of the URI, they would not spay her and unless she is spayed she can't be adopted. Thankfully I intervened and was able to get her healthy and then spayed and adoption eligible. She learned how to walk on a leash and listen and sit and wait. My dog taught her manners and showed her how to act when people were over our house or when we were in busy public settings with lots of people. She was adopted by a friend who has a lovely backyard and home filled with three kids to love her. They named her Laney and she is happy and safe and found her furever home.
-Ashley Shnapier
Altered, yet perfect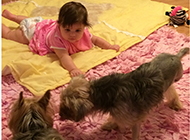 I want to thank MDAS for saving Candy (now named Bella). When we went to pick her up we realized Bella's hand leg had been amputated. The vet asked us if we were still willing to take her as not many people would want a "disabled" animal. We knew in our hearts that Bella would be the perfect fit for our family (3 legs and all). Bella is a great 3-year-old puppy. She is well behaved, gets along well with everyone (including our cat) and loves to be with our new baby. We are looking forward to a lifetime of happiness with our little tripod. We can't picture our lives without her. She may be altered but she's perfect to us. A very important life lesson to learn.
-Jessica Toledano
Couldn't be happier
My pet's name is Havana, she is a female chihuahua. When I adopted her last year on 5/20/2013 she was 3 years old. My kids and I decided that day would officially be her birthday date as we don't have any history of her, so now she is 4. My family couldn't be any happier, she is the sweetest, smartest dog and fits right in. My kids and I love her!
-Yoly Hidalgo
Walking buddies
I adopted Lola, female, 4 years old, on 6/1/2014. She's a rat terrier who I fell in love with the moment I saw her at Miami-Dade Animal Services. She was a stray that was turned in to them on May 20, 2014. I am so glad that it was me who took her to her forever home. I am a Sr. citizen, living alone and this little darling has made me so happy, with all the unconditional love that she gives me. We are now like 2 peas in a pod, almost connected at the hip. She is such a good girl. I live in a condo, that does allow only one pet 15 lbs. or under. She was 14 lbs. (now 14.6 lbs.). She must have had previous training, as she has not pooped or peed in my home - not once. God love her, but I also take her out 4 times a day and end up walking her 16 blocks total per day. This has helped me lose 19 lbs. in less than 2 months. Way to go Lola for your Mommy....! She is definitely my girl.
-Mary Burke
The unconditional love of a rescue pet
I fostered a momma dog and her four babies to give them a nice quiet place to nurse until they became old enough to be adopted out. They were some type of terrier mix and had caught a cold while at the shelter. I had no intention of keeping any because I wanted to continue fostering but after seeing what a good mom she was and how sad she became to have her babies leave her I just couldn't bear the thought of having her go back to the shelter and taking a chance that she may not have made it out so I decided to adopt her and I can honestly say that I can't imagine life without my little momma (Mia). She's definitely a part of my family. Mia has a brother that I already had before her and she also shares the house with a few felines. I love her to pieces. I've had dogs that I bought and dogs that I've rescued and there's a different demeanor that a rescue dog has. It's as if they realize you saved them and they show their appreciation every day. I just wish that everyone got to experience the unconditional love that a rescued pet gives you.
-Maggie Morales
A gift from heaven
My cat Bandit had died at 16 years of age after a brief illness just two weeks before I adopted 'Chunk' at the Marlins Baseball game. I had arrived late to the game so hustled down to the adoption area after wondering what I would find. Numerous adoptions had occurred, but, there was a little guy, tiny, very similar to my Bandit in his markings. He was the only male left and just what I wanted. What a joy he's been. He jumped into my crowd of 2 dogs, and another cat and was fun. He took over the role of playing and being the best bud to my 4-year-old Shih Tzu that my cat Bandit had been. It was a gift from heaven.
Perfect companions for exercise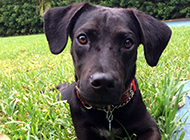 Thank You Animal Services!!I adopted a male lab mix Rosco that my nephews decided to name Cody. He had been hit by a car and was having trouble walking, sitting, etc.I have another dog at my house that I also adopted at Animal Services and I felt bad leaving her alone at the house while I was at work so I decided to adopt another dog. Cody is doing great now, he swims in the pool every day. We all walk 3 miles a day. He spends his days lying on his leather bed, hunting, and playing with Abby.
Saving Cody and bringing him into my house has been a blessing for Abby and I. The other dog I adopted was named Brownie at the shelter, my nephews named her Abby. Abby is the life of the house, always happy, playful and very loving. I adopted Abby on December 9, 2012, and I feel that was the best decision I have made in the last 2 years. Great dog, we exercise every day. She is friendly with all my friends and family as well as other dogs.
Her favorite place to lay down is on top of my legs when I am watching TV. Her and Cody are best friends.Thank you Animal Services for all the time and effort you put into rescuing these poor animals.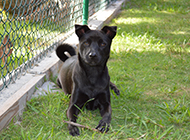 Happy and comfortable in forever home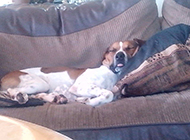 We brought Tyson, a one year old American Bulldog mix home from Animal Services and he has made a wonderful addition. Wouldn't you say he looks happy and comfortable in his new home? Thank you Animal Services for all you do!
-Barbara Bonachea
Protective and affectionate
Punchis was rescued from the shelter when she was about 4 weeks old. She's now 1 1/2 years old and protective as can be. She's lovable and playful and always seeks affection. We love Punchis!
-Luna Lopez
Furever in love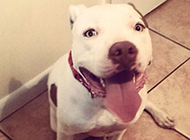 I am so thankful I adopted my Drew (Terrier mix) almost a year ago. My boy has been so wonderful. At first it was challenging because he was very sick, scared and extremely hyper. He is now about 2 years old and one of the sweetest dogs I've ever seen. Furever in love <3

-Lisett Sanchez
Part of the family
We adopted Mobley, our sweet little Shih Tzu from the shelter when he was 5 years old. He was already perfectly trained, didn't chew on a thing, and is the calmest sweetest little guy. We treat him like our little son. He even walked down the aisle in our wedding! He goes on all of our vacations with us too. We have had him for 2 years now and he is perfectly healthy and such a wonderful addition to our family and it honestly wouldn't be the same without him. Thank you so much Miami-Dade County Animal Services!
-Krupa Hemraj
Mimi
Mimi (formerly known as Wanda) captured our heart in a picture posted in Pet Finder. We took our boy, Jr. to meet her on a Friday, only to be told there was a hold on her. We walked away with a feeling that it just "wasn't meant to be." I called on Saturday to find out if the hold had pulled her and was told there was no hold and she was adoptable.
We went back on Monday to complete the paperwork and get her spayed, planning to pick her up on Wednesday. I returned to find out she had a URI and was unable to undergo her surgery. I took her anyway while she sneezed green boogies in my car. She quickly recovered and is the happy dog you see today. She is our little girl and Jr.'s constant companion. We are so glad it all worked out! We now volunteer and foster for MDAS!
Leila
I adopted a Labrador retriever mix, Leila, in August. She's the first dog I ever adopted and I can honestly say from now on I am adopting because to see the amount of dogs that need homes is so sad. I am so glad I adopted her... she's the sweetest dog and she's become a part of the family. Thank you so much to your volunteers helping with the adoption process and allowing me to give Leila a home.
Copper
It had been about ten years since I adopted a dog. My husband gave me the "okay" to adopt another dog and I was off to the shelter in Miami-Dade. My best friend and I were looking at all the puppies and decided to look at the older dogs. We saw a few that seemed to be so sweet. We asked to see a dog named "Tico" who was a year and a half and a chow chow mix.
Once we went to the greeting room we knew this was the perfect pet for my family. I was told he was found on the streets and may have been roaming Miami for about six months or so. Two days later, "Tico" was ready to come home with me. I knew this dog was loved by many in the shelter because he was kissed by three volunteers and I was told I had to take great care of "Tico."
It has now been almost four months and it has been the best decision to adopt. His new name is Copper and is truly a sweet and loving 55 lb. dog. Since my best friend and I own a private school we decided Copper would be the perfect class pet. My third grade students read out loud to Copper and he seems to enjoy it. Copper is also cared for by children with Asperger's and they show a lot of affection to Copper. I cannot put into the words the positive impact a pet can have not only on me but also my students.
Jenny
I am so thankful I found Jenny at Miami Dade Animal Services. She is a Rottweiler/German Shepherd mix and she was abandoned by her previous owners who moved and no longer wanted her. It's ironic that her original name was "Lucky", I guess I'm the lucky one to have found her. As I walked through the rows of cages, she stood out when she leaned against her cage and stuck out her paw as if to say "Pick me!".
I renamed her "Jenny" and I can still remember the look on her face as the tech brought her out from her cage to the waiting room. I leaned down and she gave me a kiss. We walked out to the car, she jumped right in and wagged her tail the whole ride home. She's now 12 years old and is still as sweet, loving, and loyal as she was the day I brought her home. We have since moved from Dania Beach to Pittsburgh together and she will be my flower girl in my upcoming wedding. She's more than a dog, she's my kid. I really don't know what I would do without her.
Jessica Roberts
Jack & Jasmin
Thank you again for the 2 wonderful fur babies. We love your babies. They are now 9 months old and BIG. Jack is 8 -9 lbs. and Jasmin is 7-8 lbs. The vet says they are going to be big babies and very healthy. You can see they still love each other and sleep next to each other.
Spring Ricciardi
Morgan
Morgan is a one-year-old female Dogo Argentino. Cesar Millan, the Dog Whisperer, helped us to study Morgan's behavior and determined she was indeed a Dogo Argentino. He gave us a lot of advice on how to handle this specific breed. We have been working with her, following Cesar's instructions to keep her active by running, walking, but most importantly, by loving her. She is the sweetest dog and loves us very much. We are very happy to have her as she is happy to be part of our family as well.
Bruce
I had been looking for another young Dachshund to keep our four-year-old Dachshund company. We fell in love with this breed after getting our first Dachshund. It was several months of looking before we found Scotty - an 11-week-old owner surrender. Scotty was surrendered with his sister - renamed Bruce. He was well worth the wait! As you can see, he is adored and the center of attention everywhere we go.
Martha
On Oct. 21, 2012 at approximately 11 p.m., "Orejita" (a.k.a. Martha) started pacing and whining. We had already let her out for the night at 10 p.m. but we thought she might have an upset stomach as she was being very persistent. We let her out in the backyard and she quickly ran barking towards the back fence line. We couldn't see what she was barking at, but it wasn't an ordinary bark, it was a very protective type of bark. We came inside to grab a flashlight and we shone it in the direction where she was at.
To our shock and surprise...there were two persons wearing hoodies squatting with their backs towards us. They didn't move an inch even as we had the light on them and with the dog barking at them. Orejita was relentless and would not "come". She wanted these strangers gone. My husband made a loud remark, "I'm going inside and grabbing my gun!". We walked inside and thank God they decided to walk away while we stepped inside. I believe that Orejita prevented them from breaking into our RV or from them coming into our yard for whatever reason.
Noodle
Being part of Animal Services' foster care program has been a true blessing. I was caring for Noodle, a sweet puppy, when my high school friend came to visit. One look at Noodle and my friend could not resist! With the help of Animal Services, Noodle was living with her new family in a beautiful home. Recently, they celebrated Noodle's first birthday party. It was quite the celebration which included balloons, gifts, music and cake! They look forward to celebrating many years to come.
Happy foster mom,
Patrice
Sweety
Sweety is a two-year-old Terrier Mix. She's been with the Newman family for 2 years now and is the "best baby girl ever!" She is happy to do anything to please her family, especially when a member is feeling sad or stressed. In all, Sweety has been a blessing to the entire family and they look forward many years with her.
Hank
Ms. Perrigo recently lost two of her beloved pets due to old age. After months of searching she finally found her perfect life long companion, Hank. Ms. Perrigo urges the public to adopt a pet from our shelter. "The process is easy, the people are nice, and the amount of pets in dire need is too much" she said.
This adoption was truly destined to be as this animal was against all odds. From a medical perspective, the pet had an intermittent limp of RRL, required further examination and posed a possible ligament rupture. Nonetheless, the compassion and commitment from Ms. Perrigo allowed her to rehabilitated Hank into the loving life partner he was meant to be!
Bobbybear
I am writing to tell you the happy story about the two-year-old cairn terrier mix I adopted 6 weeks ago. To say its been a tough year for me is putting it mildly. My mother collapsed and died suddenly in June, and just when I started to catch my breath, 3 and a half months after, my 20-year-old dog died. My little Pucchini was the nicest boy, such a sweet guy, always happy, at the end when the light was fading from his eyes, I knew what was coming, I guess I didn't want to see it, the funny part is he used to be my mother's dog. I adopted him when he was 16-and-a-half years old. He was the most amazing dog, no way I could find another dog so perfect. I was wrong.

When he died I was numb, It was almost too much for me. I would pray for answers for why this was happening to me. I believe everything happens for a reason, but even I was at a loss for the reason. My pain was blinding. I often said when Pucchini died I would not get another dog to give myself a break, but I was torn. I missed having a dog. I had always had a dog in my life, so the weekend before I adopted Bobbybear I said if I was meant to have another dog I would see some sort of sign telling me it was ok for me to move on. Its always a good thing saving a life. Dogs have always been my savior throughout my life; my love affair with dogs started at an early age. So there I was browsing the web, I wasn't even sure what I was looking for. May be that sign I told you about before.

Somehow I ended up at your site, and saw a familiar smile staring back at me, and there he was, a small black terrier mix with no name. The same sweet attentive smile I had seen so often in pictures before. It was love at first sight, and I knew he was my dog. So I called and rushed down the next day to put him on hold, he had just come in and hadn't even been evaluated, but I knew everything would be alright. They took me in the back, and I told him not to worry, I will be back for him soon, and we have been inseparable since that day. He is such a sweet happy affectionate boy, my Bobbybear sunshine. He has an amazing spirit, and everyone who meets him says how cute and sweet he is. He is a perfect little boy. When he takes me for walks I try to keep up with him as best I can :o). I couldn't ask for a better boy. I thank you for my little furry sunshine and bless you for the work you do.
Max
Hello! I'm writing you to tell you about the puppy I adopted 5 months ago in May 2010, Max. At the moment he didn't have a name, just a number, and was in a cage with his brothers and sisters, all of whom had a hold on them, but for some reason, he seemed to be the runt of the family in there and nobody wanted him. I had placed a hold on his brother but there were 3 other people in front of me, and when I asked about him, they said nobody was looking to have him, so I took him (much to my mom's surprise when I got home, and against her wishes!).

Let's just say this little guy grew up big, and grew into our hearts more than we ever thought he would. He's very loyal and faithful to me, taking showers with me, sleeping with me, and following me around the house. He loves to go out on car rides and get shown off to people, and is very loving (and still teething, but thankfully he hasn't gotten a hold of the couches yet!). I would like to thank you for such a blessing into our home, and for a wonderful pet who is more like another member of the family than a dog... we love you Max!!
Ringo Starr
This is Ringo Starr! I adopted him about 2 months ago. I wasn't thinking about a pet, since i was afraid i wouldn't have enough time to give him attention, until i paid a visit to Animal Services in Miami. I saw that little thing with big eyes and a cute blue bandana on his neck and i didn't resist. Luckily he wasn't on hold and i could get him. He is a joy in my life. He is a very intelligent dog. In one week he learned the basic commands like "sit", "give me five" and "down". He travelled twice already and is my best companion. He loves to swim at the beach and play among other dogs at the dog park. No regrets at all. He is the best gift i could ask for!!!
Roxie
It is with great pleasure and gratitude that Bianca and I write with an update devoid of panic and/or requests for more help! Thanks to all of you, Roxie has graduated from survival mode to true puppy bliss: playing, chewing on everything in sight; rolling in the grass; attention gathering; and being a truly great companion.

Since our last update, Roxie has continued to improve. She has re-gained all of her weight and then some. She loves to play and meet people and other dogs, but she has a special affection for children. She has started to demonstrate all of the playfulness, curiosity, and, at times, mischief, that one would expect of a puppy her age, while always maintaining the super-sweet and calm personality you all have experienced. When people meet her, they almost always comment on how mellow and sweet she is. She is very well behaved considering all she has been through.

She's also overcome ringworm on her ears (much better, thanks Dr. Hatfield) and tapeworm, but both have improved dramatically.

We would love the opportunity, when it is convenient, to bring her back to see, thank, and lick, all of you who helped her (and us) so selflessly. Here are a few pix of Roxie feeling much better than the last time most of you saw her.
Thanks again.
Jamie Malphurs and Bianca Veloso.
Charlie
I adopted Charlie New Years eve last year after his previous owner gave him up to Animal Services. For whatever their reasons were, Charlie (once named Thor) looked out of place and scared. I wanted to adopt a large dog because I felt they are the hardest to be placed in new homes. I could never imagine my life without him. He has become protective of his home and family, as if he knew we saved his life. Now at about 100 pounds, Charlie spends his days playing with his doggie friends and loves being taken for walks and car rides. I knew he was special from the moment I laid eyes on him. It truly was love at first sight.
Sivko
My husband and I adopted one-year-old Sivko the cat (named Boots at the shelter) on October 25, 2010 and we absolutely love him! He has been a great addition to our family and we truly enjoy his companionship. Sivko loves to chase and play with his toy mouse. He even fetches the stuffed mouse and will bring it back to you to throw again (he must think he is part dog)! He has brought so much happiness and laughter to our household...he is quite the entertainer! We love to watch his energetic spurts as he tears through the house, bouncing off the furniture, walls and anything in his path. We are so thankful we could rescue him from the shelter and give him the loving home he deserves. We feel so lucky to have him as part of our family. Miami Dade Animal Services does such a great job for this county's animals and we encourage anyone looking for a new animal to adopt from the shelter.
-Rebecca and Marcos
Timmy
Last April I adopted a puppy from the shelter (his name is Timmy), and for some reason today I went back the Animal Services website and it reminded me how many animals are abandoned everyday, and I looked at my Timmy and I was so happy to see him so happy that I even shed a couple of tears.

I was never able to understand why people spend hundreds of dollars buying pets when there are so many who need a family in shelters. I live with my boyfriend's family and we all love him and he is the baby of the house. He has come to our home to brighten our lives and although he is a little spoiled (which is completely my fault), he is the sweetest baby in the whole world. When I adopted him he was only 2 months and weighted 13.3 pounds and now he is 8 months and weights almost 70 pounds. He is remarkably smart and most importantly, so happy. I was so glad I was able to adopt him and bring him into our home. We can not imagine our lives without our Timmy.
Attached you will find a picture of the day we brought him one and the other was taken yesterday.
Thank you for being there for my Timmy and all the other pets who need care. -Yendi
Rexy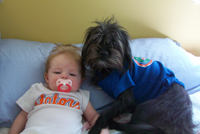 We recently welcomed our daughter, Valentina Clemente in June. We first worried that Rexy would be jealous of his new little sister, but our fears have been calmed. Although he's taken all of her toys, Rexy protects her fiercely and is never far from her. We also adopted Petunia a year ago, and gave her to my mother in law...she has the best life! We recently went on a family vacation and found a pet friendly hotel where all the dogs would be welcome...Rexy has also been to NY many times...he has his own pet frequent flyer account! Here is a cute picture of Rex and Valentina with their Gator outfits on. I am so proud of the work MDAS does, and will always be thankful for the amazing additions to our family thanks to you!
Mimi
I adopted "Princess" now "Mimi" 2 years ago from MDAS. She was listed as aggressive but we didn't get that feeling about her...so we adopted her. She did at first have a little bit of an attitude but with patience and love she changed quite quickly. She did come to us with Kennel Cough but with a little patience and care she was well in a few weeks.

If was so worth us adopting her...she is our sweet, caring baby girl. I have rescued many more after her because it is so worth saving a life that only we can speak for.
Sweety
My husband was leaving for the military and I wanted a friend that I could care for. So we went to Miami-Dade Animal Services and the minute I saw Sweety, a terrier mix three-month-old pup, I knew I wanted to take her home with me. My husband asked if I wanted to see the rest of the dogs and I said that this was the one I wanted.

She was shy, wasn't very social but she was the one I wanted. It has been two months and she is doing great; she plays with other dogs at the dog park and loves to play. She is a very smart puppy. Within the week, she was house trained and in a month she learned to give paw, sit and lay. We love her dearly and are glad we could rescue her and give her a good life.
Romeo
Dear Friends of the Miami-Dade Animal Service, It was the end of April 2010 when we adopted an adorable little guy. The second we saw him, we knew he was perfect for us. It was love at first sight for me and my wife Giulietta,so we decided to name him Romeo. We haven't regretted one moment of the adoption. He is the best dog ever!
Romeo is a sweet-natured, fun-loving dog who required almost no effort to train. He's so smart and has real doggie charisma! He learns new tricks quickly and He loves putting on little shows of his running and spinning prowess at the dog park, as well as chase birds. He is also very well behaved, was potty trained the minute he came into the house.
Romeo is more than we could have hoped for. His tail never stops wagging. We cannot imagine our life without him. Saving Romeo has been one of the most rewarding experiences in our life. He asks for so little but unconditionally gives so much to us every day.
Thank you so much for taking care of this boy until we were able to bring him home!
Tucker
Hello, I wanted to tell you about Tucker's happy tail. I am currently a grad student and I moved to Miami, FL last year from Cleveland, OH. I live by myself and I was feeling very lonely when I came home to an empty house, and no family nearby. In September of 2009, I saw a very friendly dog who was up for adoption, and I realized: Mom isn't here to say I can't have one! Even though my family had a huge country yard, my parents would never let me have a dog. I always wanted one; a canine buddy to take jogging and hiking, and I was always envious of those people with well trained dogs that could do tricks! I wanted my dog to be able to do those things. So I did tons of research to make sure I was able to take care of one, and I started looking at the animal shelter. I looked for a month before I found THE perfect dog--Tucker (shelter name Frankie.) After sniffing around the room he immediately ran to me, flipped onto his back and begged for a tummy rub. I immediately said "THIS ONE!" and took him home at the end of September.
Especially as a first time dog owner, I could not have asked for a more perfect dog. He was picked up as a stray, and I don't know what his past holds, but he had absolutely no aggression problems, no barking problem, no marking problem, and he was even potty trained already! Some basic obedience has given me the dog of my dreams- he knows tons of great tricks now and he is always ready to learn more. (We're planning to start agility training next month- look for us to be at the top of the pack in a few years!) He is as loyal as can be, helps me get up in the morning for those early classes, and also keeps me on my exercise routine! Let Tucker be an example- shelter dogs are definitely NOT broken!!!
Thank you so much to all of the shelter staff and volunteers who took care of Tucker before I was able to find him. Your work is appreciated!
Back to Top
Page Last Edited: Fri Jul 17, 2015 4:56:31 PM
animals
You are now leaving the official website of Miami-Dade County government. Please be aware that when you exit this site, you are no longer protected by our privacy or security policies. Miami-Dade County is not responsible for the content provided on linked sites. The provision of links to these external sites does not constitute an endorsement.

Please click 'OK' to be sent to the new site, or Click 'Cancel' to go back.