Last Visited »
Hurricane Irma
As we continue our recovery and cleanup efforts, please visit the Emergency website for the latest information on openings and closings in Miami-Dade County.
Happy Tails
Happy Tails are stories about the joys of pet adoption.
Send us your Happy Tail
Our adopters, staff and volunteers enjoy seeing photos and letters about adoption animals, where we get a glimpse into their lives in their new homes. If you would like to send a photo of your animal companion(s) along with some text, please include your contact information, names of the pet(s)/people in the photos, adoption date, and age(s) of your animal(s).
I never expected to fall so in love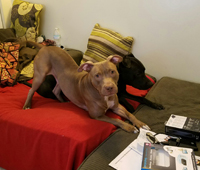 Bowser Pitbull Male 2 years old When I came in to bring my next foster baby home, I never expected to fall so in love. Lia, The foster coordinator, looked at my list of potential fosters to take home and she right away said " Your going to take Bow Wow( now Bowser) home, I know it." As I walked through the shelter at the different dogs, I came up to a beautiful Pitbull with the sweetest eyes. He just stared at me with the slightest tail wag. Almost as if he didn't want to get his hopes up. He had already been there for so long and had so many pass him by that he never thought this was his day. A staff member came around and put a lead on him and we walked by the other kennels to see how his demeanor was. He was the perfect boy and wasn't even paying attention to the barking dogs. He couldn't keep his eyes off me. It must have been love at first sight for both of us. His tail was now going a mile a minute. I was done for. I had to have him. Once the paperwork was done I took him to my car to take him home.
I opened the door and Bow Wow (Bowser) jumps right in and sat down like the perfect gentleman. I have never seen such a smile on a dog before. The love and joy that he has brought into my life is immeasurable.
-Laura Chapman
From streets to Search and Rescue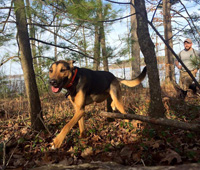 15 months. We adopted Zephyr (Then Jill) when we came across her at an adoption day event at PetSmart on Coral Way. It was not planned but something about her demeanor reeled us in. Supposedly, Zephyr had been found as a stray with her brother (who had been adopted several days prior) and so we made the decision to give her a forever home. We moved from Miami to Michigan about a month later and started Zephyr with basic obedience classes right away. We continued these classes for a couple of months until we decided to follow our dreams of getting involved in volunteer Search and Rescue work and Zephyr was our avenue into that. Zephyr is now officially a Wilderness Air Scent dog in training for Michigan Search and Rescue and will eventually help to locate and rescue lost or recently deceased persons. She loves the outdoors, and roaming through the woods to play this new "search game" in an effort to be rewarded with her favorite squeaky tennis ball. Zephyr was rescued by us from the streets of Miami and will someday rescue others in need to return the favor.
-Adam Kelly
Nothing but love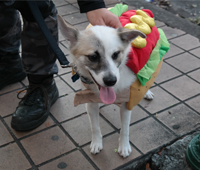 I decided to adopt Stephen on October 7 after losing my childhood dog earlier this year. He is the cutest male 1 year old tricolor terrier mix you have ever seen. From the moment I saw him in his kennel he came up to me and gave me nothing but love. He would not stop licking my hand and pressing his head against my arm. I knew at that moment it was my duty to give him a better life. He has now been with me for a little less than a month and has completely won over everyone in my house. He's very energetic and loves to go to the park to spend hours playing, gets along great with every dog he meets and has so much love he does not leave my side at any moment. When I leave to work he whimpers. He has changed my life and I thank MDAS for being so great and facilitating his adoption. There are so many pets here in need of a better life, I wish everyone would treat pets how they deserve, they can be happiness to anyone. Stephen and I will continue our journey together for many years to come.
-Omar Fernandez
All hugs and kisses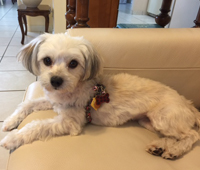 Bella n/k/a Ms. Blondie. 18 month old female mixed terrier. We all hit the jackpot with this rescue. She is THE best thing we did. Never knew rescuing a pet would be this fulfilling. Took her about a week to bond with us an now it's all hugs and kisses. She didn't know about toys and bones. She now knows how to bite the bones and play with the toys. She still hasn't figured out how to make the squeaky toys squeak. That will be fun to see her reaction when she finally finds out how to do it. She had a puppy named Mona who was adopted the same day. I hope she is as happy as we are. She is truly missed because Blondie thinks we are her play things, she has never been alone before evidently. MDAS IS a great place to find your fur baby. We are one big happy furever family. Thank you MDAS.
-Pat & Richard Weiner
Lucky is lucky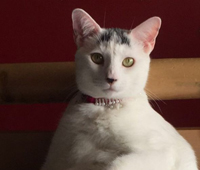 I adopted my cat Lucky on 10/28/2014 when she was 2 months old. She has been quite a joy and is like "Garfield" the cat!
-Fabiola DeMoraes
Back to Top
Page Last Edited: Thu Aug 10, 2017 3:47:29 PM
animals
You are now leaving the official website of Miami-Dade County government. Please be aware that when you exit this site, you are no longer protected by our privacy or security policies. Miami-Dade County is not responsible for the content provided on linked sites. The provision of links to these external sites does not constitute an endorsement.

Please click 'OK' to be sent to the new site, or Click 'Cancel' to go back.