Last Visited »
Hurricane Irma
As we continue our recovery and cleanup efforts, please visit the Emergency website for the latest information on openings and closings in Miami-Dade County.
Environmental Public Records
Miami-Dade County is governed by the Public Records Act Chapter 119, Florida Statutes. Therefore, records kept by the Department of Regulatory and Economic Resources are open for public inspection and copying.
The Records Management Section is the central storage and processing area for department records, and assists customers in locating, viewing and copying those records. Records for various programs can include, but not be limited to inspection reports, permit records, enforcement actions, contamination records, environmental monitoring records, contract records and project information.
Environmental Status Reviews
Online
To locate a record using our online seach tool:
More than two million environmental records are contained in our online records system. Use the link below to access these records. You can click on the "Help with Searching" option at the top of the search page for detailed instructions on using the online system.
To request a record from the department:
Miami-Dade County now has a new public records management tool that allows you to request and track status online. Create a new account or log in to submit and see updates to your public records requests.
Certain frequently requested data sets are now available on Miami-Dade County's Open Data Portal. The available data sets include environmental permits, contaminated sites, enforcement cases and environmental plan reviews.
Back to Top
In the office
You can view most environmental public records at the main office located at the Overtown Transit Village North, 701 NW First Court, Miami.
Contact the Records Management Section if you want to request public records at the main office. In order to locate a record, you will need to provide one or more of the following: Facility or location name, street address, folio number, Miami-Dade County or Florida Department of Environmental Protection permit number, file number, or facility ID number.
Back to Top
Copies
Paper copies of records can be provided at 15 cents per single-sided page and 20 cents per double-sided page. Copies of electronic records can be provided on compact disc at a minimal cost. Documents found in the online records search can be printed for free. Additional costs may apply to extensive requests.
Back to Top
Appointments
If you wish to review a record at the main office, then scheduling an appointment is suggested, but not required.

If you wish to review a record without an appointment, there may be a wait depending on the availability of the record and the number of customers requesting documents at the time.

Scheduling an appointment will allow staff adequate time to research and retrieve the records for your request and have them available for you at your scheduled time.
Back to Top
Records Management Section
Email: [email protected]
Phone: 305-372-6564
Address: Environmental Resources Management Records Management
Overtown Transit Village-North
701 NW 1st Court, STE 300
Miami, FL 33136-3912
Directions to main office
Records Requests: Derm Records 305-372-6564
Electronic Records: Ligdano Gonzalez 305-372-6564
Section Manager: Christopher Caporale 305-372-6715
Miami-Dade County now has a new public records management tool that allows you to request and track its status online. Create a new account or log in to submit and see updates to your public records requests.
Back to Top
Property Review & Inspection
When an Environmental Status Review (ESR) is requested for a specific property, staff from the Code Enforcement Section will coordinate and compile all environmental information on said property from the individual sections and programs within the Division of Environmental Resources Management (DERM), and will also conduct an environmental site inspection of the property.
This combined information, including the results of the DERM inspection, will be included in the ESR letter issued by DERM's Code Enforcement Section. This process takes approximately 3-4 weeks and a fee of $1,200 per folio is applied (pursuant to the Miami-Dade County Fee Schedule
Note: ESRs are not Phase I or Phase II Environmental Site Assessment Reports, which for Phase I's, include more in-depth/extensive environmental records reporting, including but not limited to state and federal records; for Phase II's, intrusive site study/reporting including but not limited to sample collection/analysis to determine the presence/extent of contamination on a property.
Back to Top
Contact the Enforcement Section
Back to Top
If you cannot view PDF

files, you can download
Acrobat Reader
for free from Adobe Systems, Inc. In order to use PDF files, you must have Acrobat installed on your computer.
Page Last Edited: Fri Sep 3, 2021 1:21:57 PM
environment
Environmental Considerations GIS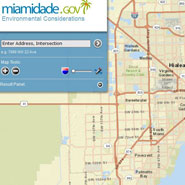 Search the Environmental Considerations GIS Map to find out if a property may have any environmental features associated with it.
You are now leaving the official website of Miami-Dade County government. Please be aware that when you exit this site, you are no longer protected by our privacy or security policies. Miami-Dade County is not responsible for the content provided on linked sites. The provision of links to these external sites does not constitute an endorsement.

Please click 'OK' to be sent to the new site, or Click 'Cancel' to go back.