Seasonal News
The Public Affairs Bureau would like to wish our MDFR family Happy Holidays and a wonderful New Year. Thank you for providing our community with first-rate service every day.
Welcome to Our December Issue!
Miami-Dade County Fire Rescue's (MDFR) Hotlines is publication that promotes departmental services, initiatives and accomplishments. Originally launched in July 2009 as a quarterly electronic newsletter, Hotlines has evolved into a more user friendly format. Hotlines is not only distributed to MDFR employees, it's also posted on our public website www.miamidade.gov/fire so that it can be accessed by members of the community we serve.
---
MDFR Battles Third Alarm Fire on Black Friday
In the early morning of November 23rd while many county residents were shopping and taking advantage of black Friday deals, MDFR firefighters were responding to a third alarm warehouse fire at United Pillow Factory.
Units arrived to heavy black smoke. The fire burned through fabric, foam, wood, and cardboard located inside the warehouse. It was also reported that propane tanks were also inside, posing an additional danger to the crews. Read more...
MDFR Responds to Garage Collapse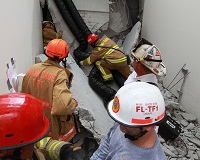 On B shift, October 10, 2012, Miami-Dade Fire Rescue (MDFR), responded to a parking garage collapse at the Miami Dade College West Campus located at 3800 NW 115th Avenue in Doral. MDFR fire crews arrived to find a five-story parking garage that was under construction, and had collapsed. Several dozen construction workers were present at the time of the collapse.
Our mission: locate and rescue survivors that were trapped beneath the rubble. In a very intricate extrication, firefighters and our assistant medical director, Dr. Marc Grossman, worked tireless for more than 13 hours to free two workers from the massive pile of concrete and steel.

More than 300 firefighters responded to the collapse along with a component of Florida Task Force 1. In addition, MDFR provided support and assistance for several additional days assuring that all victims were accounted for.

Hiring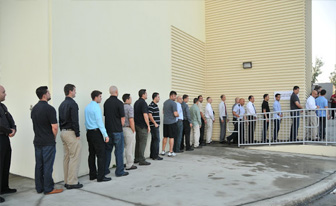 Just over a thousand applicants lined up this December to begin the second part of the recruitment process. Applicants arrived at the MDFR Training Center to present their documents and to sit for the written test. MDFR is anticipating hiring forty new firefighters this fiscal year.

Miami-Dade Fire Rescue honored those who lost their lives on 11th anniversary of September 11, 2001, with three separate memorials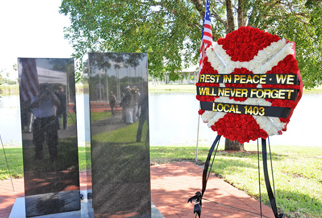 MDFR once gain partnered with the Miami-Dade Police Department for a ceremony of remembrance in Tropical Park. During the ceremony a wreath was placed at the World Trade Center Memorial to pay homage to those firefighters that were lost that day.
After the ceremony at Tropical Park, MDFR memorialized a piece of a steel beam from the World Trade Center (WTC) collapse at MDFR "Heroes of September 11" Station #3.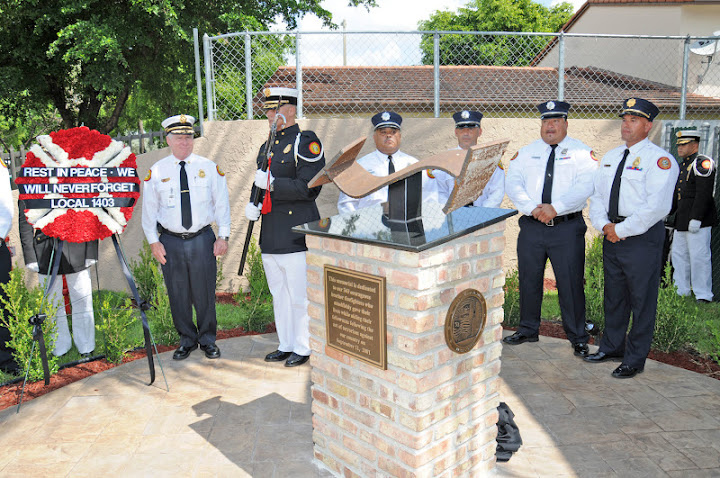 The ceremony took place in front of Station #3 followed by the unveiling of the second piece of steel for permanent display as a part of "Heroes of September 11" memorial. This piece of history is located in front of the station allowing everyone in the community an opportunity to view and remember those who made the ultimate sacrifice. In June 2002 this station was dedicated to the 343 FDNY firefighters that perished in the twin towers collapse. Station #3 houses the only two red fire units, with FDNY marking, within the MDFR fleet.
In 2009, the Port Authority of New York and New Jersey began authorizing the release of artifacts from the WTC collapse to various agencies with the condition that they'd be displayed in a memorial. MDFR was fortunate to be granted two pieces of steel. The first piece of steel was put on display at MDFR headquarters for the 10th anniversary of 9/11.


At MDFR's Station # 61, a "Never Forget" memorial was unveiled. The memorial is dedicated to the 343 FDNY firefighters that lost their lives at The WTC on September 11. The mural began as a tribute between Firefighter Claude Audette and Lt. Harold Schappell who wanted to pay homage to their fallen brothers that made the ultimate sacrifice on that day in 2001.
It became a labor of love that seemed to consume them both on and off duty until the memorial was finally finished, approximately three months and several hundred hours later of designing, constructing, lighting and finish work. The last pieces were placed on the memorial on September 11th, 2011, exactly 10 years to the day of the worst day in our country's and the fire service's history.
The memorial is an illuminated 9-foot tall; 14-foot wide American flag behind 9-foot tall 3D "Twin Towers" raised on a pedestal and fronted in Plexiglas containing the names of all 343 FDNY firefighters that died at Ground Zero and skyline of the city of New York at the sides of the towers.

MDFR's Douglas Keller Named Investigator of the Year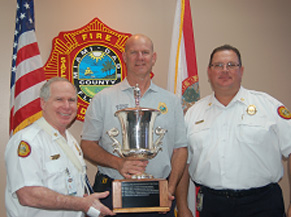 Lieutenant Douglas Keller of Miami-Dade Fire Rescue (MDFR) was named the 2012 Investigator of the Year by The Florida Fire Marshals and Inspectors Association(FFMIA). Lt. Keller was presented with the award in October at the Florida Arson Seminar in Orlando, Florida. Read more...

Firefighter Honored for Off-Duty Heroic Act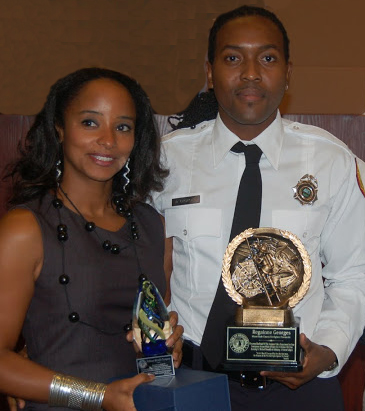 Miami-Dade Fire Rescue (MDFR) Firefighter Regainne Georges was honored by the City of Aventura for his heroic acts in saving the life of a police officer. On the night of October 11, 2012, while off-duty, Firefighter Georges witnessed the assault of an Aventura Police Officer.
Following the officers unsuccessful attempts to subdue the aggressor, he immediately proceeded to aid the police officer in apprehending the individual, who was reaching for the officer's gun. Firefighter Georges acted without hesitation and with total disregard for his own safety. As a result of his actions he was be recognized for his heroic acts and selfless service to the community.

MDFR goes GREEN with Station 40 and Station 16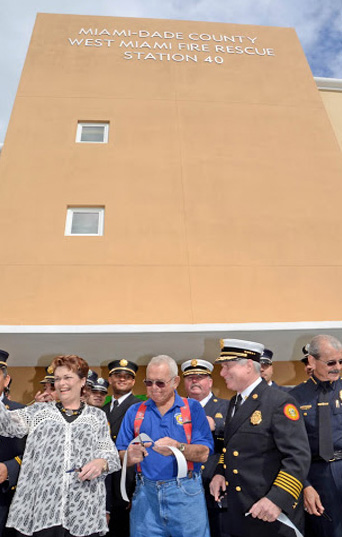 Miami-Dade Fire Rescue (MDFR) celebrated the grand opening of West Miami Station #40 on November 16, 2012. The two-story, 4,658 square-foot facility will receive a Leadership in Energy and Environmental Design (LEED) Silver Certification. This will make this station MDFR's first LEED-certified buildings, conserving energy and water, which is healthier and safer for occupants, and reduce harmful greenhouse gas emissions.
Another celebration took place on August 28, 2012, when MDFR held a ribbon cutting ceremony and a plaque unveiling at Homestead's Station #16. The new 12,038 square-foot facility can accommodate up to 12 firefighters and replaces and old station that was located on the same property.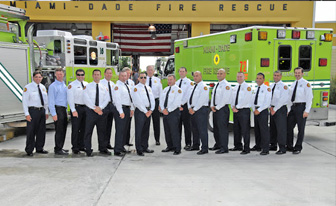 The 16-month construction project included the installation of impact window, hurricane proof doors and other energy saving features. For the first time in Miami-Dade County, a fire station has four-fold doors instead of rollup doors. This feature allows fire engines and fire rescue units to exit the station faster. The new doors open in seven seconds opposed to the 20 seconds it takes for a rollup door to open. The facility also has three drive-thru bays that encompass an 80-foot area.
The bays at the old Station 16 were just 40-feet. The added area allows the station to house extra apparatus in case of hurricanes or other emergencies. "With the new technology and infrastructure both facilities will help increase service, response time, and efficiency," said Fire Chief William W. Bryson. "The opening of these stations will enable MDFR to continue to provide for the health, safety, and welfare of the residents of the area and its surrounding communities." Guests and elected officials at both events had the opportunity to tour the new GREEN fire stations.

Fire Prevention Month Encouraged Residents to "Know Two Ways Out"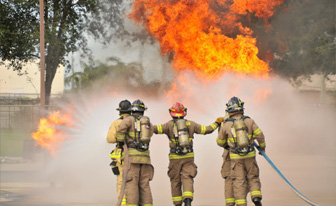 Miami-Dade Fire Rescue (MDFR) kicked off Fire Prevention Month by partnering with FPL to conduct free safety makeovers, evaluating potential for burns and other electrical and fire safety hazards. Additionally the Fire Officers Association of Miami-Dade (FOAM-D) invited all media outlets to join MDFR and other local fire departments to participate in an educational and fun life saving skill drill stressing this year's fire prevention slogan of "Know Two Ways Out".

MDFR Deployed for Hurricane Sandy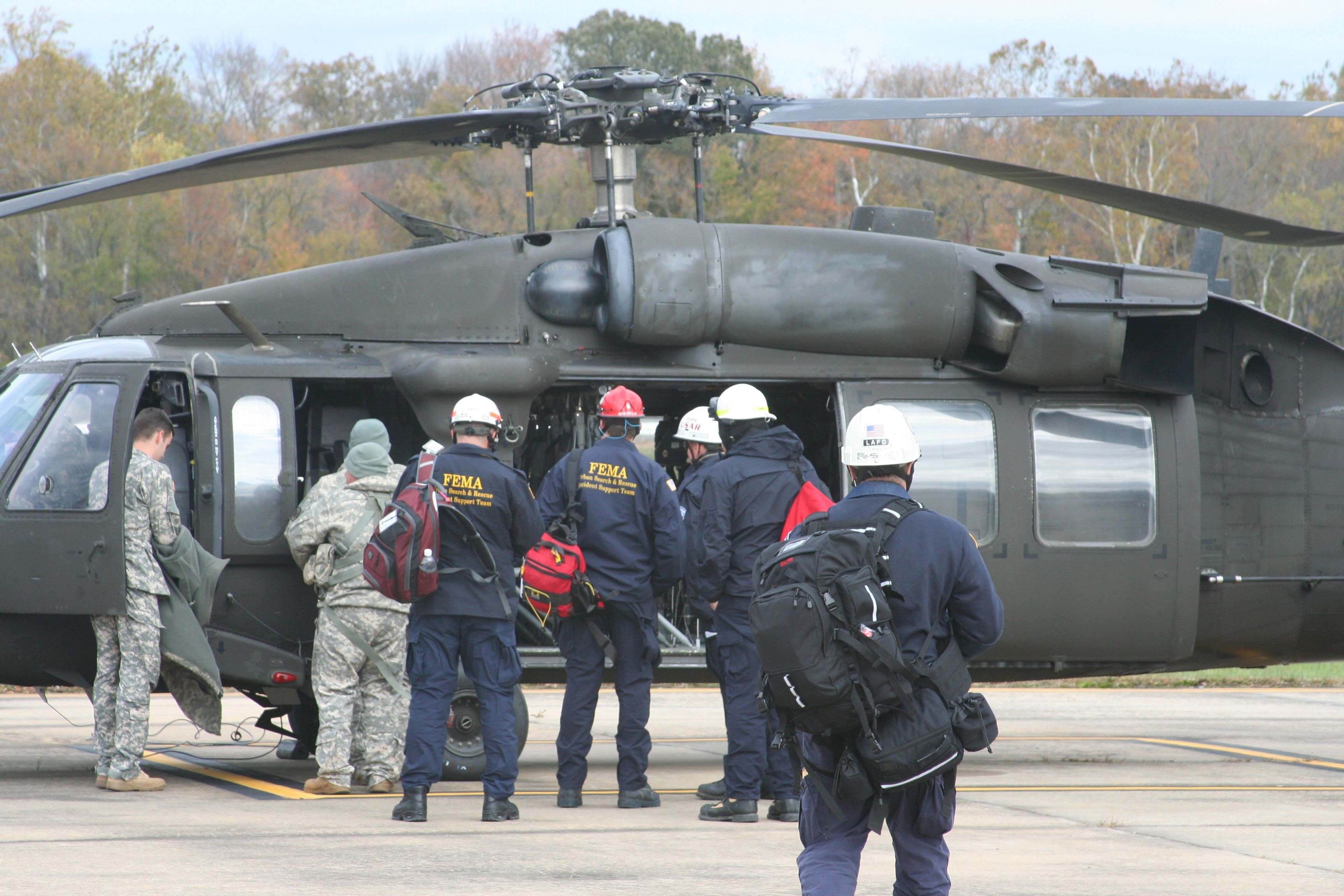 Four members of Miami-Dade Fire Rescue joined FEMA's Search and Rescue Incident Support Team (IST) in the Northeast during the federal response of Hurricane Sandy. Chief Alan Perry, Chief Giovanni Ulloa, Captain Jeff Strickland, and Captain Louie Fernandez departed from Miami International Airport before the storm and were deployed for 10 days. All four are members of the federal urban search and rescue management team known as the IST.

MDFR Fundraising 2012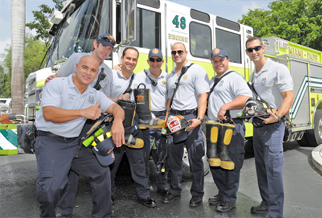 Over many years, Miami-Dade Fire Rescue has been enthusiastically involved in supporting causes that greatly aid areas of need within our community. Thanks to all of the crews that pounded the pavement in support of Local 1403's MDA Boot Drive; it was a huge success culminating in a check to the Muscular Dystrophy Association of more than $125,500.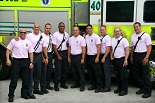 Throughout the month of October, MDFR firefighters and staff employees alike supported the American Cancer Society's Making Strides Against Breast Cancer (MSABC)by wearing pink shirts and participating in the MSABC Walk 2012. Our "MDFR These Boots Are Made For Walking" team has thus far collected more than $13,000.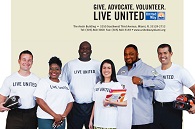 Another of our fundraising efforts is still in full swing. This year we are again banding together to raise funds for United Way. Last year our campaign collected over $250,000 and donated to 56 different agencies through the Contributor Choice Option. We at MDFR are proud of our long-standing relationship with United Way and are consistently either ranked first or second in over-all donations as well as in leadership gifts with over 130 employees giving at least 1% of their salaries. For questions about United Way, please contact Mario Gonzalez 786-331-4937 or 786-422-4228.
MDFR Joins the Stroke Network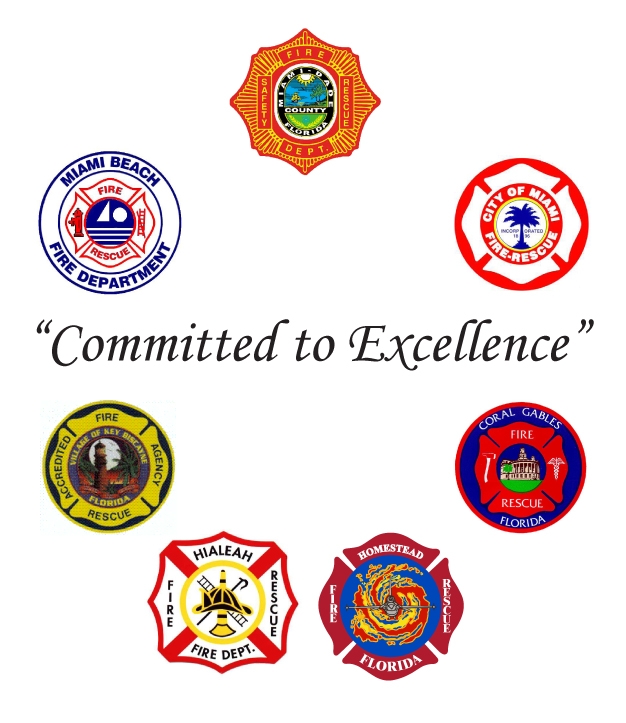 Dreams came true this summer as the Fire Officers Association of Miami-Dade (FOAM-D) announced the collaborative success of an unprecedented FOAM-D Stroke Consortium at Florida International University's Herbert Wertheim College of Medicine. The vision to create a stroke network began in 1999, when only about half of the hospitals in South Florida were performing CT scans on a 24-7 basis. Read more...

OEM in Shanghai China
The Miami-Dade Office of Emergency Management was invited to share its knowledge and expertise with the Shanghai Meteorological Service in Shanghai, China. From June 24-July 2, Deputy Director Jonathan Lord worked with Chinese officials and shared with them how to coordinate information and resources in relation to disaster preparedness, response, recovery, and mitigation. Read more...

Communications Training Unit is certified
Effective Oct. 1, 2012, the development of public safety telecommunications in Florida is moving into an era of professionalism based on statewide standardized training. In March of 2011, the Miami-Dade Fire Communications Division Training Unit's Training Program was approved by the Department of Health (DOH). In short, the unit has been certified to instruct a course based on the curriculum set by the state.