Last Visited »
Hurricane Irma
As we continue our recovery and cleanup efforts, please visit the Emergency website for the latest information on openings and closings in Miami-Dade County.
Volunteer opportunities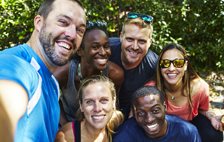 Photo by Depuhl
One of the ways individuals and organizations can make a difference in their local park system is through volunteering. There are many opportunities for volunteering or providing in-kind donations for volunteer projects.
Explore our volunteer opportunities or call 305-961-2781 for more information.
Volunteer Days
Play a role in greening our community and demonstrate your commitment to parks and open spaces. Together with Miami-Dade Parks, the Parks Foundation hosts four signature clean-up and beautification projects a year at parks, nature centers and beaches all across Miami-Dade.
Volunteers paint, landscape, plant trees, create community gardens, weed-out invasive species and more. Donations help offset the costs of materials and supplies.
Annual Events
Martin Luther King Jr. Day of Service – January 13, 2018
Youth Service Earth Fest – April 14, 2018
Day of Service and Remembrance – September
National Public Lands Day – September
We are also happy to customize an event at a location of your choosing. For more information, call 305-961-2781.
Disclaimer
"A COPY OF THE OFFICIAL REGISTRATION AND FINANCIAL INFORMATION MAY BE OBTAINED FROM THE DIVISION OF CONSUMER SERVICES BY CALLING TOLL-FREE WITHIN THE STATE. 1-800-HELP-FLA (435-7352) OR www.FloridaConsumerHelp.com. REGISTRATION DOES NOT IMPLY ENDORSEMENT, APPROVAL, OR RECOMMENDATION BY THE STATE." FLORIDA REGISTRATION CH17955
Back to Top
Page Last Edited: Thu Mar 15, 2018 11:19:39 AM
parks_foundation