Last Visited »
Important Global Message
The Miami-Dade County Emergency Operations Center has been activated and is closely monitoring Erika. For any updates about County facilities and services, please visit: http://www.miamidade.gov/emergency
Grease Discharge Permit
Prior to 1994, Miami-Dade County experienced a number of grease related overflow problems that needed to be resolved. The solution began with the creation of the grease discharge program. Since the program began, the number of grease-related problems have decreased and the number of grease interceptors in the county has increased. Preventing sewage overflows is a key necessity for the well-being, health and safety of our community, as well as for the preservation of our environment.
Any non-residential facilities that prepare or process food, discharge or have the potential to discharge oil and grease to the public sanitary sewer system, require a Grease Discharge Operating (GDO) Permit. Typical examples of permitted facilities include restaurants, cafeterias, supermarkets, schools, banquet halls and trash pads at malls or shopping centers.
This permit is needed to monitor the discharge of fats, oils and grease into the public sanitary sewer system via an inspection program, and to minimizes the occurrence of sewage overflows caused by grease blockages in the public sanitary sewer lines, with the cooperation of the business operator and the public utilities.
A new permit is required when a new business opens or when there is a change of ownership, business name change (fictitious or corporation), an expansion or contraction of the business address, a change of the grease pretreatment device to an existing business, or a change in business location.
The annual operating permit is non-transferable and new business owners are required to secure a new permit. Copies of zoning permits (certificate of use or municipal occupational license) showing the new business name and/or new owner's name, along with the GDO application, are accepted for the application process.
GDO Operating Permits are not transferable. The new owner of the business is required to apply for a permit under their business name.
Read the flyer with guidelines for food preparation establishments, as well as grease trap installation and maintenance, and disposal of fats, oils and grease.
How to Apply
If the facility is located within any city or municipality, you must first apply for the Municipal Occupational License and/or a Certificate of Use (CU) from the city prior to accepting an application for a GDO Operating Permit. It is not necessary for the municipal occupational license to be finalized by the corresponding municipality when using it to apply for the GDO permit.
Note: All municipalities require an Environmental Resources Management Plan Review "stamp" prior to finalization of their occupational license.
In unincorporated areas of Miami-Dade County, a valid Certificate of Use or approved Certificate of Use application must be submitted. You can apply for a Certificate of Use and Occupancy at Miami-Dade County's Permitting and Inspection Center, located at 11805 SW 26 Street in Miami.
It is suggested that other Municipal, County, State and Federal Agencies be consulted to determine which additional permits, if any, must be obtained from those agencies.
Customers can apply for new permits in person at Regulatory and Economic Resources Department offices downtown, in West Dade and Hialeah. Please bring a complete and notarized GDO permit application.
Facilities within municipalities can apply at all three locations, and must bring a copy of their Municipal Certificate of Use or applicable local business tax receipt. If a copy of the license is not yet available, then the application used to obtain the license may be accepted.
Facilities within unincorporated Miami-Dade County can apply only at the Miami-Dade County Permitting and Inspection Center, and must obtain a Miami-Dade County Certificate of Use process number from the Zoning Division of the Department of Regulatory and Economic Resources as part of the permit application process.
Cash, checks, money orders and credit cards (Visa, MasterCard and Discover Card only) are accepted for payment of application and processing fees.
A completed application that is submitted in person is generally reviewed and an answer provided in a matter of minutes. The actual operating permit document that must be posted at the facility is usually mailed within 30 days of processing and approval of the complete application.
Fees
GDO operating permit fees cost $150, $300 or $750, depending on the size (area in square feet) of the facility, its use and the potential to generate and discharge fat, oil or grease to the Public Sanitary Sewer System.
Expiration
The GDO permit is valid from January 1st through December 31st of the same year. Permit renewal forms are sent to the facility operators a minimum of 45 days prior to the expiration of the permit.
For more information
Call the environmental Permitting Section at 305-372-6600, option 6.
If you cannot view PDF

files, you can download
Acrobat Reader
for free from Adobe Systems, Inc. In order to use PDF files, you must have Acrobat installed on your computer.
Back to Top
Page Last Edited: Tue Oct 7, 2014 11:33:18 AM
permits
Fats, Oils and Grease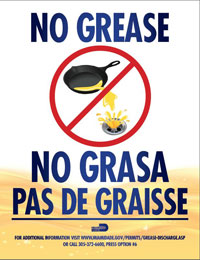 You are now leaving the official website of Miami-Dade County government. Please be aware that when you exit this site, you are no longer protected by our privacy or security policies. Miami-Dade County is not responsible for the content provided on linked sites. The provision of links to these external sites does not constitute an endorsement.

Please click 'OK' to be sent to the new site, or Click 'Cancel' to go back.