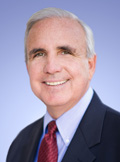 "PortMiami will be the closest U.S. port to the Panama Canal that's ready to accommodate the mega size cargo vessels that require a -50/52 foot depth when at full capacity," said Mayor Gimenez, adding, "PortMiami is already known worldwide as the Gateway of the Americas. Once the dredge is complete, PortMiami will be well-positioned to capture new trade opportunities, especially with ever-growing Asian markets."
PortMiami is counting down for the completion of the Deep Dredge project that is deepening the Port's main harbor channel from -42 feet to a depth of -50/52 feet. PortMiami will be the only major global logistics hub south of Virginia capable of handling bigger post-Panamax vessels.
More than $1 billion of capital infrastructure projects are transforming PortMiami. Already in place are:
Super Post-Panamax Gantry Cranes that can service cargo vessels up to 22 containers wide with up to nine containers high above deck and eleven containers below deck;
Intermodal/Freight Rail Service in partnership with Florida East Coast Railway linking PortMiami to 70% of the U.S. population in four days or less; as well as a new
PortMiami Tunnel linking the Port directly to the United States Interstate Highway System. These projects are providing the world's top ocean carriers with the convenience of fast, reliable quality service.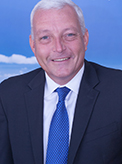 "We're grateful to the vision of our state and local leaders for making this critical infrastructure project a reality," said PortMiami Director and CEO Juan M. Kuryla. "The completion of PortMiami's Deep Dredge cannot be overstated, PortMiami will be positioned as the most convenient and efficient global hub on the North American East Coast ready to service the world's leading ocean carriers. I am proud to say that PortMiami will be able to berth Post-Panamax ships this summer."
In addition to the already completed infrastructure improvements, the newly deepened PortMiami will be a viable option for trade and commerce from the Southeastern United States to reach markets worldwide. This paves the way for the Port to become an even more reliable transshipment hub in the region.
Mayor Carlos A. Gimenez called the countdown to the completion of the deep dredge a "major milestone" for not only PortMiami and Miami-Dade County, but for all of Florida, which will benefit from increased trade opportunities once the expanded Panama Canal opens in 2016.
The completion of the deep dredge project will ensure that PortMiami remains competitive in the global marketplace.
The United States Army Corps of Engineers is managing the project. Great Lakes Dredge and Dock Company LLC, is the contractor that was selected for the deepening of PortMiami's channel to -50/52 feet. Dredging began in August 2013 and will be completed in Summer 2015, before the opening of the expanded Panama Canal.