Last Visited »
Hurricane Irma
As we continue our recovery and cleanup efforts, please visit the Emergency website for the latest information on openings and closings in Miami-Dade County.
Taxicabs
A taxicab is a for-hire motor vehicle that transports eight passengers or less (exclusive of the driver) and provides either street hail or pre-arranged taxicab service.
Cabs are equipped with a taximeter, and the passenger controls the route and destination. The drivers of such vehicles must have a chauffeur's registration, and the vehicles must be inspected.
Drivers and Business Owners
Rates
Except where flat rates are operational, fares are determined by the taximeters, which are inspected and sealed at the County's Vehicle Inspection Station.
The metered rate is calculated at:
$2.95 for first 1/6 of a mile
$0.85 for each additional 1/6 mile until 1 mile
$0.40 for each 1/6 mile after that
$0.40 per minute ($24 per hour) wait charge
Trips to/from Miami International Airport to the Port of Miami cost $27.
Road tolls are in addition to the metered fare. The passenger pays the lower SunPass rate. For trips originating at Miami International Airport or the Port of Miami, a $2 surcharge will be added to the meter fare.
Tipping is optional but customary. The passenger is entitled to receive a receipt.
Find the estimated cost of cab fare in Miami-Dade County using TaxiFareFinder. This is an independently-owned business, unaffiliated with Miami-Dade County. Rates are subject to change.
Back to Top
Fuel surcharges
Miami-Dade County may, under certain conditions, authorize taxicab drivers to add a per-trip fuel surcharge to fares if the price of gas rises to a determined amount. The surcharge was established to help taxicab drivers offset the high cost of gasoline passed by the Miami-Dade Board of County Commissioners on June 3, 2008. (Section 31-87)
Currently, there is no fuel surcharge in place.
Section 31-87 also provided for a $1.00 surcharge when the average price of regular gas, as reported by the Energy Information Administration (EIA) of the U.S. Department of Energy, is $3.50 for three consecutive weeks. The surcharge could increase or decrease depending on the average fuel cost for three consecutive weeks as reported by the EIA.
The rate schedule below lists when the surcharge increments kick in.
Avg. Price Per Gallon / Fuel Surcharge Rates
$ 3.50 / $ 1.00
$ 4.00 / $ 1.50
$ 4.50 / $ 2.00
$ 5.00 / $ 2.50
$ 5.50 / $ 3.00
When a fuel surcharge is in effect, notice of the surcharge will be posted in each taxicab.
The driver will add the surcharge using the "extra" button on the taximeter.
On flat fare trips where the taximeter is not used, and on a small number of meters that do not have an "extra" button, the driver will manually add the surcharge to the fare.
If the average price of gas drops, so will the fuel surcharge according to the rate schedule above.
Back to Top
What passengers should know
Riders should know the following about riding in a taxicab:
Passengers should make sure the driver is registered and the vehicle is licensed. There must be a decal and/or license number on the exterior of the vehicle, and the driver's picture and registration number must be displayed on the vehicle dashboard.
Taxis in Miami-Dade County are required to have a SunPass transponder. This allows taxicab drivers to add tolls to the fares but at the discounted SunPass rate.
Passengers are entitled to a cash discount of $2.70 where payment is made by cash, check or other means other than a credit card.
There is no per passenger or baggage charge.
The fare is the amount shown on the meter, unless a flat rate applies. Flat rate taxi service applies to trips to and from Miami International Airport and the Port of Miami, the beaches, the Village of Key Biscayne and two zones close to the airport. Flat rate guides should be posted on the right rear passenger window.
The meter starts when the taxi begins the trip toward the desired destination.
Complete the Taxi Complaint Form to submit a complaint about a taxi driver or cab. Provide your contact information if you would like us to follow up.
As a for-hire passenger you have the right to:
Outstanding service.
Air conditioning as soon as you enter the vehicle unless you request otherwise.
The chauffeur taking the most direct route unless you request a different route.
Be transported without fear or refusal.
A chauffeur who knows and obeys all traffic laws.
A radio-free (silent) trip.
Smoke and incense-free air.
A courteous, English-speaking chauffeur who knows the streets of Miami-Dade County.
A receipt offered for the fare charged.
A clean passenger and trunk compartment and vehicle exterior.
Know the chauffeur registration number.
Be transported in compliance with the standards set forth in the Americans with Disabilities Act.
Back to Top
Wheelchair-accessible taxicabs
Miami-Dade County requires at least 3% of all taxicabs to be wheelchair accessible. Drivers are trained and certified in the safe and proper methods of securing and transporting wheelchair passengers.
Back to Top
Vehicle inspections
Miami-Dade County requires that any company or individual who seeks to provide transportation for compensation be licensed, their drivers trained and insured, and their vehicles registered, insured and inspected.
Back to Top
Industry notices
Publicized notices about the For-Hire industry.
Back to Top
Taxicab licenses
Miami-Dade County requires anyone wishing to provide for-hire taxicab services to first obtain a for-hire taxicab license.
Taxicab service is on-demand or prearranged transportation using vehicles that seat nine passengers or less, including the driver. Taxicab vehicles are sedans, station wagons, minivans and sport utility vehicles.
Back to Top
For-Hire chauffeur training
Individuals who attend our for-hire chauffeur classes are required to take and pass an exam administered by the County.
Back to Top
Workshops
Ambassador Cabs Program
A workshop was held on April 2, 2014 on a portion of the proposed Ambassador Cabs Program, which is currently being drafted based on an ordinance approved by Jan. 29, 2014 by the Board of County Commissioners.
One of the details of the Ambassador Cabs Program, which relates to taxicab service at Miami International Airport and the Port of Miami, allows for discounts to be offered for passenger cab fares when payment not involving a credit card is used.
For more information, call 305-275-1250.
Back to Top
Licensed companies and taxicab stand locations
Back to Top
Chauffeur Incentive Program
The Taxicab Chauffeur Incentive Program recognizes and rewards taxicab drivers for outstanding service to tourists, visitors and residents of Miami-Dade County.
Four times a year a Chauffeur of the Quarter is selected from a pool of drivers recommended by members of the public. From among these nominees, a Chauffeur of the Year is also named.
The Chauffeur of the Quarter receives a commemorative plaque and a $500 cash award, while the runners-up receive $50 each and a certificate.
The Chauffeur of the Year is awarded a commemorative plaque and $2,500.
Any member of the public who wishes to recommend a taxicab driver for a Chauffeur of the Quarter award should email the Department of Regulatory and Economic Resources at consumer@miamidade.gov or download a nomination form. The form should be filled out and mailed to:
MIAMI-DADE COUNTY
DEPT OF REGULATORY AND ECONOMIC RESOURCES
BUSINESS AFFAIRS DIVISION
FOR HIRE TRANSPORTATION
601 NW 1ST COURT
18TH FLOOR
MIAMI FL 33136
Back to Top
Ambassador Cabs Program
The Ambassador program was implemented on April 1, 2015. All taxi drivers must be registered as an Ambassador Cab driver to pick up passengers at Miami International Airport (MIA) and PortMiami. Taxicabs operating from these two locations are clearly marked as "Ambassador Cabs," and these cabs have to comply with the following requirements in order to participate in the program:
Have and utilize a SunPass device for electronic toll payments.
Have a "vacant" light attached to the top of the roof or to the top of the dome light. This light shall operate automatically to illuminate the "vacant" sign when the taximeter is not in operation.
Have a functional credit card processing system on the back seat. The machine shall list tips, fares, tolls and fees separately.
Have equipment interfaces with taximeter, displaying meter and flat rate fares.
Furthermore, new taxicabs coming into service cannot have previously been used as a taxicab, or have a "rebuilt" or "salvage" title, and cannot not be older than three model years of age. Any vehicle over six model years of age cannot operate as an Ambassador Cab, with the exception of wheelchair taxicabs, which are allowed to operate as Ambassador Cabs until they reach eight model years of age.
Passengers traveling in an Ambassador Cab are entitled to the following amenities:
Chauffeurs shall open doors for passengers.
Chauffeurs shall load and unload luggage, unless otherwise instructed by passenger.
Chauffeurs cannot refuse to accept payment by credit card.
Chauffeurs must wear a collared shirt, dark trousers or skirt, and closed shoes.
The Ambassador Cabs Program also provides the following benefits for all passengers using this service:
A standard taxicab meter and taxicab flat rates zones with a cash discount of $2.70 where payment is made by cash, check or other means other than a credit card.
A guarantee of no credit card processing, convenience, or any additional fees or charges.
All credit or debit card payments must be charged to driver's card or bank account within 2 business days.
By March 2016 all Ambassador Cabs will be required to be:
Integrated with a global positioning dispatch (GPS) radio based system capable of determining the location of each taxicab at all times by the company's dispatch service.
Equipped with an operable digital security camera system.
Equipped with operable emergency/panic warning light.
A provision of this program provides an incentive to taxicab operators using alternative fuel vehicles by granting them priority access to the airport and seaport terminal for passenger pick-up.
Back to Top
Page Last Edited: Wed Feb 24, 2016 4:27:11 PM
transit
Taxi Complaint Form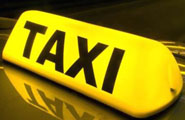 Complete the Taxi Complaint Form to submit a complaint about a taxi driver or cab. Provide your contact information if you would like us to follow up.
You are now leaving the official website of Miami-Dade County government. Please be aware that when you exit this site, you are no longer protected by our privacy or security policies. Miami-Dade County is not responsible for the content provided on linked sites. The provision of links to these external sites does not constitute an endorsement.

Please click 'OK' to be sent to the new site, or Click 'Cancel' to go back.