Last Visited »
Hurricane Irma
As we continue our recovery and cleanup efforts, please visit the Emergency website for the latest information on openings and closings in Miami-Dade County.
Ecosystem Protection
Miami-Dade County is internationally recognized for its beaches. Sensitive ecosystems, including coral reefs, Biscayne Bay, coastal wetlands, Everglades marshes, hardwood hammocks and globally imperiled pine forests are so unique that two National Parks, a National Marine Sanctuary, Florida aquatic preserves and water conservation areas have been established within Miami-Dade, a circumstance that occurs nowhere else in the United States.
These natural resources support productive fisheries and wildlife habitat, recreation and tourism. Natural areas also help reduce erosion, reduce flooding and contribute to clean air and water.
Miami-Dade County works to protect, maintain and enhance these treasures and the benefits they provide through strategies including regulation, monitoring, habitat restoration and environmentally endangered lands acquisition and management.
Beach Renourishment
Restored beaches and dune systems provide storm protection and recreational benefits. Miami-Dade works with federal and state partners to periodically renourish vulnerable parts of the beach.
Coastal Areas
Coastal areas provide erosion and storm surge protection for urban and natural areas, while providing high quality habitat for many rare and endangered plants and animals. Permits are required for construction work, dredging or filling on coastal areas.
Environmentally Endangered Lands
The Environmentally Endangered Lands Program consists of the acquisition, protection and maintenance of sensitive Miami-Dade County lands. Residents can volunteer to keep these lands in pristine condition.
Manatees
The Florida manatee is a native species found throughout all parts of the state. Protections for Florida manatees were first enacted in 1893. Today, they are protected by the Florida Manatee Sanctuary Act, and are federally protected by both the Marine Mammal Protection Act and the Endangered Species Act.
Mangroves
A mangrove wetland can be one of the most productive ecosystems in world given two factors, the right movement of water allowing suspended material to move in and out of the wetland and freshwater runoff.
Reefs
Miami-Dade County protects coral reefs through monitoring and permitting programs.
The Miami-Dade Artificial Reef Program helps offset damage to natural reefs and provides opportunities for fishing and diving. Use the Artificial Reef Locator to learn about sites to visit in Biscayne Bay and offshore, or volunteer to adopt a mooring buoy.
Trees & Forest Communities
Trees and natural forests play a big part in increasing our environment's quality. Therefore, a permit is required for the approved removal or relocation of any tree within Miami-Dade County (certain exceptions apply), and any activity that results in the removal or damage to any vegetation in a Natural Forest Community also requires a permit.
Wetlands
Wetlands contribute to water quality by removing excess nutrients and pollutants that originated in the uplands before they reach the estuary. Wetlands also offer important habitat for a wide variety of organisms that rely on the area as a nursery ground, and provide protection against coastal erosion.
Back to Top
Page Last Edited: Mon Oct 20, 2014 3:46:37 PM
environment
Adopt-a-Tree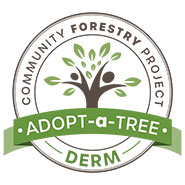 Get updates about the Adopt-a-Tree program, and find out when Miami-Dade residents have a chance to adopt two free trees!
Learn More
The Miami-Dade County Cooperative Extension offers a broad range of services for residents, such as environmental programs, consumer services, workforce development, agriculture production and more.
You are now leaving the official website of Miami-Dade County government. Please be aware that when you exit this site, you are no longer protected by our privacy or security policies. Miami-Dade County is not responsible for the content provided on linked sites. The provision of links to these external sites does not constitute an endorsement.

Please click 'OK' to be sent to the new site, or Click 'Cancel' to go back.