Last Visited »

The Miami-Dade County Portal will be undergoing maintenance starting at 11 p.m. Saturday, May 3 and for all of Sunday, May 4. Intermittent outages may be experienced. We apologize for any inconvenience.
Thank you for your patience as we improve our online services.
Surface Water Quality
Our quality of life is dependent on clean water that will support and sustain our community needs as well as our environment and economy.
Miami-Dade County's Division of Environmental Resources Management (DERM) monitors surface water quality throughout the County monthly. Water quality samples are collected at 97 locations along Biscayne Bay, as well as major drainage canals and tributaries leading to the Bay.
The importance of surface water quality and its present overall condition was recognized by the State of Florida, when it designated the surface waters of Biscayne Bay an Outstanding Florida Water. This designation provides for the highest levels of protection to assist in maintaining the quality of its waters.
Data collected by the County indicates that open water sites in Biscayne Bay and other tidal waters meet or are superior to federal, state and local standards for recreational use and support of healthy fish and wildlife populations.
Watch how surface water quality is monitored.
Biscayne Bay's water
Compared to other Florida waters, Biscayne Bay is characterized by very low concentrations of nutrients (much like the Everglades) and pollutants, and has excellent water clarity that supports robust seagrass meadows, economically-vital fisheries populations and ecologically-critical habitats such as coral and mangrove communities.
However, the water quality and supported habitats in some portions of the Bay, canals and rivers exhibit signs of human impact. Portions of a number of canals in urbanized areas do not meet one or more water quality criteria, and are designated by the State of Florida as "impaired."
The most common problem is excess amounts of certain types of bacteria that are indicators of sewage contamination. Additionally, some portions of Biscayne Bay are affected by excess nutrients, which may lead to algal blooms that reduce water clarity, damage seagrass and reduce the ecological health of the Bay.
For these reasons, Miami-Dade County implements many programs that work together to help understand, protect and improve the quality of our surface waters.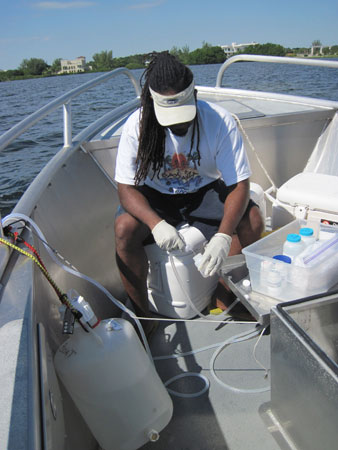 Each month, County staff collects water samples at 97 locations along Biscayne Bay,
as well as major drainage canals and tributaries leading to the Bay.
Improving water quality
Progressive environmental programs in Miami-Dade County, in collaboration with state and federal efforts, have helped maintain and improve our water quality despite significant increases in population.
This is largely due to the development and use of best management practices, improvements in pollution prevention technology, air and water quality treatment, land-use and stormwater regulations, and environmental remediation and restoration. Protection of natural resources such as trees, wetlands, natural areas, clean soils, the Biscayne Aquifer and aquatic vegetation help filter, recycle or trap harmful nutrients or potential water pollutants.
These strategies prevent or reduce the occurrence or magnitude of pollution that can enter surface water and allow for more sustainable growth and development.
For more information on the surface water quality program, call DERM's Restoration & Enhancement Program at 305-372-6864.
Back to Top
Page Last Edited: Wed Jan 8, 2014 4:49:15 PM
environment
You are now leaving the official website of Miami-Dade County government. Please be aware that when you exit this site, you are no longer protected by our privacy or security policies. Miami-Dade County is not responsible for the content provided on linked sites. The provision of links to these external sites does not constitute an endorsement.

Please click 'OK' to be sent to the new site, or Click 'Cancel' to go back.