Last Visited »
Hurricane Irma
As we continue our recovery and cleanup efforts, please visit the Emergency website for the latest information on openings and closings in Miami-Dade County.

Energy
Twenty-four seven access to reliable energy in Miami-Dade is critical to power buildings, equipment and vehicles that we depend upon every day. In fact, electricity and transportation together account for roughly 90 percent of greenhouse gas (GHG) emissions in Miami-Dade County.
The County's Energy Efficiency Campaign includes programs that engage residents to practice, and support, a reduction in energy use and sustainable living.
The County has also developed the Miami-Dade County Electricity Master Plan

, which provides a systemic approach to efficient energy use within Miami-Dade County government operations.
Solar Cooperatives for Bulk Purchasing and Shared Contracting
In June of 2017, the Miami Dade County Board of Commissioners unanimously passed a resolution in support of the Solar United Neighbors, a nonprofit that organizes the Miami Dade Solar Purchasing Cooperatives program. This program facilitates lower pricing through bulk purchasing of solar photovoltaic equipment and special contractor pricing. The program is open to all single family residence homeowners and small business owners in Miami-Dade County who would like to benefit from the advantages of going solar. Each Cooperative serves as a neutral third party organization to educate property owners about solar, bring homeowners together and provide unbiased, installer neutral support to participants who are transitioning to solar power.
Learn more about Solar Bulk Purchasing Cooperatives, including upcoming information sessions.
View the presentation, "Solar United Neighbors - Solar Information Session."
Property Assessed Clean Energy Programs (PACE)
Miami-Dade County homeowners, businesses and industries in unincorporated Miami-Dade County interested in solar panels, hurricane windows and other energy saving upgrades now have another financing option through the property assessed clean energy (PACE) program.
PACE allows property owners to receive upfront financing for a variety of energy-related home improvements, then repay the debt through voluntary assessments on their property tax bills. Approved third-party administrators will provide funding, and the assessment can be amortized over a period of five to up to 20 years, which allows for the cost savings resulting from the improvements to be used to pay back the annual amount owed.
PACE-funded improvements must be properly permitted and installed by licensed contractors, and they must meet applicable federal, state, and local energy, wind and building code standards.
Although the County has to authorize PACE programs to operate in unincorporated Miami-Dade County, the County does not administer or operate the programs in any way. All contractual PACE agreements are between property owners and the PACE district, a non-County entity.
To foster competition and protect consumers, Miami-Dade County has included compliance requirements in its agreements with each PACE provider such as provisions for clear communication with customers, disclosure of all fees and risks associated with participating in the program, prepayment penalties and hardship exceptions, and mandatory data reporting.
To request a copy of a data report from one of the approved PACE providers, please contact the Office of Resilience at 305-375-5593 or by email.
Currently, the County has an agreement with four Districts to provide services to Unincorporated Miami-Dade County. Details are provided below.
Authorized by Miami-Dade County to provide services in Unincorporated Miami-Dade County:
Florida Green Finance Authority
Administered by Renew Financial Group, LLC
844-589-7953
[email protected]Renew Resolution and Agreement
Florida PACE Funding Agency
Residential properties administered by Counterpointe Energy Solutions
Phone 855-509-9922
Fax 855-509-9923
[email protected]
For commercial properties or owners' associations:
Phone: 855-431-4400
Fax: 866-410-6400
[email protected]
https://www.alliancenrg.com/retail/contact-us

For questions about the servicing of an existing PACE assessment on a tax bill (both residential and commercial properties)
Phone: 855-248-8900
Fax: 844-620-8286
[email protected]
Counterpointe Resolution and Agreement

Florida Resiliency and Energy District (FRED)
Administered by Renovate America
877 -747-4889
[email protected]
Renovate American Resolution and Agreement
Green Corridor Property Assessment Clean Energy District
Administered by Ygrene Energy Fund
305-569-0015 or 855-965-7283
[email protected]
Ygrene Resolution and Agreement
If you cannot view PDF

files, you can download
Acrobat Reader
for free from Adobe Systems, Inc. In order to use PDF files, you must have Acrobat installed on your computer.
Back to Top
Page Last Edited: Thu Jan 31, 2019 11:58:33 AM
green
Building Efficiency 305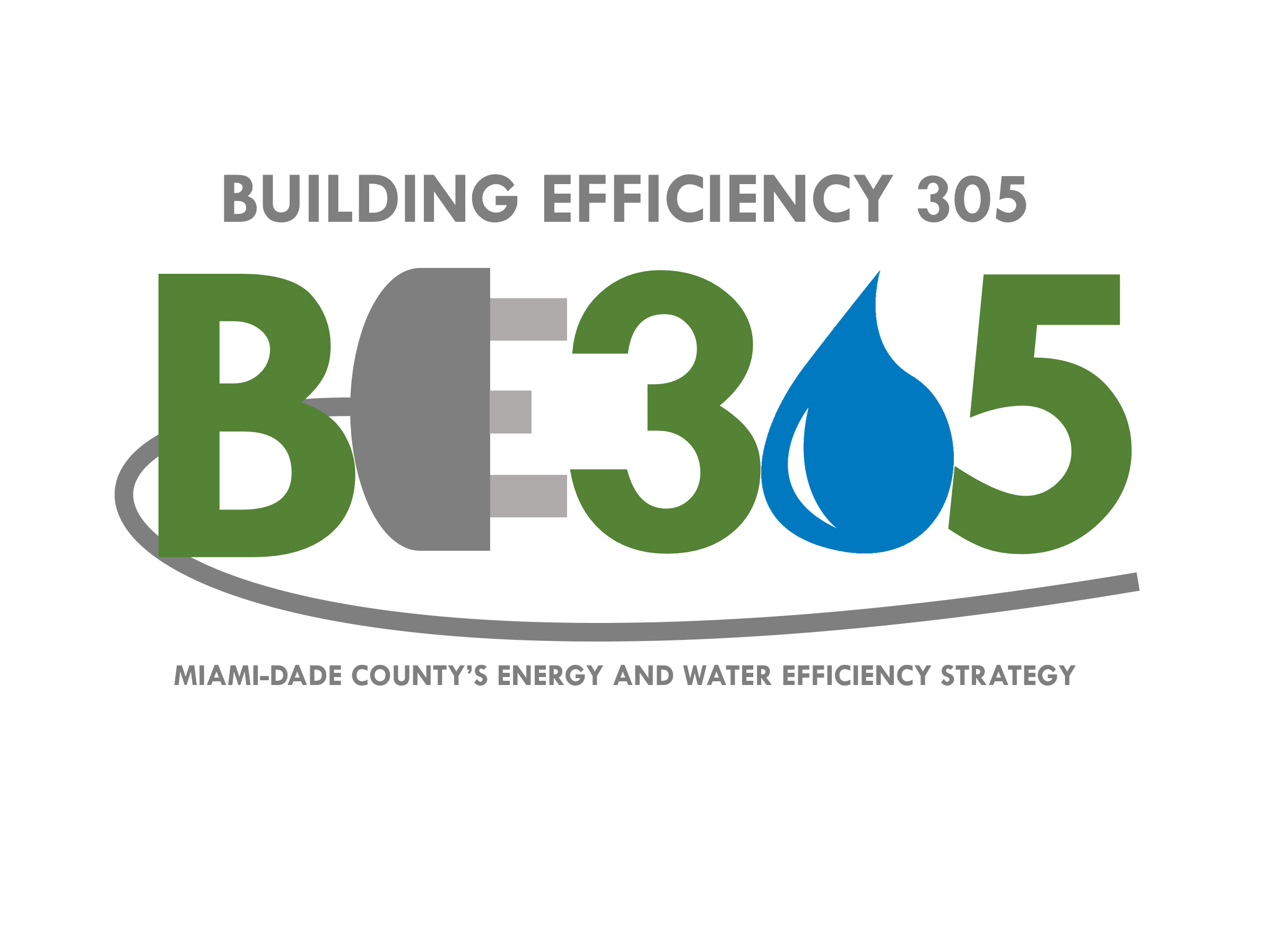 Building Efficiency 305 (BE305) is the County's new strategy to increase energy and water efficiency in large public and private buildings countywide.
Go Solar Florida

The U.S. Department of Energy awarded Miami-Dade County and other Florida municipalities a 2.5-year, $1.575 million grant to make it easier for residents to obtain grid-tied solar installations.
You are now leaving the official website of Miami-Dade County government. Please be aware that when you exit this site, you are no longer protected by our privacy or security policies. Miami-Dade County is not responsible for the content provided on linked sites. The provision of links to these external sites does not constitute an endorsement.

Please click 'OK' to be sent to the new site, or Click 'Cancel' to go back.