Last Visited »

The Miami-Dade County Portal will be undergoing maintenance starting at 11 p.m. Saturday, May 3 and for all of Sunday, May 4. Intermittent outages may be experienced. We apologize for any inconvenience.
Thank you for your patience as we improve our online services.

Economic Development
A key priority for Miami-Dade County is to grow and enhance international trade and commerce as well as entrepreneurship and innovation. Led by our two largest economic engines, Miami International Airport (MIA) and PortMiami, our County has become a major global center for international trade and commerce. And we continue to work hard to grow our County's economy by implementing a number of programs that are facilitating business development throughout our community. Below are a few of the highlights:
Economic Development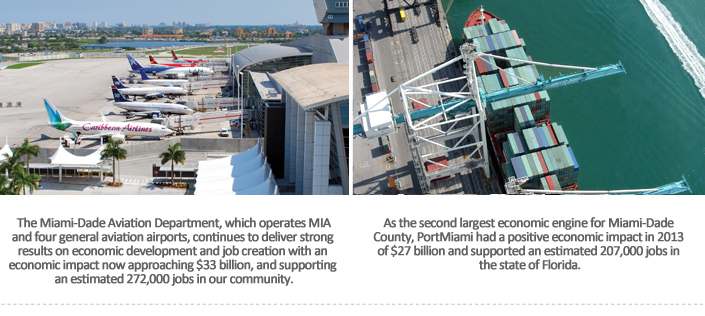 • Miami International Airport (MIA) surpassed 40 million annual passengers on December 27 for the first time in its history, setting a new record for annual passengers for the fourth year in a row. The 40-million total was evenly split between domestic and international passengers for the second highest such ratio of any major U.S. airport. The airport also set a new record for cargo with 2.1 million tons of goods moving through our global gateway, making it the top international freight airport in the U.S.
• In 2013, MIA added seven new international destinations to its growing route network and now provides direct passenger service to 148 destinations around the world, and receives more international flights than any other airport in the U.S.
• In addition, new service to Brussels, Belgium with Belgian carrier Jetairfly will begin in April, 2014, and airline industry leader Qatar Airways will begin four weekly nonstop flights to MIA from Doha, Qatar in June. Doha is one of the top hubs in the Middle East, currently the fastest-growing region in the world for air travel. The new service is projected to have an economic impact of 536 total jobs and $78.3 million in business revenue within Miami-Dade County.
• Working closely with U.S. Customs and Border Protection (CBP) officials, MIA launched "Passport Express" in 2013, MIA's new automated passport control kiosks. MIA is one of only four U.S. airports currently using the new technology.
• We continue to expand the importance of PortMiami to our community by investing more than $2 billion in infrastructure improvements that are scheduled to be completed before the expanded Panama Canal opens, making Port Miami "Big Ship Ready."
• The new Port Tunnel is on schedule for completion in May 2014. The tunnel is critical to PortMiami's future growth as it will allow port traffic to move more expeditiously to and from the interstate highway system, and will help reduce traffic downtown.
• In 2013 we also started the construction phase of the Deep Dredge project at PortMiami, scheduled for completion in 2015 prior to the opening of the expanded Panama Canal. The deepening of the Port's channel to -50 feet is required for the new generation of larger container vessels that will traverse the expanded Panama Canal. PortMiami is the only U.S. Eastern Seaboard port south of Norfolk, Virginia that will be at the required depth.
• On-port rail has returned to PortMiami. The first phase of the project was completed in the fall of 2013. With its Florida East Coast (FEC) Railway partner, the Port restored and upgraded rail service between Port facilities and the Hialeah rail yard with links to the national rail system, allowing shippers to reach over 70% of the U.S. population in less than four days transit time.
• Long known as the "Cruise Capital of the World," PortMiami surpassed the four million passenger mark in 2013, and it is estimated to reach a record of nearly five million in 2014.
• PortMiami's 2014 Cruise Season features a new cruise brand, MSC Cruises, a luxury Mediterranean brand is sailing one of its newest vessels, the MSC Divina, on itineraries that include the Caribbean and Latin America. Norwegian Cruise Line's newest ship, the Norwegian Getaway, arrives this year with itineraries to Bahamas and the Caribbean.
• Other new ships that recently joined the PortMiami fleet include: Resorts World Bimini SuperFast Cruise Ship that began service to Bimini in the summer, Carnival Cruise Lines' Carnival Conquest and Carnival Ecstasy as well as Costa Cruises' Costa Luminosa.
• MIA and PortMiami have been at the center of the significant growth of our tourism industry. For 2013 Miami-Dade County had record overnight visitors of more than 14.2 million, a +2.2% increase over the previous year. In addition, there was record spending by visitors of more than $22.8 billion by visitors to Greater Miami and the Beaches in 2013, a +4.6% increase over the previous year. We also experienced record accommodations and food service employment of 110,800 jobs, an increase of +4.3% over the previous year and 48 consecutive months of increases.
• Film and entertainment continue to be a major industry for the County. The Miami-Dade Office of Film & Entertainment attracted and assisted 900+ film/photo/digital media productions in FY 2012-13, with $220 million directly invested on permitted productions, creating 18,000+ jobs, booking 25,000+ hotel rooms, and generating positive press that helps to increase tourism.
• The Economic Development and International Trade Unit (EDIT) of the Department of Regulatory and Economic Resources (RER) organized and conducted five business development missions to Madrid/Barcelona, Spain; Bogota/Medellin, Colombia; San Jose, Costa Rica; Nairobi, Kenya; and Port au Prince, Haiti, with the participation of 67 local businesses combined. These businesses engaged in a total of 440 pre-screened business to business meetings, resulting in a reported $29.164 million in potential sales from these missions.
• Through various incentive funds, Miami-Dade County is supporting job creation and economic development: with 130 new jobs and capital investments of $3.367 million projected through the Qualified Target Industry Tax Refund program; 60 new jobs and capital investments of $2.450 million projected through the Targeted Jobs Incentive Fund; and 61 new jobs and capital investments worth $69.3 million projected through the Brownfield Redevelopment Bonus Tax Refund program.
• The Sony Open Tennis Tournament also continues to have a significant positive impact on our economy with 307,809 residents and visitors coming to the tournament in 2013, and generating more than $380 million in economic activity for Miami-Dade County.
Back to Top
Page Last Edited: Fri Feb 14, 2014 11:18:22 AM
stateofthecounty
You are now leaving the official website of Miami-Dade County government. Please be aware that when you exit this site, you are no longer protected by our privacy or security policies. Miami-Dade County is not responsible for the content provided on linked sites. The provision of links to these external sites does not constitute an endorsement.

Please click 'OK' to be sent to the new site, or Click 'Cancel' to go back.