Last Visited »

Economic Development
Mission Statement
To expand and further diversify Miami-Dade County's economy and employment opportunities, by promoting, coordinating, and implementing economic revitalization activities that reduce socio-economic disparity and improve the quality of life for all residents.
Economic Development
Miami-Dade County continues to grow its economy led by its two largest economic engines: Miami International Airport and PortMiami. We are quickly becoming one of the top global communities in international trade and commerce, as well as economic production. In fact, our county's Gross Regional Product (GRP) of $116 billion is larger than that of 29 countries in Latin America and the Caribbean. If we are to truly position Miami- Dade County as one of the premiere global communities to live in and invest in, we will need to continue our focus on enhancing entrepreneurships and innovation initiatives as part of our overall economic development programs.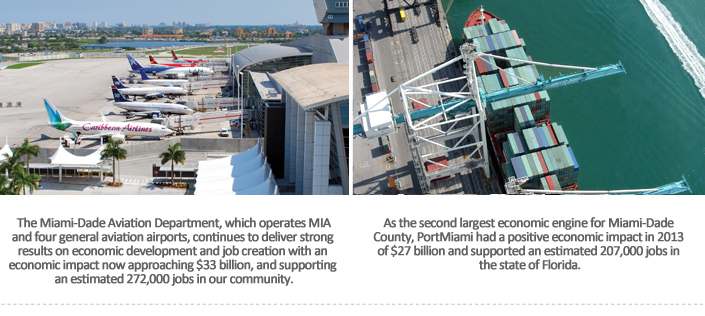 Below are the highlights of a number of important initiatives
• Miami International Airport (MIA) set new all-time records for annual passenger and cargo traffic in 2012 with 39.5 million passengers and 2.1 million tons of cargo. International passengers led the way with 19.4 million travelers, and MIA is now the busiest U.S. airport for international flights. Domestic passengers also grew to 20.1 million.
• In 2012, MIA completed its expansion of the North Terminal International Arrivals Facility, which represents more than 140 new jobs and an infusion of $180 million in capital improvement.
• Miami International Airport and the General Aviation Airports' economic impact is $26.7 billion and supports 282,043 jobs.
• The Miami-Dade Aviation Department (MDAD) continues to support minority businesses and received the Minority Enterprise Development (MED) Week Advocate of the Year Award during the 30th Annual MEDWeek awards presentation in October. In June, MIA received the FAA's 2012 DBE Advocate and Partner Award and the Airport Minority Advisory Council's 2012 Airport Concessions Award.
• One of the most significant achievements for PortMiami in 2012 was securing the permit for the Deep Dredge project for the deepening of the Port channel to minus 50-feet. A construction contract is expected to be awarded in early 2013. The Deep Dredge project is critical for future growth at PortMiami and will allow for a new generation of larger container cargo vessels that will begin traversing an expanded Panama Canal in 2015. PortMiami is the only Eastern Seaboard port south of Norfolk, Virginia that will be at the required minus 50- foot depth to accommodate these ships when the expanded Panama Canal opens, ushering in new opportunities for expanded trade with Asian markets.
• PortMiami has set a goal to double cargo traffic over the next decade, an ambitious but very attainable goal that has the potential to create thousands of new and well-paying jobs in South Florida.
• PortMiami supports more than 180,000 jobs and has an economic impact of $18 billion.
• The U.S. Department of Commerce granted Miami-Dade County the authority to establish Foreign Trade Zone (FTZ) 281, which is among the nation's first to operate under the new Alternative Site Framework's streamlined process. The FTZ will expedite and encourage foreign commerce by allowing businesses that use the zone to save substantially on import duties and processing fees in addition to having stronger security measures and faster delivery of goods. Marketing FTZ 281 will be a priority for MIA and PortMiami in 2013.
• EDIT organized 71 one-on-one business meetings for 27 local companies during the World Trade Center Miami's Food and Beverage Show and the U.S./Portugal Business Development Trade Mission in Miami. Thirteen local companies that participated reported combined expected sales of $1,250,000 over the next 12 months.
• Miami-Dade County's Consumer Protection Mediation Center assisted both consumers and businesses in resolving their disputes in over 3,200 cases. These cases represent positive resolutions for $1,121,716 of transactions in goods and services.
• The Consumer Protection Licensing Unit issued close to 14,000 annual business licenses/individual registrations and continued to provide educational sessions throughout Miami-Dade County at senior centers, community centers, university campuses, libraries, and other government facilities.
• The Sony Open broke all attendance records in 2012 with 326,000 residents and visitors passing through the turnstiles, generating more than $386 million in economic impact for Miami-Dade County. The Sony Open provides a strong economic boost to our local economy, along with tremendous global exposure. In a recent referendum, 72 percent of voters overwhelmingly approved the concept of building and maintaining new facilities on the Crandon Tennis Center site solely with tournament revenues and private funds, not tax dollars.
• The Miami-Dade Office of Film & Entertainment assisted 1,000+ film/ photo/digital media productions in FY 2011-12. As a result, $231 million was directly spent on permitted productions, 20,000+ jobs were created, and 26,000+ hotel rooms were booked. Some of these high profile projects included Ironman 3, Rock of Ages, Step Up 4: Revolution, Burn Notice, The Glades, and Magic City, plus over 150 television commercials and more than 400 photo shoots.
• Miami-Dade County supported a number of initiatives directly related to growing our entrepreneurship profile, including Innovation Week, America's Venture Capital Conference organized by FIU, and the Economic Development and International Trade Unit (EDIT) of the Department of Regulatory and Economic Resources (RER) organized and conducted three business development missions to Bogota, Columbia; Port-au-Prince, Haiti; and Nairobi, Kenya. During the missions, a total of 45 private sector business participants from South Florida and Florida engaged in 255 pre-arranged one-on-one business-to-business (B2B) meetings with their counterparts. These meetings presented opportunities for developing business prospects to increase sales, projects, joint ventures, and other business activities. Thirty business participants completed end-of-mission surveys and reported that as a direct result of participating in the missions, they expected combined sales totaling $21,834,500 and an additional $21 million in trade financing over the next 24 months.
• Through effective monitoring and enforcement, the Office of Small Business Development (SBD) continues to ensure compliance with the County's small business programs and wage requirements. During this fiscal year, $1,279,347 in underpaid wages were identified for employees.
Back to Top
Page Last Edited: Wed Feb 6, 2013 11:19:00 AM
stateofthecounty
You are now leaving the official website of Miami-Dade County government. Please be aware that when you exit this site, you are no longer protected by our privacy or security policies. Miami-Dade County is not responsible for the content provided on linked sites. The provision of links to these external sites does not constitute an endorsement.

Please click 'OK' to be sent to the new site, or Click 'Cancel' to go back.