Last Visited »

Public Safety
Mission Statement
To provide a safe and secure community through coordinated efficient and effective professional, courteous public safety services.
Public Safety
Our award-winning Public Safety Departments are among the best in the country. These include Police, Fire Rescue, Corrections, and the Office of Emergency Management. Using a combination of state-of- the-art technology, professional expertise, and a total commitment to service, our public safety officers work hard every day to keep our residents and visitors safe, serving not only the unincorporated areas of Dade County but also a number of municipalities.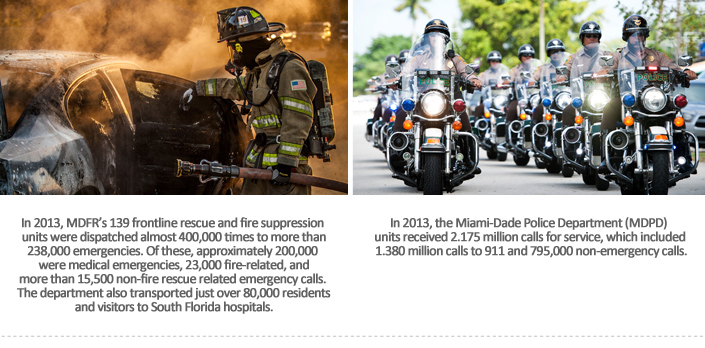 • Miami-Dade Fire Rescue's (MDFR) Venom One Unit was featured on Animal Planet and Discovery Channel in "Swamp Wars." This one-of-a-kind emergency response team currently holds the only anti-venin bank available for public use in the United States.
• The Emergency Operations Center and the Office of Emergency Management's framework, planning capabilities, and programs have become models for national and international government including the private sector. Their expertise is frequently sought after by both the Department of Homeland Security and the Federal Emergency Management Agency to serve as a pilot community for new programs and initiatives.
• According to the Center for Disease Control, someone suffers a stroke every 45 seconds. Aiming to deliver the highest quality acute stroke care available, Miami-Dade Fire Rescue and the six other local area fire departments of Coral Gables, Hialeah, Homestead Air Reserve Base, Key Biscayne, Miami, and Miami Beach joined forces with area hospitals to deploy one of the largest networks for the treatment and transport of stroke victims in the country, the FOAM-D Stroke Consortium.
• In August 2012, the Southeast Florida Fusion Center (SEFFC) located in the Homeland Security Bureau merged with the Palm Beach Fusion Center to ensure the Miami-Dade Police Department's ability to provide effective dissemination of multijurisdictional criminal intelligence information across the region. The SEFFC is constantly building trusted relationships with federal, state, local, tribal, and private sector partners to enhance its ability to secure the homeland while protecting the privacy of the public.
• The Forensic Service Bureau made over 1,931 hits utilizing the National Integrated Ballistics Information Network, processed 4,362 latent fingerprint cases resulting in 933 identifications, processed 91,056 booking fingerprints resulting in 78,150 identifications, and melted 1,432 firearms, and destroyed 7.66 tons of illicit narcotics.
• During calendar year 2012, the Real Estate Fraud Section of the Economic Crimes Bureau assisted the Miami-Dade County Property Appraiser's Office with investigations of homestead exemption fraud. To date, 1,314 cases have been investigated and 403 liens have been recommended on properties, an approximate value of $35 million.
• The Automated Arrest Form (A-Form Project) is a collaborative effort initiated through the Dade County Association of Chiefs of Police to automate the arrest information gathered by all local law enforcement agencies. Expected to begin in early 2013, it is designed to reduce the booking processing time and improve data collection from the initial point of arrest.
• In 2012, Miami-Dade Fire Rescue responded to 235,000 calls, approximately 197,800 of which were medical emergencies.
• Miami-Dade Police Department units were dispatched to more than 880,000 calls for service. The Department's focus on crimeprevention resulted in a 15 percent decrease in robberies throughout the Unincorporated Municipal Service Area.
• Designer drugs marketed under a variety of labels such as "bath salts" and "K-spice" attracted much public attention in 2012. Recognizing the potential substance abuse dangers of these synthetic drugs, both county and state government offices took legislative measures to outlaw their sale. The Medical Examiner Department's Toxicology Laboratory was awarded a grant by the U.S. Department of Justice to study and develop analytical methodologies to detect and measure these drugs.
• The Miami-Dade County Juvenile Services Department's Countywide Civil Citation Initiative, designed to provide an alternative to formal judicial handling for first time misdemeanor offenders, has now served over 12,300 juveniles and their families. Civil Citation has accounted for a 23 percent reduction in overall arrests since its inception in 2007. The program has an unprecedented, successful completion rate of 83 percent and a 95 percent minority participation rate.
• In June of 2012, Governor Rick Scott signed the Florida Safe Harbor Act legislation to protect young sex-trafficking victims, treating these children as victims rather than prosecuting them. The Department of Juvenile Justice selected the Miami-Dade Juvenile Services Department as a pilot site to implement an assessment tool that examines the service needs of our population. The results obtained from this collaborative initiative will assist in developing the best interventions for the client population and lead to the development of a best practices model that will be implemented throughout the State of Florida.
• The Miami-Dade Aviation Department has partnered with local non- profit organization Kristi House, the Miami-Dade Police Department, five leading passenger airlines, and federal and local security agencies to launch the first program at a U.S. airport to train employees on how to identify and intervene for child victims of human trafficking. Three hundred airline ticketing agents and airport employees with frequent passenger contact have received training.
• In an effort to improve the jail booking process, the Miami-Dade Corrections and Rehabilitation (MDCR) Department's Centralized Intake Center at Turner Guilford Knight Correctional Center is currently under construction. This project will consolidate intake processing, inmate classification, records keeping, inmate property storage, and release of inmates from custody, and will also include a Law Enforcement Officer Lobby. The Lobby will allow police officers to transfer custody of new arrestees to Corrections staff in a more expeditious manner, which will allow for the officers' quick return to the community to resume providing police services. The Center is expected to open in the early part of 2013.
• In order to enhance safety measures, MDCR continues to expand its video monitoring system. The Department now has a modern video surveillance and recording system, which encompasses over 1,000 cameras and peripheral devices retrofitted throughout our correctional facilities. These efforts earned the MDCR the 2012 Achievement Award from the Nation Association of Counties.
Back to Top
Page Last Edited: Wed Feb 6, 2013 11:18:00 AM
stateofthecounty
You are now leaving the official website of Miami-Dade County government. Please be aware that when you exit this site, you are no longer protected by our privacy or security policies. Miami-Dade County is not responsible for the content provided on linked sites. The provision of links to these external sites does not constitute an endorsement.

Please click 'OK' to be sent to the new site, or Click 'Cancel' to go back.