Last Visited »

The Miami-Dade County Portal will be undergoing maintenance starting at 11 p.m. Saturday, May 3 and for all of Sunday, May 4. Intermittent outages may be experienced. We apologize for any inconvenience.
Thank you for your patience as we improve our online services.

Public Safety
Our Public Safety Departments are recognized as among the best in the country, winning a number of awards at the state and national level. These departments include Police, Fire & Rescue, Corrections and Rehabilitation, Juvenile Services, and the Office of Emergency Management, which is part of the Fire & Rescue Department. Using a combination of state-of-the-art technology, professional expertise, and a total commitment to service, our public safety officers work hard every day to keep our residents and visitors safe, serving not only the unincorporated areas of Miami-Dade County but also all our municipalities.
Public Safety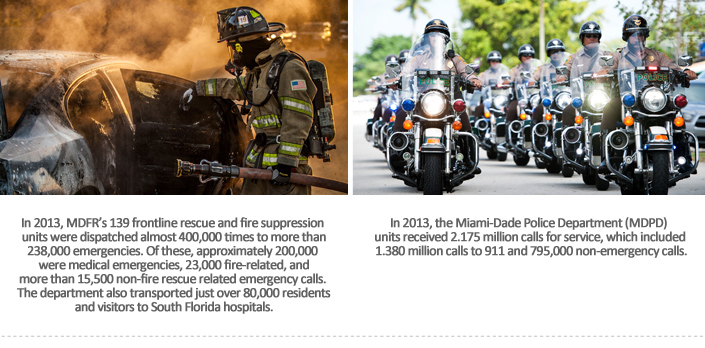 • In 2013, MDFR received the Excellence in Fire Service-Based Emergency Medical Service (EMS) Award from the Congressional Fire Services Institute (CFSI) and the MedicAlert Foundation for the development of a unique "Infection Control Program." The Excellence in Fire-Service-Based EMS Award recognizes best practices in EMS by fire departments in the United States.
• MDFR's Advanced Life Support (ALS) Competition Team came in first place at the 2013 Bill Shearer International ALS Competition held in Orlando on July 19th. Earlier in the year, MDFR hosted 36 teams at its first ALS competition at the MDFR Training facility located in Doral, Florida.
• MDFR's Office of Emergency Management, which includes the Emergency Operations Center, has become a model for national and international governments as well as the private sector. It developed the Miami-Dade Communities Organized to Respond in Emergencies (M-D C.O.R.E.), which was recognized by the Department of Homeland Security (DHS) / Federal Emergency Management Agency's (FEMA) Center for Faith-based and Neighborhood Partnerships as a best practice and model for national adoption. The Office also completed the County's first Post Disaster Redevelopment Plan (PDRP) in 2013, driven by community stakeholders.
• As part of a program which educates the public on the dangers of fires and emphasizes the importance of establishing fire escape plans, MDFR installed 754 smoke alarms in single-family residents in Florida City, Homestead, Liberty City and Opa-locka during the year. More than 1,500 seniors also participated in fire safety presentations and educational seminars.
• To ensure building safety, MDFR reviewed more than 16,000 construction plans for permitting, conducted more than 14,000 inspections for Certificates of Occupancy, and carried out approximately 75,000 fire life-safety inspections.
• The Miami-Dade Police Department's (MDPD) emphasis on crime prevention has focused the department's efforts on a number of programs to reduce violence across the County including the North End Anti-Violence Task Force, with the specific goal of addressing gun-related violence in the north end of Miami-Dade County.
• In 2013, the Miami-Dade Public Safety Training Institute's (MDPSTI) trained 50 certified police officers through its Basic Training Section. And for the first time in more than three years, a Basic Law Enforcement Class (BLE) commenced training with 45 cadets. In addition, the MDPSTI, in collaboration with the U.S. Department of State, coordinated training for 12 high-ranking Egyptian Police Officials in the field of Sexual Crimes Investigations.
• As part of a Memorandum of Understanding between MDPD and the U.S. Department of State's Bureau of International Narcotics and Law Enforcement Affairs (INL) to support the law enforcement and anti-crime efforts of the Haitian National Police, 60 Haitian National Police Officers/Supervisors have been trained to date at the MDPSTI.
• In an effort to make Miami-Dade County a safer community, the MDPD Homeland Security Bureau (HSB) has been spearheading a project entitled, Helping Emergency Responders Operate (HERO). Scheduled for roll-out as a pilot program for May 2014, the project will allow first responders to view live streaming video feeds directly onto computers and smart phones, allowing responders and command personnel to make effective and efficient decisions while handling emergencies. The pilot program will include Miami-Dade County Public Schools, as well as the Miami-Dade Parks, Recreation, and Open Spaces Department, as test venues for the program.
• The Miami-Dade Corrections and Rehabilitation (MDCR) Department has been working closely with MDPD to share resources and instructors for basic and in-service training. These joint training courses include Firearms, Radio Procedures, Crime Scene Investigation, Riot Control Formations, Defensive Tactics, Driving and Traffic Control, Female Survival, Officer Survival, Tactical Narcotics, Bike Patrol, Transportation Restraint Devices and Transporting Techniques.
• MDCR continues to partner with local and national agencies in an effort to develop "best-practices" and focus not only on confinement of offenders but also on the importance of re-entry and alternative-to-jail programs to more positively impact the return of offenders to the community.
• In 2013, MDCR participated in the Mayor's Faith-Based Community Symposium that included a Chaplaincy and Corrections Reentry Workshop presentation. This was an outstanding opportunity to provide information of the services provided by MDCR to the public, receive helpful feedback from the community, and create/develop new and existing partnerships to better serve our community.
• MDCR actively maintains its facilities to ensure appropriate living conditions for inmates in its custody and has been working on a number of programs to renovate its facilities as well as the overall conditions inside its installations.
• MDCR has continued to implement technology solutions to improve efficiencies throughout the Department and has expanded its video monitoring system to allow for better video surveillance and recording system with over 1,100 cameras and peripheral devices retrofitted throughout our correctional facilities.
• Under the guidance and direction of the Miami-Dade Juvenile Services Department, the Miami-Dade County Youth Commission completed its third successful year. The Commission continues to develop future leaders in our community by exposing them to the local and state governmental process.
• The Miami-Dade County Juvenile Services Department's Countywide Civil Citation Initiative, designed to provide an alternative to formal judicial handling for first time misdemeanor offenders has now served over 13,800 juveniles and their families. Civil Citation represents a systemic change in the processing of juvenile arrests. The program has accounted for a 23% reduction in overall arrests since its inception in 2007, with an unprecedented successful completion rate of 84% and a 95% minority participation rate.
Back to Top
Page Last Edited: Thu Feb 13, 2014 4:04:19 PM
stateofthecounty
You are now leaving the official website of Miami-Dade County government. Please be aware that when you exit this site, you are no longer protected by our privacy or security policies. Miami-Dade County is not responsible for the content provided on linked sites. The provision of links to these external sites does not constitute an endorsement.

Please click 'OK' to be sent to the new site, or Click 'Cancel' to go back.