Last Visited »

The Miami-Dade County Portal will be undergoing maintenance starting at 11 p.m. Saturday, May 3 and for all of Sunday, May 4. Intermittent outages may be experienced. We apologize for any inconvenience.
Thank you for your patience as we improve our online services.

Transportation
The Miami-Dade Transit (MDT) Department is focused on providing the needs of the public by becoming the transportation choice for residents and visitors of the County through safe, reliable, efficient and courteous transit services. It continues to work toward developing an integrated, world-class transit system that improves mobility for our residents through the use of innovative technology.
Transportation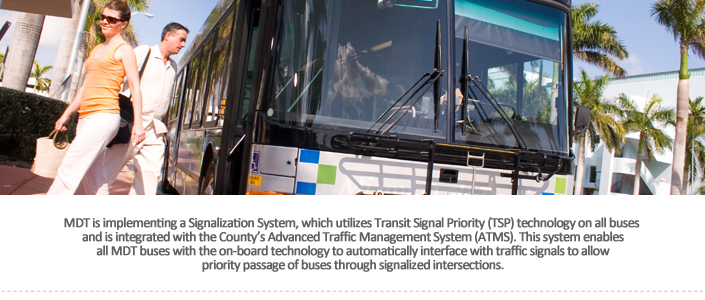 • In 2013, Miami-Dade Transit recorded some of its highest ridership numbers, which continue to increase every year. Metrobus, Metrorail, Metromover and Special Transportation Service broke the 110 million mark. This number represents an increase of 3% over FY11-12. Also in FY 12-13, ridership on Metrorail surpassed the 21 million mark for the first time ever, which represents an increase of 13% over FY 2011-12. In June 2013, the Miami HEAT victory celebration brought a record number of Metrorail passengers to downtown Miami with over 117,000 riders in a single day.
• The Metrorail extension to Miami International Airport (MIA) has been a major success, with ridership having reached a high number of nearly 3,200 riders in one day. The extension continues to receive accolades from national and international organizations.
• Miami-Dade Transit is leading the way in the use of technology to better communicate with, and better serve, our residents and visitors. An excellent example of this was the installation of liquid crystal display (LCD) screens at all Metrorail stations, which display next train arrival times, as well as information related to service delays. The information on the screens is also available through smartphone applications, and MDT's mobile website. In addition, to complement free Wi-Fi connectivity on board rail vehicles, rail platforms have been equipped to provide free Wi-Fi connectivity so patrons can surf the web while waiting for a train.
• In 2013, The Florida Public Transportation Association (FPTA) awarded MDT the Innovation and Creativity Award for a series of technologically advanced communication methods, which included the LCD signs at rail stations.
• In 2014, Transit in Miami-Dade County was ranked number two in the top southern cities according to Walkscore's "Best U.S. Cities for Public Transportation" report. Transit scores were determined by the average resident's ability to access public transportation.
• Further, MDT is upgrading Metrorail's Central Control equipment. Metrorail's aging equipment will be replaced with modern equipment that will give MDT the capability to improve its train communication and train-control features. The project, funded through People's Transportation Plan surtax and Florida Department of Transportation funds, is scheduled to be completed in late 2014.
• Throughout 2013, MDT worked on acquiring a new Computer-Aided Dispatch/Automated Vehicle Locator (CAD/AVL) system. The new CAD/AVL system will give MDT, and its users, Real-Time Bus Tracker information that will be available to the public through the transit mobile website, smartphone applications, electronic bus stop signs, and the 311 Answer Center. This technology enhances the customer's experience by providing real-time arrival information, and will greatly improve MDT's ability to make informed operational decisions, as well as improve overall reliability and customer service.
• Moreover, MDT completed a number of important projects in 2013, including the opening of the refurbished and renamed Museum Park Metromover station. This station will give easy transit access to those visiting the newly opened Pérez Art Museum Miami, as well as the upcoming Patricia and Phillip Frost Museum of Science. In addition, MDT has replaced the escalators, and installed new canopy covers over existing escalators/stairs, at seven Metromover stations: Government Center, Miami Avenue, Bayfront Park, First Street, College/Bayside, College North and Wilkie D. Ferguson, Jr.
• Miami-Dade Transit is also working with the County's Metropolitan Planning Organization (MPO), the Florida Department of Transportation, the City of Miami Beach and other local organizations on a Beach Corridor Transit Connection Study, which examines links from downtown to Miami Beach. The study will update, refine, and gain consensus on light rail service between Miami Beach and Downtown Miami.
• As part of the County's overall transportation initiatives, the Miami-Dade PWWM department invests funds to improve facilities along the public right-of-way in order to enhance mobility for vehicles, pedestrians, and cyclists throughout the County. To that end, the department invested $45 million in 2013 in several major projects including:
• Bear Cut and West Bridge Repairs on the Rickenbacker Causeway – ongoing work includes the removal of the existing superstructure found to be in a deteriorated condition on the West Bridge and Bear Cut Bridge (Bridges) and the construction of a new replacement section of pre-cast/pre-stressed concrete superstructure. Additionally, as a result of the work, the existing water main attached to the Bridges has been replaced and increased in size. Finally, the overall structure at the Bear Cut Bridge shall be widened in order to provide a dedicated and independent path for pedestrians and bicycles on each side of the bridge.

• Commodore Bike Trail from SW 42 Avenue to Aviation Avenue - bicycle path improvement project which consisted of construction of a bicycle/pedestrian shared-use bridge over the Coral Gables waterway, resurfacing of the existing trail, widening portions of the trail to meet current design standards, construction of bicycle facility compliant curb ramps, pavement markings, and improved way finding signage, landscape and street lighting.
• The PWWM Department also manages an aggressive maintenance program throughout the County. In that respect, maintenance crews cleaned over 19,000 drainage structures, repaired over 8,000 potholes, removed approximately 1,800 tons of debris from County roadways, and repaired over 7,700 instances of sidewalk damage throughout the County.
• In addition, the PWWM department Installed over 20,000 linear feet and repaired approximately 29,000 linear feet of sidewalk throughout Miami-Dade County, and resurfaced over 50 lane-miles of roadway while installing 13,750 linear feet of drainage pipes.
Back to Top
Page Last Edited: Tue Feb 25, 2014 1:16:03 PM
stateofthecounty
You are now leaving the official website of Miami-Dade County government. Please be aware that when you exit this site, you are no longer protected by our privacy or security policies. Miami-Dade County is not responsible for the content provided on linked sites. The provision of links to these external sites does not constitute an endorsement.

Please click 'OK' to be sent to the new site, or Click 'Cancel' to go back.