Last Visited »

Transportation
Mission Statement
To provide a safe, intermodal, sustainable transportation system that enhances mobility, expedites commerce within and through the county, and supports economic growth.
Transportation
Miami-Dade County's transit services took a big leap forward in its efforts to develop an integrated, world-class transit system, implementing projects to improve mobility in our county, keeping our infrastructure in a state of good repair, and making it easier for everyone to use public transportation through the use of innovative technology.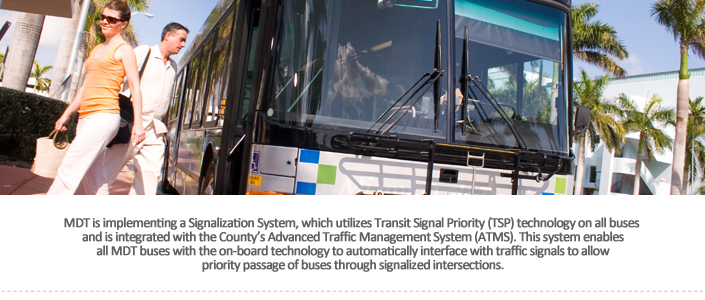 • PortMiami was named North America's Leading Cruise Port for 2012 by World Travel Awards, an international organization that recognizes achievements in the tourism industry.
• PortMiami terminal facilities continue to be among the most modern in the world providing easy passenger boarding and departure. In 2012, the Port invested $15 million in improvements to PortMiami's Cruise Terminal D which homeports the Carnival Breeze, one of the newest and largest vessels in the PortMiami fleet.
• The digging phase of the port tunnel is now more than half completed and construction is on schedule for a spring 2014 finish. In July 2012, the Tunnel Boring Machine (TBM), also known as Harriet, completed the first of two tunnel tubes under Biscayne Bay linking the Port with the mainland. The tunnel is critical to PortMiami's future growth as it will allow port traffic to move more expeditiously to and from the interstate system, and will help reduce traffic downtown. This project is not only an engineering feat of note, but an example of the type of public-private collaboration that will make PortMiami an even more powerful economic engine in years to come. The PortMiami Tunnel is being constructed as a public-private partnership that includes the Florida Department of Transportation (FDOT); Miami-Dade County; the City of Miami; Miami Access Tunnel; and the French company, Bouygues S.A.
• The restoration of on-port rail freight is now underway. The first phase of the project is expected to be completed in summer 2013. With its Florida East Coast (FEC) Railway partner, the Port will restore and upgrade rail service between the Port and the Florida East Coast Rail Yard in Hialeah, providing direct cargo access to the national rail system. The on-dock intermodal rail service will provide shippers the convenience of port-to-door service with absolute lead times that match or exceed those of trucking, but with greater reliability and reduced carbon emissions. Once completed, the FEC-Port partnership will allow shippers to reach over 70 percent of the U.S. population within a maximum of three to four days transit time.
• The last major project of MIA's Capital Improvement Program was completed with the opening of the North Terminal International Arrivals Facility on July 31, 2012. The threelevel, 400,000-square-foot facility features 72 passport control lanes and has the capacity to process 2,000 passengers per hour.
• In November of 2012, MIA hub carrier American Airlines began operating its largest flight schedule ever at MIA with 328 daily flights and expanded service to 38 cities. American launched six new routes from MIA to Asuncion, Paraguay; Barcelona, Spain; Manaus, Brazil; Recife, Brazil; Roatan, Honduras; and Seattle, Washington.
• MIA also added five new carriers in 2012: LAN Colombia began four weekly flights from Bogota; Mexican low-cost carrier Interjet began daily flights from Mexico City; Dutch Airlines Express began daily service from Curacao; Brazilian low-cost carrier GOL began weekly charter service from Sao Paulo in July that expanded to daily service in December; and Russian carrier Aeroflot began weekly flights from Moscow.
• In July 2012, Miami Dade Transit inaugurated its 23rd Metrorail station, the award-winning, ultramodern MIA Station. The new station plays an important role in linking downtown Miami, Kendall, and other locations along the Metrorail system to MIA's front door.
• Also in July 2012, Metrorail began operating the Orange Line, which provides service to all stations between the Dadeland South and the Earlington Heights stations and continues west towards the new MIA station. The addition of the Orange Line has greatly benefitted those who commute to some of the County's major employment centers, such as the Civic center area, downtown Miami, and Brickell, by providing users with more frequent service.
• MDT continues to make great strides in restoring the reimbursement of federal funds used for preventative maintenance work and help fund essential transit projects created under the American Recovery and Reinvestment Act of 2009. In 2012, MDT was awarded a $10 million transit grant as part of the Federal Transit Administration's State of Good Repair program. This money will allow the department to replace 26 older traditional diesel-powered buses with new diesel-electric hybrid buses. MDT also received $2.5 million from the FTA's Clean Fuels program to retrofit 100 older buses with new, state-of-the-art engine electric cooling systems.
• The County continues to improve its bus service by investing in incremental improvements along major corridors.
• Route 97 was converted to the 27th Avenue Orange MAX (297) to provide enhanced service with a direct connection to the new MIA Station from the Broward County line along NW 27th Avenue. The new, commuterfriendly, limited-stop route increased its frequency from every 20 minutes to every 15 minutes during rush hours, and from every 45 minutes to every 30 minutes during midday. This is the first step towards developing Bus Rapid Transit service along the 27th corridor.
• Similar improvements are being sought along the east-west corridor, from the new MIA State to SW 8th Street via State Road 836 and along the Flagler Corridor by providing approximately 14.5 miles of enhanced bus service from downtown Miami to west Miami-Dade County.
• More than $44 million was spent to accomplish major infrastructure improvement projects including new roadway construction, intersection improvements, traffic calming devices and traffic lights, bridge replacement and restoration, drainage installation, and canal bank restoration and sediment removal. Notable completed projects include the Venetian Causeway Streetscape Improvement project, the NW 138th Street Bridge Replacement, roadway improvements to SW 27th Avenue from South Bay Shore Drive to Tigertail Avenue, 100 new electronic speed feedback signs, six Safe Routes to School projects, and the construction of 50 miles of bike lanes through Miami- Dade County.
• The Miami-Dade County Passenger For Hire Transportation Unit conducted the first taxicab medallion auction consisting of four sedan type vehicles and two wheelchair accessible cabs. The proceeds from the auction provided financial relief to approximately 4,800 taxicab chauffeurs by reducing regulatory expenses such as vehicle inspection and licensing fees. These auction medallions also ushered in new technology like credit card devices in the backseat, warning lights, and global positioning system dispatching for these cabs.
Back to Top
Page Last Edited: Wed Feb 6, 2013 11:18:29 AM
stateofthecounty
You are now leaving the official website of Miami-Dade County government. Please be aware that when you exit this site, you are no longer protected by our privacy or security policies. Miami-Dade County is not responsible for the content provided on linked sites. The provision of links to these external sites does not constitute an endorsement.

Please click 'OK' to be sent to the new site, or Click 'Cancel' to go back.