Last Visited »
Hurricane Irma
As we continue our recovery and cleanup efforts, please visit the Emergency website for the latest information on openings and closings in Miami-Dade County.
Environmental Operating Permits
Environmental Operating Permits may be required from certain businesses or industries to renew periodically. For example, this includes facilities such as a small mechanical repair shop and a sewage treatment plant.
Storage Tank Facility Annual Operating Permit no longer necessary
A current and valid storage tank registration placard issued by the Florida Department of Environmental Protection satisfies the requirement of obtaining an operating permit as set forth in Section 24-18(12) of Chapter 24 of the Code of Miami-Dade County.
Air pollution sources
The Miami-Dade County Air Operating Permit is required for any air pollution source subsequent to construction or modification of the facility, and after demonstrating compliance with the terms and condition of the county air construction permit.
Boat docking and storage facilities
Permits are required for all recreational boat docking facilities with 10 or more boat slips, moorings, davit spaces, and vessel tie-up spaces; all boat storage facilities contiguous to tidal waters in Miami-Dade County with 10 or more dry storage spaces including boatyards and boat manufacturing facilities, and; all commercial boat docking facilities, regardless of the number of slips.
Demolition
Environmental Resources Management is conducting walk-thru reviews of single-family home demolition permits (up to four units). Applicants for these permits will have to complete an Affidavit for Asbestos Survey/Notice of Demolition or Asbestos Renovation. The affidavit is also available at the Miami-Dade Permitting and Inspection Center (PIC) and needs to be completed for review.
Once reviewed, if determined that the demolition is in fact not subject to National Emissions Standards for Hazardous Air Pollutants (NESHAP) regulations, Miami-Dade County will approve its portion of the review and the applicant will then return to the building process for completion of the demolition permit. There will be no charge for this review.
If the demolition is deemed to be subject to NESHAP regulations, an asbestos survey, a notification and a process fee would be required before approval can be granted. For more information, please call 786-315-2800.
PERC Dry Cleaners
This permit provides operating conditions and requirements as well as guidance for Dry Cleaners operators using perchloroethylene (PERC), which is a hazardous pollutant and an air toxic. An Air Operating Permit is required for the operation of these facilities.
Fats, Oil and Grease (FOG) Discharge Control Operating Permit
Any non-residential facility that handles, prepares or processes food (hot or cold), discharges or has the potential to discharge FOG to the public sanitary sewer system requires a FOG Discharge Control (FOG) Operating Permit. These facilities are categorized as FOG generators. Typical examples of FOG generators include restaurants, cafeterias, supermarkets, schools, banquet halls and food courts at malls or shopping centers.
Hazardous materials waste transport
Hazardous & biohazardous waste transport – waste oil, septic waste, waste radiator fluid, photographic chemicals & other non-hazardous industrial waste.
Hazardous materials - large user
Hazardous materials or hazardous waste – large user or generator.
Hazardous materials - small user
Hazardous material or hazardous waste – small user or generator, facilities include mechanical repair facilities, machine shops, paint & body shops, chemical storage facilities, X-ray & photo developing facilities, printers & salvage yards.
Industrial Waste Pretreatment
Industrial Waste Pretreatment (IW-P) Facility Permit Application - applicable to construction of new sources, relocation of existing sources and upgrades of existing permitted facilities to the IW-P program.
Lake fill
The Lake Fill Resource Recovery and Management Facility Solid Waste Operating Permit is required under Chapter 24-18, Miami-Dade County Code, for facilities that receive, store and dispose of Clean Fill in surface water bodies (e.g., lakes).
Land use
For non-residential, within major wellfield protection areas not served by sanitary sewers. The Industrial Facilities (IW6) permit is used to regulate facilities within the environmentally sensitivity Wellfield Protection areas.
Ozone-depleting compounds
For any business that needs to purchase, sell or handle ozone-depleting compounds (ODCs) including, but not limited to, FREON (R-12 and R-22).
Sanitary Sewer
For the operation of all privately owned or operated sanitary sewer systems within Miami-Dade County.
Sewage treatment plants
This permit is used for the construction or modification of sewage treatment plants.
For commercial properties: If greater than 5,000 gallons per day.
For residential properties: If greater than 10,000 gallons per day, and a public sewer system is neither operable nor available within one-fourth of a mile of the property.
Solid Waste
This permit is required for these types of facilities:
Biomedical waste storage and processing
Class I and Class III Landfills
Composting / Mulching
Construction and Demolition Debris Disposal
Material Recovery Facilities (MRF)
Metal Recycling
Paper and Cardboard Recycling
Plastic Recycling
Transfer Stations (TS)
Waste Tire Storage and Processing
Water treatment plants
This permit regulates the construction of the community's water treatment systems in Miami-Dade County.
Wellfield protection areas
Wellfield protection areas not served by sanitary sewers – Construction within this area.
Back to Top
Page Last Edited: Wed Jan 25, 2017 11:57:15 AM
permits
Environmental Considerations GIS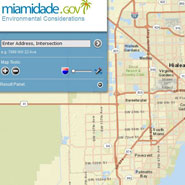 Search the Environmental Considerations GIS Map to find out if a property may have any environmental features associated with it.
You are now leaving the official website of Miami-Dade County government. Please be aware that when you exit this site, you are no longer protected by our privacy or security policies. Miami-Dade County is not responsible for the content provided on linked sites. The provision of links to these external sites does not constitute an endorsement.

Please click 'OK' to be sent to the new site, or Click 'Cancel' to go back.