Last Visited »
Hurricane Irma
As we continue our recovery and cleanup efforts, please visit the Emergency website for the latest information on openings and closings in Miami-Dade County.
EASY Card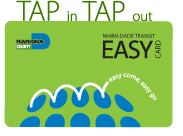 The EASY Card is a durable, plastic reloadable fare card. It is part of Miami-Dade Transit's automated fare collection system. It can contain both cash value and pass products (1-Month, 7-Day and 1-Day Pass) to pay your transit fare. EASY Cards issued since January 2013 have a 20 year life-span. Prior to 2013, issued EASY Cards have a 3 year life-span.
Visitors and people who are not frequent commuters can take advantage of the EASY Ticket. It is made of paper, and can also be used to pay your transit fare. EASY Tickets expire after 60 days.
"Smart Card" technology is installed on Metrobus fareboxes and Metrorail fare gates.
To ride Metrorail, you must use an EASY Card or EASY Ticket as the faregates do not accept cash. Metrobus fareboxes accept cash. You can pay with dollar bills and coins, quarters, dimes and nickels using exact change. Cash paying patrons do not receive transfer privileges and must pay a full fare each time they board a transit vehicle.
NOTE: Passengers are required to have their own EASY Card or EASY Ticket to use the Metrobus and Metrorail system. An EASY Card/Ticket is only valid for use by a single rider.
Is your EASY Card about to expire? Check your EASY Card expiration date.
Fraudulent use of an EASY Card or EASY Ticket can get you arrested. Violators are subject to prosecution on theft charges and face up to $500 in fines and/or 60 days in jail (Florida Statute 812.015).
Refunds: All sales are final. Refunds are not issued for unused trips on activated MDT passes (1-Month, 7-Day, 1-Day). Additionally, no refunds are issued on EASY Ticket purchases.
Delivery of EASY Cards ordered online
When placing an order online, you will receive an automatic email receipt shortly after your order is submitted. Please allow up to 15 days for the delivery of your EASY Card before contacting us. Miami-Dade Transit is not responsible for postal service delays.
NOTE: To ensure timely mail delivery, the last day to order a parking permit ($11.25) online with your monthly pass purchase is on the 22nd of the month for the following month's permit. (For example, you must pay for the July parking permit by June 22th)
Parking permits ordered after the 22nd must be picked up at the Pass Sales Office at Overtown Transit Village (701 NW First Court, Suite 121—next to the Historic Lyric Theatre/Overtown Metrorail Station).
Miami-Dade Transit does not ship outside the United States. Visitors entering Miami International Airport can purchase an EASY Card or EASY Ticket at Ticket Vending Machines located at the Miami International Airport Metrorail station.
Back to Top
You can also buy an EASY Card at: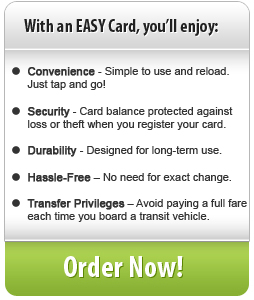 Any of our sales outlets throughout Miami-Dade.
The Transit Service Center.
111 NW First Street, Second Level
Or by calling the EASY Card Financial Center at 786-469-5151, Monday - Friday, 8 a.m. to 5 p.m., excluding County-observed holidays. TTY users should call 305-468-5402. Staff can also register your EASY Card for balance protection.
Only EASY Cards (not EASY Tickets) can be purchased or reloaded online or by telephone. Please note that there is a limit of three transactions, or $160, per credit card, per day.
Back to Top
Using your EASY Card is...easy!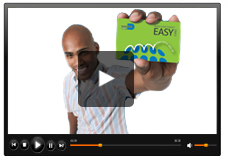 1. Tap in - Simply tap the card on the card reader, which is clearly marked on the bus farebox or Metrorail faregate. Your fare will automatically be paid using either a pass or cash value. Transfers are automatically processed – free bus to bus, 60 cents for bus to rail or rail to bus, and any upgrade fee for express bus service.
2. Tap out- On Metrorail, keep your card handy as you will need to use your EASY Card to exit the station. You must tap out to receive transfer privileges and ensure your card/ticket works properly.
Back to Top
What's an EASY Ticket?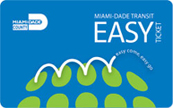 The EASY Ticket is a paper ticket that is valid for only 60 days. The EASY Ticket can only be reloaded with its original fare purchase (either cash value or a 1-Day or 7-Day Pass).
EASY Tickets cannot be purchased or reloaded online or by telephone. The EASY Ticket is not eligible for balance protection.
You can buy and reload an EASY Ticket at:
Additional Information
Back to Top
Page Last Edited: Fri Jun 26, 2015 2:43:31 PM
transit
Fares and Transfers
You are now leaving the official website of Miami-Dade County government. Please be aware that when you exit this site, you are no longer protected by our privacy or security policies. Miami-Dade County is not responsible for the content provided on linked sites. The provision of links to these external sites does not constitute an endorsement.

Please click 'OK' to be sent to the new site, or Click 'Cancel' to go back.