PortMiami is ready for the big ship era! It is the only major logistics hub south of Virginia capable of handling fully laden post-Panamax vessels. More than $1 billion of capital infrastructure projects are now complete and have transformed PortMiami to a major U.S. global gateway.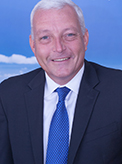 "A new big ship era is here and PortMiami is ready," said PortMiami Director and CEO Juan M. Kuryla. "I am proud to say that PortMiami is now able to berth Post-Panamax ships; and we are able to expedite the movement of goods throughout Florida, the continental U.S., and the world, fast and efficiently. "We are grateful to the vision of our State and local leaders for making this critical infrastructure project a reality. The completion of PortMiami's Deep Dredge and Intermodal On-dock Rail projects cannot be overstated, PortMiami is now positioned as the most reliable, convenient and efficient global hub on the North American East Coast ready to service the world's leading ocean carriers."
PortMiami now offers Super Post-Panamax gantry cranes that can service cargo vessels up to 22 containers wide and up to nine containers above deck and eleven containers below. On-dock intermodal rail service in partnership with Florida East Coast Railway (FECR) today links PortMiami to 70% of the U.S. population in four days or less.
Additionally, a new fast access tunnel connects the Port directly to the United States Interstate Highway System providing rapid turnaround time for the movement of import and export goods. These projects are already providing customers with the convenience of fast reliable quality service.
"When bigger ships start transiting through the expanded waterway next year, deep ports like Miami will transform maritime trade on a global scale, said CEO of the Panama Canal Authority Jorge L. Quijano. "We are proud of our long-standing partnership with PortMiami and are certain that the synergies achieved through the Deep Dredge and the Panama Canal expansion projects will boost international trade and contribute to future economic growth by increasing job opportunities and revenues at both PortMiami and the Panama Canal."