PortMiami is the closest U.S. East Coast port to Mexico's thriving Gulf Coast. Its existing containerized cargo services to Veracruz, Altamira, and Puerto Morelos provide shippers an ideal gateway for Mexican manufactured goods and agricultural products.
Read the economic report of an all-water route summary in English and Spanish or the full report for more information.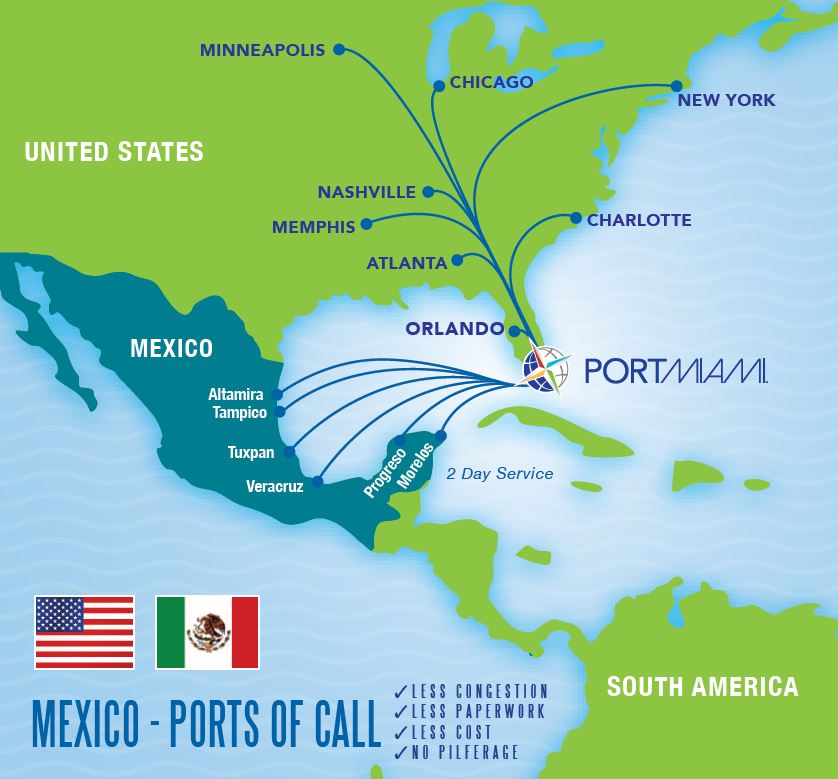 All-water route advantages:
Save on transportation costs – up to $2,000
Save up to 3 days in transit time
Eliminate duplicate documentation checks associated with border crossing
No ELD requirements on water (saves time)
No Mexican agent required at the border
No switching of equipment
No changing drivers at border
Eliminate uncertainty and costs caused by border
congestion
PortMiami is an ideal gateway for Mexican exports to Florida and the Southeastern United States:
Only Port South of Virginia at -50/-52 Ft. capable
13 Ship-to-Shore Cranes including 6 Super Post-Panamax
On-dock Intermodal Rail provides access to 70% of the U.S. Population in 1-4 days
Direct Tunnel Connection to the U.S. Interstate Highway System
Only Two Miles from the Sea Bouy allows fast access
No air draft restrictions, no fog, nor snow delays
Trade Nexus for Asia, Europe, and the Americas
Reliable Labor Relations
With a total trade value of $179 million, Mexico is a key trading partner with PortMiami.