Last Visited »
Hurricane Irma
As we continue our recovery and cleanup efforts, please visit the Emergency website for the latest information on openings and closings in Miami-Dade County.
NW 7th Avenue Corridor Community Redevelopment Area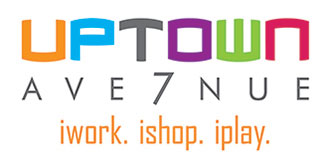 Welcome to Uptown Avenue 7
Founded by the Miami-Dade County Board of County Commissioners in 2004, the NW 7th Avenue Community Redevelopment Agency serves the NW 7th Avenue Corridor of unincorporated Miami-Dade County.
The northern commercial and transportation gateway to the County, Uptown Avenue 7 is poised for new investment, expansion and growth. With a new brand, incentive programs and critical community partnerships, Uptown is ready to support the growth, expansion or launch of your new business and emerge as one of the region's most significant employment and business innovation centers.
The Mission of the Uptown Avenue 7 CRA is to:
Reposition 7th Avenue as a major regional employment center;
Support the growth and expansion of existing businesses in the CRA;
Support development of new business in the CRA;
Provide training and increased employment opportunities for residents of northwest Miami-Dade,
and;
Redevelop the 7th Avenue corridor, supporting a mix of business, residential and commercial opportunities within the CRA.
NW 7th Avenue, given its strategic location, economic dynamics, access, assets and motivated business community, is ideally situated to support major business development, new business creation and emerge as one of the County's most important job growth corridors. Its redevelopment is a regional priority in that it supports critical regional economic development goals, can reduce transportation congestion and deliver needed jobs to the community.
Area Overview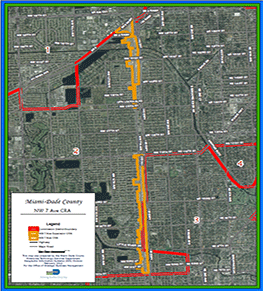 The NW 7th Avenue Community Redevelopment Area boundary is generally defined as the area bounded on the north by 119th Street, south by the municipal boundary of the City of Miami, east by I-95 and west by the by the properties bordering on NW 7th Avenue in unincorporated Miami-Dade County.
The expansion area is generally bounded on the north by the City of Miami Gardens, south by the municipal boundary of the the City of North Miami, east by I-95 and west by the westernmost property lines of the parcels that abut the westerly right-of-way along NW 7th Avenue.
Meetings
The CRA 2018 meeting dates are:
February 28
March 21
April 25
May 30
June 27
July 25
August - Recess
September 26
October 31
November 21
December 19
The NW 7th Avenue CRA meets monthly at the:
Arcola Lakes Branch Library
8240 NW 7th Avenue, Miami
305-694-2707
Meetings begin at 6 p.m. Dates are subject to change, as these are tentative dates for the calendar year. Official meetings are noticed on the County Calendar and notices are emailed to all interested parties.
A person seeking to appeal any decisions made at a meeting, with respect to matters considered at the meeting, will need to ensure a verbatim record of the proceedings is made, including the testimony and evidence upon which the appeal is based.
Locate Your Business Uptown
A Unique Business Development Opportunity
The NW 7th Avenue corridor is poised to become one the Region's premier location for business development, growth and innovation. Few corridors in Florida have Uptown's strengths and locational advantages.
For a detailed review of Uptown Avenue 7's economic advantages, read the Uptown Avenue 7 Economic Opportunity Assessment

.
Uptown's Action Agenda
The NW 7th Avenue CRA has embarked on an aggressive Action Plan to stimulate new investment in the 7th Avenue corridor. The CRA launched the 12-point Uptown Avenue 7 Action Plan to generate immediate impacts support jobs growth, and fund large-scale infrastructure improvements.
Incentives
Miami-Dade's Most Incentivized Business Corridor
Businesses located within, or moving into, the Uptown CRA are eligible for no less than 29 state, County and Local Tax Credit, Grant, Tax abatements and loan programs. In addition, the CRA has its own newly-enhanced program of grants and credits available for businesses in or relocating to the Uptown CRA.
The Uptown Avenue 7 Community Redevelopment Agency (CRA) has contracted with Kent Security, a national leader in video and live security services, to provide security services for business owners in the CRA.
The CRA's Business Innovation Investment Grants are designed to support the growth and expansion of businesses within the CRA, and encourage businesses to locate within the CRA by assisting capital investments in their processes, products, and service delivery.
This program is established to outline procedures and guidelines to be used for providing assistance to rehabilitate privately owned commercial and industrial buildings which are occupied by licensed businesses and which have qualified for the CRA's Commercial Improvement Grant Program, with funds to be provided by the CRA.
Management & Staff
Miami-Dade County Commissioners
Hon. Jean Monestime, District 2
Hon. Audrey M. Edmonson, District 3

Miami-Dade County Staff
Chimene Graham, Office of Management & Budget
Jorge Fernandez Jr., Office of Management & Budget
Terrence A. Smith, Assistant County Attorney

Economic Development Coordinator
Kevin T. Greiner, IBI Group Florida Inc.
Budget
Request for Proposals
The NW 7th Avenue CRA is soliciting proposals from qualified companies for event management, production and promotion services for the 7th Avenue Street Fair.
Responses are due at 5 p.m. on June 25, 2018.
The NW 7th Avenue CRA is soliciting proposals from qualified companies for economic development coordinator services.
Responses are due at 5 p.m. on June 11, 2018.
Newsletters
Annual Reports
Public Documents
If you cannot view PDF

files, you can download
Acrobat Reader
for free from Adobe Systems, Inc. In order to use PDF files, you must have Acrobat installed on your computer.
Back to Top
Page Last Edited: Fri Aug 3, 2018 4:29:15 PM
redevelopment
Approved Redevelopment Areas
Uptown Avenue 7 CRA Board
Mae D. Bryant, Ph.D.
Charesse Chester
Gene Lomando
Lesly Prudent
Mack L. Samuel
You are now leaving the official website of Miami-Dade County government. Please be aware that when you exit this site, you are no longer protected by our privacy or security policies. Miami-Dade County is not responsible for the content provided on linked sites. The provision of links to these external sites does not constitute an endorsement.

Please click 'OK' to be sent to the new site, or Click 'Cancel' to go back.