Last Visited »
Hurricane Irma
As we continue our recovery and cleanup efforts, please visit the Emergency website for the latest information on openings and closings in Miami-Dade County.
Manatee Protection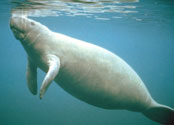 The Florida manatee is a native species found throughout all parts of the state. Protections for Florida manatees were first enacted in 1893. Today, they are protected by the Florida Manatee Sanctuary Act, and are federally protected by both the Marine Mammal Protection Act and the Endangered Species Act.
The Florida Fish and Wildlife Conservation Commission (FWC) is the lead state agency in carrying out manatee protection.
Miami-Dade County Manatee Protection Plan
If you see an injured or dead manatee
If you see a manatee that is sick, injured, dead or tagged, call the FWC's Wildlife Alert number at 1-888-404-3922 (cell phone callers can dial *FWC or #FWC).
Be prepared to answer the following questions:
What is the exact location of the animal?
Is the manatee alive or dead?
How long have you been observing the manatee?
What is the approximate size of the manatee?
What is the location of the public boat ramp closest to the manatee?
Can you provide a contact number where you can be reached for further information?
Back to Top
Marine vessels and protection zones
The leading known cause of manatee deaths in Florida is vessel collisions -- and it's been the leading cause of death in Miami-Dade County over the past decade. The U.S. Fish and Wildlife Service has determined that vessel impacts remain a continuing threat to the status of manatee populations.
To help address this issue, FWC has established rules to restrict the speed and operation of vessels where necessary to protect manatees from harmful collisions with vessels and from harassment. In areas that are especially important to manatees, the rules can prohibit or limit entry into an area as well as restrict what activities can be performed in the area.
The state adopted manatee protection and boating safety rules for Miami-Dade in 1991.
Back to Top
Manatees and cold weather
Manatees live in Miami-Dade County year-round, but during the winter, large numbers of manatees move south or to springs and heated discharges from power plants. Manatees suffer from the cold when water temperatures fall below 68 degrees. They may become ill or die if they are unable to find refuge in warmer waters over a prolonged period.
In Miami-Dade, canals and rivers that are influenced by warmer groundwater flows provide refuge for cold-stressed manatees. It is important that manatees be able to reach these shelters and rest in them with little or no disturbance from human activities.
The best way to help manatees in cold weather is to avoid disturbing them, watch for signs of stress or injury and notify the Florida Fish and Wildlife Conservation Commission of any manatee in distress.

Manatees seek shelter in warm
canals during cold weather.


Please be careful not to disturb a
mother manatee with a nursing calf.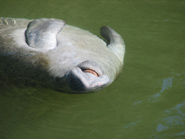 Manatee swimming in a canal.
Back to Top
Miami-Dade County Manatee Protection Plan
In October 1989, the Florida Governor and Cabinet directed 13 key counties to develop manatee protection plans. This directive was eventually required by Florida Statute in 2002.
Manatee protection plans must include guidelines for the siting of new or expanded marine facilities to help reduce the risk of impacts from vessel traffic -- as well as address other human-related causes of manatee death, habitat protection, education and law enforcement.
County, state and federal authorities in 1995 approved Miami-Dade County's Manatee Protection Plan (6.4 MB).
Back to Top
Manatee Protection Plan Review Committee
In 2007, the Board of County Commissioners sought updated scientific data on manatees and boating activities in Miami-Dade County. The Board established the Manatee Protection Plan Review Committee to provide advisory recommendations as to the need for amendments, revisions and additions to the Manatee Protection Plan, consistent with manatee protection regulations of the State of Florida.
The Committee held public meetings and from December 2007 to October 2009. Recommendations were submitted to the Board of County Commissioners in November 2009. Further exchange of information has continued between the County, Florida Fish and Wildlife Conservation Commission and U.S. Fish and Wildlife Service.
A public workshop was held in April 2011 to review proposed draft revisions to the Marine Facility Siting element of the Manatee Protection Plan. However, any revisions will require formal action by local, state and federal agencies.
Back to Top
If you cannot view PDF
files, you can download
Acrobat Reader
for free from Adobe Systems, Inc. In order to use PDF files, you must have Acrobat installed on your computer.
Page Last Edited: Mon Oct 7, 2019 11:23:50 AM
environment
You are now leaving the official website of Miami-Dade County government. Please be aware that when you exit this site, you are no longer protected by our privacy or security policies. Miami-Dade County is not responsible for the content provided on linked sites. The provision of links to these external sites does not constitute an endorsement.

Please click 'OK' to be sent to the new site, or Click 'Cancel' to go back.