Last Visited »
Hurricane Irma
As we continue our recovery and cleanup efforts, please visit the Emergency website for the latest information on openings and closings in Miami-Dade County.
Water Quality Protection
Water connects everything. Beneath all of South Florida is the Biscayne Aquifer, a shallow, porous limestone formation that has historically provided all urban and agricultural freshwater supply. It is recharged by rain and flows from the Everglades and other natural areas.
Our porous aquifer is especially vulnerable to contamination: We live and work over the water we drink. The aquifer and drinking water supply is also vulnerable to saltwater intrusion, particularly as sea level rises. Human activities on land, including past and present development and water management practices, have had an impact groundwater and surface water quality.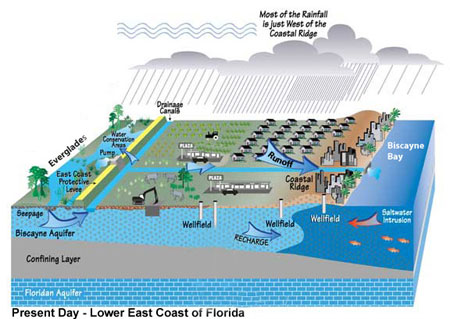 Illustration adapted from SFWMD/USGS
Pollutants generated by land-based activities can be conveyed to drinking water wellfields, coastal waters and other natural areas by stormwater runoff or other discharges.
Miami-Dade County is constantly working to maintain the quality and quantity of our surface water, groundwater and drinking water. This includes, for example, regulation of land uses and activities that may contribute to pollution, monitoring, soil and water remediation, stormwater management, and natural resource restoration.
Sources of water pollution can include improper storage or disposal of liquid and solid waste, stormwater runoff, filling or dredging of surface waters, and even contamination left behind from land uses and practices of the past.
Many of the "point" sources of contamination may be industrial or pretreatment facilities, however industry does not bear all the responsibility for water pollution. Anyone may contribute to this type of pollution by pouring used engine oil in the backyard or storm drain, throwing litter out of the car window, or using too much fertilizer or pesticide at home.
Together we must work together to ensure that the water bodies, groundwater and drinking water that we share will be clean and healthy.
For educational materials or presentations about water pollution or any other environmental topic, call 305-372-6784.
Biscayne Bay
Biscayne Bay and adjoining waters are among Miami-Dade's most outstanding natural resources. Shallow, clear water, seagrass meadows and coastal wetlands provide habitat for fish and wildlife, buffer the coast against storm erosion, support boating and other water recreation, and generates more than $6 billion per year of economic benefit.
Although most of Biscayne Bay is designated as a State Aquatic Preserve or is part of Biscayne National Park, the Bay remains vulnerable to human activities in the watershed.
Baynanza
Baynanza is an annual celebration of Biscayne Bay, culminating with the Biscayne Bay Cleanup Day in April. Thousands of volunteers pick up tons of garbage at multiple locations along the bay's shoreline.
Fertilizer Regulations
The Florida-friendly fertilizer use on urban landscapes ordinance was adopted in April 2021. The use of nitrogen and phosphorus fertilizer is prohibited during the summer rainy season, May 15 – October 31, when nutrients are more likely to be carried in stormwater flowing off the urban landscape.
Plastic Free 305
Plastic Free 305 celebrates Miami-Dade County businesses dedicated to reducing or eliminating the purchase and use of single-use plastics through the adoption of reuse and sustainable replacement strategies, as well as local environmental stewardship initiatives. Join and partner with other local businesses committed to reducing plastics in our environment.
Stormwater Management
Heavy storms can cause flooding in low-lying areas, especially during the rainy season.
Runoff from streets, parking lots, lawns and fields can convey litter, particulates, fertilizers, oil, grease and other pollutants to surface waters. Stormwater management plans and infrastructure are now designed to trap pollutants, retain runoff onsite, recharge the aquifer, and reduce flooding in the most vulnerable areas.
Surface Water Monitoring
Our quality of life is dependent on clean water that will support and sustain our community needs as well as our environment and economy. To help accomplish this, Miami-Dade County monitors surface water quality throughout the county on a monthly basis.
Wellfield Protection Areas
Miami-Dade County protects groundwater to maintain a clean and affordable supply of drinking water. An important strategy focuses on preventing contamination before it can happen by regulating types of land uses and activities that may generate pollutants.
Efforts focus most on Wellfield Protection Areas, the zones surrounding public water supply wells.
Back to Top
Page Last Edited: Fri Apr 22, 2022 6:04:05 PM
environment
Baynanza

Surface Water and Groundwater Quality Viewer
See data from DERM's long-term surface water and groundwater quality monitoring programs in GIS mapping format.
You are now leaving the official website of Miami-Dade County government. Please be aware that when you exit this site, you are no longer protected by our privacy or security policies. Miami-Dade County is not responsible for the content provided on linked sites. The provision of links to these external sites does not constitute an endorsement.

Please click 'OK' to be sent to the new site, or Click 'Cancel' to go back.