Last Visited »
Hurricane Irma
As we continue our recovery and cleanup efforts, please visit the Emergency website for the latest information on openings and closings in Miami-Dade County.
Mooring Buoy Program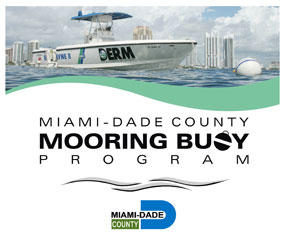 In 2009, the Miami-Dade County Mooring Buoy Program was launched. Its purpose was to establish a system of mooring buoys for recreational vessels to protect natural and artificial reefs from damage caused by boat anchors.
The program has since been expanded. Currently, 54 buoys are available for use across 14 locations off Miami-Dade County's shores, from Golden Beach to Key Biscayne. These sites include popular natural and artificial reef sites, as well as an archaeological preserve.
For information about the program, email the Mooring Buoy Program Manager at [email protected] or call 305-372-6864.
Make a Donation - Adopt a Buoy
Local schools, individuals, groups, and corporations can conceptually adopt-a-buoy to ensure the continued protection of our valuable natural resources by donating for the continued maintenance of buoys.
Various contribution levels are available.
Back to Top
Mooring Buoy Locations
There are 14 mooring buoy locations along Miami-Dade County's shores. See each of the locations, descriptions and other characteristics.
News: In August 2023, five new sites were added to the Mooring Buoy Program: Golden Beach Artificial Reef Site, Anchorage Wreck Trek, Royal Reef, Flamingo Reef, and Paradise.
Back to Top
Proper Mooring Buoy Use
Please maintain idle speed with no wake in the vicinity of the mooring buoys. Watch for swimmers, snorkelers, divers and diver bubbles. Follow these instructions:
Slowly approach the mooring buoy head-on against the wind or current (whichever is stronger and will have the greatest effect on the boat's course). The mooring buoy pick-up line will be pointed toward you in the direction of the current/wind.

Never tie your boat directly to the pick-up line as this puts too much stress on the buoy anchor system.
Always connect to the mooring buoy with a line from your boat. To secure your boat to the mooring buoy, follow these steps:
Cleat off one end of the bowline to the bow.

Use a hook to lift up the pick-up line.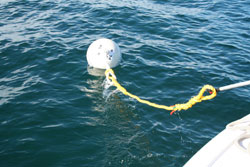 Run the free line of the bowline through the eye of the pick-up line.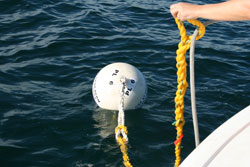 Cleat the free end of the bowline to the bow of your boat.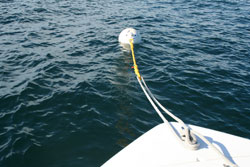 With the proper amount of scope, the buoy should not be pulled under the water by the action of the boat. During rough weather, add extra scope to the pick-up line to improve the ride of your boat and reduce wear on the buoy system.

Use buoys at your own risk! Always inspect the buoy system your boat is moored to. Check that the lines and buoy are in good condition and the mooring system is holding as intended.
Note: Vessel captains are responsible for the safety of their vessels and passengers. Miami-Dade County assumes no liability for the use of any mooring buoy.
Back to Top
Maintaining a Mooring Buoy
Regular maintenance is necessary to keep the mooring buoys in good working condition. The Miami-Dade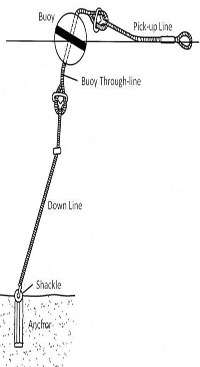 County Mooring Buoy Program requires monthly and quarterly maintenance inspections for each buoy.
Monthly inspections:
Inspect all buoys and pickup lines.

Clean pickup lines of growth or replace as needed.

Clean buoys and check for cracks; replace as needed.

Inspect and clean exposed portions of the buoy through-line and replace as needed.
Quarterly inspections -- complete all tasks required during monthly maintenance, as well as:
Inspect down line and protective hosing for wear and damage; replace as needed.

Inspect down line and protective hosing for wear and damage; replace as needed.

Inspect anchor for wear or damage; replace as needed.
If you would like to help with the maintenance of the Miami-Dade County mooring buoys, learn how you can adopt a buoy, or contact the Program Manager at [email protected] or 305-372-6864.
Back to Top
Feedback
When mooring buoys are installed, preventive maintenance is the key to sustaining the entire program and system. Please help us keep the mooring buoys in good working condition by immediately reporting damage to any part of the mooring buoy system or by reporting missing mooring buoys or by reporting a found buoy no longer attached.
Back to Top
If you cannot view PDF
files, you can download
Acrobat Reader
for free from Adobe Systems, Inc. In order to use PDF files, you must have Acrobat installed on your computer.
Page Last Edited: Mon Aug 21, 2023 3:12:10 PM
environment
Ecosystem Protection
Reef and Mooring Buoy Finder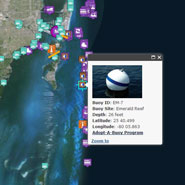 The Reef and Buoy Finder GIS page includes information on artificial reefs and offshore mooring buoys managed by Miami-Dade County, including their coordinates and much more.
You are now leaving the official website of Miami-Dade County government. Please be aware that when you exit this site, you are no longer protected by our privacy or security policies. Miami-Dade County is not responsible for the content provided on linked sites. The provision of links to these external sites does not constitute an endorsement.

Please click 'OK' to be sent to the new site, or Click 'Cancel' to go back.