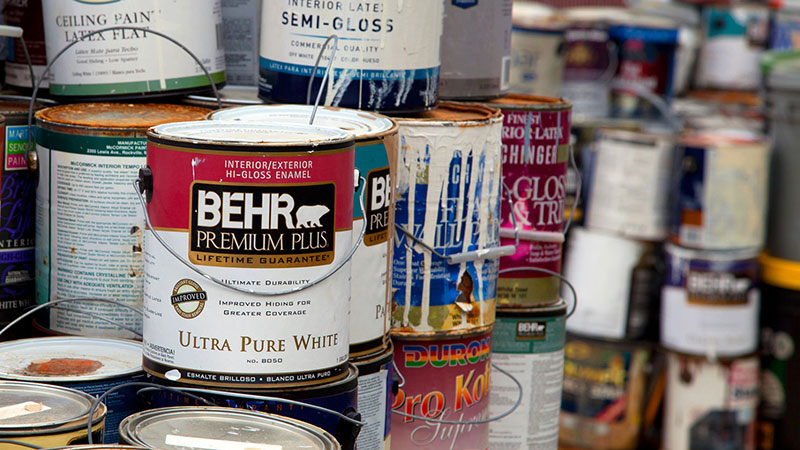 Your home is a living space, not a storage place for old batteries, light bulbs, electronics, and more. Certain items can be brought year-round to one of two Miami-Dade County Home Chemical Collections Centers. Other items can be placed in your recycling cart.
Placing the wrong items into your recycling or waste cart harms the environment. For example, household hazardous waste is any unwanted household product labeled as flammable, toxic, corrosive, or reactive. The most common products include aerosols, anti-freeze, fertilizers, motor oil, paint supplies, poisons and solvents.
Improper disposal of these products is not only illegal but can contaminate drinking water, pollute our waterways and seriously injure garbage, recycling and collection center employees.
As you spring clean and detox your home the Miami-Dade County Department of Solid Waste Management has created an easy online guide for you to follow. It is loaded with Recycling and Waste Disposal Tips so you know what goes into the waste cart, what goes into the recycling cart and what should be taken to one of the two Home Chemical Collection Centers.
Home Chemical Collection Centers are open to all Miami-Dade County residents, Wednesday to Sunday from 9 a.m. to 5 p.m.
South Dade Home Chemical Collection Center- 23707 SW 97th Avenue, Homestead, FL 33032, Gate B
West Dade Home Chemical Collection Center- 8801 NW 58th Street, Doral, FL 33178
Collection Centers accept items such as household cleaners, paint thinners, fertilizers, lithium batteries, fluorescent lightbulbs and laptops. Commercial waste is not accepted.
Take part and do your part to dispose of waste properly. Here are a few examples to get started.
Batteries
Safe to toss in the trash - alkaline (manganese) and carbon-zinc – AA, AAA, C, D, 6V, 9V; and reusable (rechargeable) alkaline manganese – AA, AAA, C, D
Take to a Home Chemical Collection Center - button batteries – C-type 3V lithium is the most common; lithium / lithium-ion – 3V, 6V, 3V button; nickel-cadmium (rechargeable) and nickel-metal hydride (rechargeable) – AA, AAA, C, D, 6V, 9V; sealed lead-acid (rechargeable) – multiple of 2 volts: 2V, 6V, 12V; and silver oxide
Return to the place of purchase - lead-acid vehicle batteries – 6V, 12V
View the complete battery disposal list.
Light Bulbs
Safe to toss in the trash - standard incandescent light bulbs; halogen bulbs; and LED bulbs
Take to a Home Chemical Collection Center - compact fluorescent lights (CFLs) and traditional long-tube fluorescent lights
Electronics
Safe to toss in the trash - toasters, blenders and blow dryers
Take to a Home Chemical Collection Center - computer monitors and televisions; personal computers, keyboards, hard drives and printers; VCRs, audio and video equipment; and communication equipment such as smartphones and tablets
When your environment is clean you feel happy, motivated and healthy.
Recycle Right A to Z