Miami-Dade County officials continue to work with local, state and federal agencies in monitoring the spread of the coronavirus (COVID-19) virus. For questions about COVID-19 in Florida, call the Florida Department of Health at 1-866-779-6121 or visit Florida Department of Health.

Free testing for COVID-19 is being offered at drive-up, walk-in and mobile sites. For medical emergencies, call 911 and notify the dispatch personnel that you may have COVID-19.
After you've been tested, please review the information provided by your testing site on obtaining your test results. Please note that due to a large increase in testing, results are taking longer than usual to be posted online by the laboratories.
Note: This is not a full list of COVID-19 testing locations. Check with your health care provider or the Miami-Dade County Department of Health at 305-324-2400 for a more comprehensive list of testing sites.
Types of tests
Standard Molecular Testing: This common coronavirus (COVID-19) test checks samples from your respiratory system, such as a swab from the inside of your nose, to see if you are currently infected. These viral tests are sent to a laboratory for analysis and results can take several days.
Antigen (Rapid COVID-19) Testing: An antigen, or rapid COVID-19 test, is another type of diagnostic test and can provide results in less than an hour. Positive results are usually highly accurate but negative results may need to be confirmed with a standard, molecular test.
Antibody Testing: An antibody test looks for antibodies made by your immune system in response to a threat, such as a specific virus. Antibodies can help fight infections. Antibodies can take several days or weeks to develop after you have an infection and may stay in your blood for several weeks or more after recovery. They are not used to identify an active coronavirus infection. Researchers do not know if the presence of antibodies means you are immune to the coronavirus in the future. Results can take one to three days.
Other Drive-Thru Testing Sites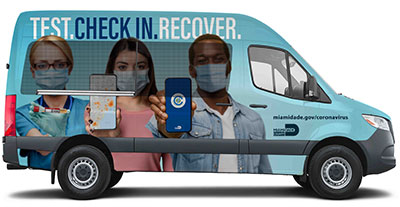 Mobile testing vans are located across Miami-Dade County. Review the list of locations and specified testing dates and hours.
Testing requirements
Open to anyone ages 5 and older with or without symptoms. Minors must arrive with a parent or guardian
Test will be conducted via an oral swab
Results will be provided by email or text message within two to three days
Appointments are strongly encouraged and given priority
For questions about mobile testing, call 786-746-7887
Schedule an appointment
. Enter your ZIP code to find the location nearest you.
Some municipalities offer online appointment scheduling for residents.