Skip to Primary Content
Please note that miamidade.gov no longer supports Internet Explorer. We recommend upgrading to the latest Microsoft Edge, Google Chrome or Firefox.
Learn about Sargassum on Miami-Dade County beaches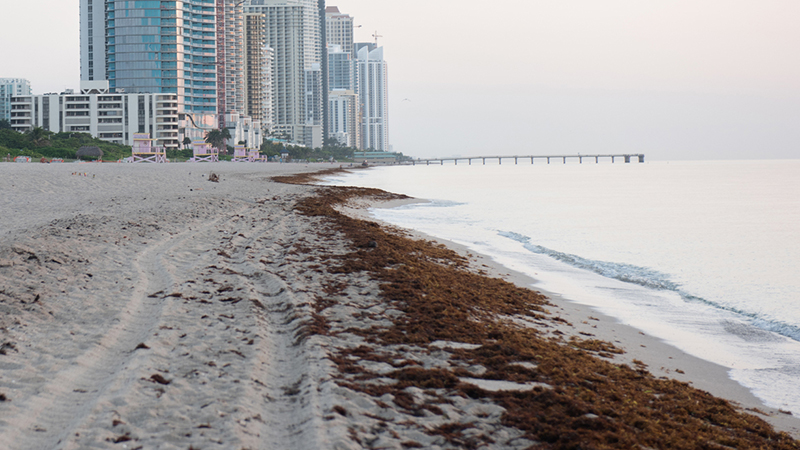 Sargassum is a naturally occurring seaweed that floats freely on the ocean surface and is abundant in the Atlantic Ocean and the Gulf of Mexico. It provides crucial habitat for many marine species. Over the past several years, South Florida and the Caribbean have experienced high levels of Sargassum in coastal waters and on local beaches. Excessive amounts of Sargassum in populated areas are causing concern worldwide.
Maintaining our beautiful beaches remains a priority for Miami-Dade County. Miami-Dade Parks, Recreation and Open Spaces Department clean-up crews operate on a daily basis to remove the buildup of seaweed on the water line. Read some frequently asked questions on Sargassum and how it affects our community.
When is seaweed season? March-October
What is Sargassum? Sargassum is natural, brown seaweed that floats in the Atlantic Ocean and is washing up on beaches in Florida. Sargassum provides cover habitat for juvenile turtles and fish and offers a refuge for migratory birds. It is also an important element in shoreline stability.
Where does it come from? It comes from the largest bloom of macroalgae in the world, the Great Atlantic Sargassum Belt (GASB), which blankets the surface of the tropical Atlantic Ocean from the west coast of Africa to the Gulf of Mexico.
Why is there an overflow on our beaches? Sargassum vary seasonally and are influenced by warmer water temperatures and nutrient availability both from human-derived (deforestation and fertilizer) and natural sources (upwelling of deep water nutrients to the surface). As the ocean adapts to our changing climate, Sargassum has become a seasonal normality for South Florida beaches.
Is it toxic? As Sargassum decomposes, it gives off a substance called hydrogen sulfide. Hydrogen sulfide has a very unpleasant odor, like rotten eggs. Although the seaweed itself cannot harm people, tiny sea creatures that live in Sargassum can cause skin rashes and blisters. Hydrogen sulfide can also irritate the eyes, nose and throat. If you have asthma or other breathing illnesses, you will be more sensitive to these symptoms. However, the levels of hydrogen sulfide in an area like the beach, with large amounts of airflow, is not expected to harm health.
What is the process of maintaining the beach? Heavy build up of Sargassum are mitigated by removing excessive amounts along the shoreline, break waters and jetties. Additionally, tractors cut and turn the seaweed into the sand daily.
What about the turtle nests on the beach? Miami Dade County Parks lead the conservation of marine sea turtles through the Miami-Dade Parks Sea Turtle Conservation Program. Prior to operating heavy machinery on the beach, Miami-Dade County Parks team surveys 18 miles of beach daily during turtle nesting season (March-October) from Government Cut to the Broward County line, Crandon Park, Village of Key Biscayne and Fisher Island. The team marks nests for their protection and occasionally relocates nests for their safety. Once the area is surveyed, beach operations begins to clean the beach for the day.
How do we maintain the rack line where seaweed accumulates? Beach maintenance staff utilizes tractors with rear-mounted blades to mix and turn seaweed along the high-water area of the beach.
What do we do with excess sargassum? Four sargassum hotspot locations have designated permits (approved by the Florida Department of Environmental Protection and the Florida Fish and Wildlife Conservation Commission) that allow for a Miami-Dade Parks contractor to remove excess sargassum in those specific areas. The excess sargassum is transported to a landfill or to a designated staging area (Homestead), where the sargassum is composted and recycled into fertilizer.
The hotspot areas are:
North of Haulover Cut (approximately 600 feet)
South of Haulover Cut (approximately 800 feet)
26-32 Streets in Miami Beach (approximately 2300 feet)
North of Government Cut jetty (approximately 600 feet)
Leaving Miami-Dade County
You are now leaving the official website of Miami-Dade County government. Please be aware that when you exit this site, you are no longer protected by our privacy or security policies. Miami-Dade County is not responsible for the content provided on linked sites. The provision of links to these external sites does not constitute an endorsement.
Please click 'OK' to be sent to the new site, or Click 'Cancel' to go back.