Skip to Primary Content
Please note that miamidade.gov no longer supports Internet Explorer. We recommend upgrading to the latest Microsoft Edge, Google Chrome or Firefox.
Home
/
Miami-Dade Police Department
/ COVID-19 nearly claimed his life, but Miami-Dade Police canine unit officer is recovering, backed by family, friends and coworkers
COVID-19 nearly claimed his life, but Miami-Dade Police canine unit officer is recovering, backed by family, friends and coworkers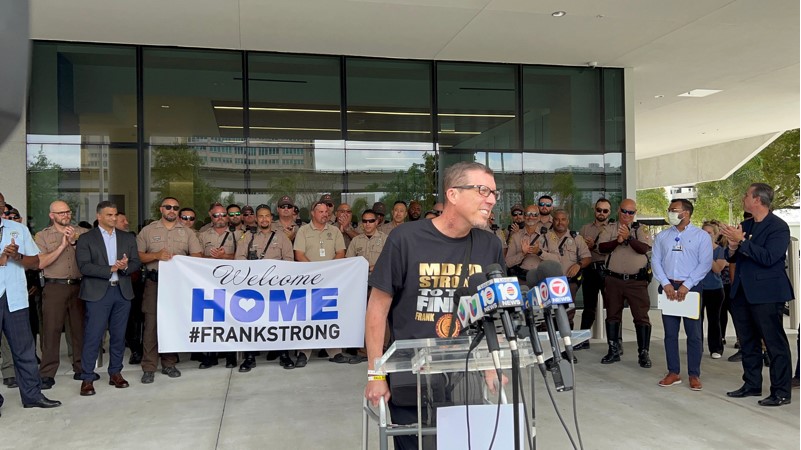 The initial effects of COVID-19 seemed manageable for Miami-Dade Police Department Canine Unit Officer Frank Sangineto: a stuffy nose, sore throat, and mild cough. But then the virus dug in. The cough became uncontrollable. He saw a doctor, and started taking an antibiotic, but his condition continued to worsen.
On August 18, 2021, ten days after contracting the virus, he was admitted to Jackson West Hospital. His breathing was labored. On August 25, a chest X-Ray revealed his lungs were collapsing. A breathing tube was placed down his throat. If being intubated was cause for worry, then what happened next was cause for alarm, and even prayer. He was immediately transported to Jackson Memorial Hospital where he was hooked up to a form of life support, a machine that assisted his heart and lungs, and he was put into a medically-induced coma. Six weeks later, while he was still in a coma, he was connected to a kidney dialysis machine.
It appeared that the virus would claim the life of yet another police officer. Because of their close contact with the public, law enforcement officers are at a heightened risk of exposure, according to the U.S. Center for Disease Control. COVID-19 was the leading cause of death among officers in 2021, claiming 458 lives nationwide. But Officer Sangineto, 49, had a lot of fight left in him, and a lot to live for. He had a 12-year-old son, a close-knit family, numerous friends that he grew up with in the Little Havana area, and a whole police department, the eighth largest in the U.S., pulling for him and offering its support wherever possible. He was also formerly a member of the U.S. Marine Corps, but Marines do not consider themselves "former" after they leave; once a Marine, always a Marine. The ability to push oneself beyond limitations is ingrained in "Semper Fidelis."
"The one thing about him, that has always been a part of him, is that he is a very strong-minded and determined person, so if anyone could get through such a devastating thing, it would be him," said Elana Morejon, who is the best friend of Officer Sangineto's sister, Irma Sangineto, and has known him since childhood.
Officer Sangineto lives with his mother, Irma Gonzalez, and she contracted COVID-19 around the same time he did, but she was not hospitalized. Officer Sangineto's coworkers at the Seaport Operations Bureau visited her, made sure she was OK, updated her on her son's condition, and brought her groceries. After her results came back negative, Ms. Gonzalez was able to visit her son in the hospital. She went there every day.
Fellow Canine Unit Officer Isabel McDonald, who is in the same unit as Officer Sangineto, also visited him every day, and even though he was in a coma, she would sit and talk to him. Over the beeps and hum of the machines that monitored and supported his body, she told him that "prayer chains" had formed and that hundreds of people were praying for him every day, not just in Miami-Dade County, but throughout the state, the country and even internationally. She told him about his son, how he was collecting law enforcement challenge coins from across the county, with the assistance of the Miami-Dade Police Department. She would tell him about what was going on at work, as if she had pulled up her police vehicle next to his to chat, as they customarily did at the Seaport. She kept assuring him that he would pull through, even though she had been told by the medical staff that his condition was grave, and that recovery was against the odds.
Officer Sangineto was awakened from the coma on October 18. He wasn't able to move at all in those first hours, and he was in a mental fog. But slowly he came out of that, and with the assistance of a team of therapists at the hospital, he regained mobility. Officer Santiago recalled that he also used that time to focus on his mental determination to beat his health crisis. He would need the strength for what he was about to endure.
Doctors determined that he would need a double lung transplant and a kidney transplant to live. His family applied at several lung transplant programs, and the University of Florida Health Shands Hospital in Gainesville responded. And then the waiting started, the donor would have to have A+ blood type, and approximately the same weight and height as Officer Sangineto.
On December 10, Officer Sangineto was wheeled out of Jackson Memorial Hospital on a large gurney. He was swathed in thick white blankets and had a single thin tube in his nose, and two thicker tubes attached to him under the blankets, that were connected to a large machine attached to the gurney. He had lost approximately 70 pounds since he was hospitalized, and his face appeared gaunt and his skin color pale. But he smiled as he saw dozens of Miami-Dade Police Officers lined up outside to give him a sendoff to the Miami International Airport. The support appeared to boost his spirits. He was put on a "Life Flight" to Gainesville, to await a donor at UF Health Shands Hospital.
On December 16, the Department held a barbecue fundraiser at its Doral headquarters, to help defray Officer Sangineto's medical expenses. The fundraiser took in approximately $10,000.
On January 4, 2022, Officer Sangineto underwent a double lung transplant that lasted 12 hours. The next day he received a kidney. That surgery lasted about five hours. Both operations went smoothly. "They (doctors) told us the surgeries went fantastic and there was no doubt that he would recover," said Irma Sangineto, Officer Sangineto's older sister. Dr. Tiago Machuca, who performed the lung transplant surgery, said that without that operation, Officer Sangineto could not have survived without being connected to life support.
Officer Sangineto remained in intensive care through February, but also started rehabilitation. He would stand up and walk short distances, and did "respiratory therapy." On March 8, he was driven back to Miami in a van, a five and a half hour drive that received a Miami-Dade Police Department motorcycle escort over the last 20 miles. He returned to Jackson Memorial Hospital, this time to the Christine E. Lynn Rehabilitation Center. After the driver opened the back of the transport van, Officer Sangineto flashed a big smile and gave a double thumbs-up gesture, as his family and friends clapped and cheered his return. He was on a gurney, but his face was fuller and he appeared tan, and there were no tubes attached to his body.
"He looks like himself again," said Ms. Sangineto. "Being his big sister, I always knew what a special person he is. Seeing the outpouring of support from co-workers and family and the community, how much he is loved and cared for, that kept us going through our darkest days, and he never lost hope."
It wasn't clear then how long Officer Sangineto would need to stay at the rehabilitation center. The medical staff said that depended on his progress. But it took only two weeks for Officer Sangineto to get the all-clear to return home. On March 22, he was released. He strode out of the center with the assistance of a walker, and wore black sweatpants and a black t-shirt with the words 'MDPD STRONG TO THE FINISH, FRANK STRONG.'
"When Frank got sick, we asked God for a miracle," said MDPD Interim Director George A. Perez, standing next to Officer Sangineto moments after he walked out. Behind them were dozens of officers and in front of them were numerous television cameras and reporters. "God answered that call."
Before he got into the family vehicle to head back home for the first time in more than seven months, Officer Sangineto spoke briefly to the media. "I feel like I've been given a second chance in life, and with my family… as soon as I get better, and when I can, I want to go back to work."
Leaving Miami-Dade County
You are now leaving the official website of Miami-Dade County government. Please be aware that when you exit this site, you are no longer protected by our privacy or security policies. Miami-Dade County is not responsible for the content provided on linked sites. The provision of links to these external sites does not constitute an endorsement.
Please click 'OK' to be sent to the new site, or Click 'Cancel' to go back.